Teaching has always been a passion for Dr. Shana Stoddard, who is being commended for that passion through the 2023 Council on Undergraduate Research's Silvia Ronco Innovative Mentor Award.
"They look at how you have interacted with undergraduates in the lab, how you have mentored them, where they go, what kind of accomplishments have they had, and basically your mentoring philosophy," said Stoddard, associate professor of chemistry at Rhodes College. "All of those things, coupled together, are essentially how I ended up getting selected with this honor to be able to earn that award."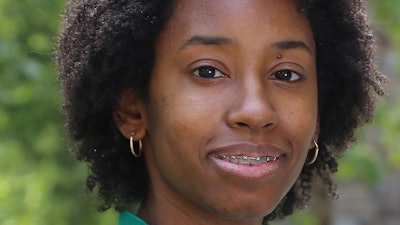 Having first come to Rhodes as a William Randolph Hearst Postdoctoral Teaching Fellow in 2015, Stoddard has cemented a role for herself at the school over time, attaining the position of associate professor of chemistry in 2022.
"I knew that I wanted an undergraduate research lab," Stoddard said. "That was something that I realized was really important to me, to have an army of undergraduate students in the lab. I knew I wanted to be in a space where both teaching was valued but also research was valued."
A biochemist by training, Stoddard said she does research under the umbrella of molecular interactions and recognition. She holds a Ph.D. in chemistry and biochemistry from the University of Mississippi, an M.Ed. in curriculum and instruction with an emphasis on special education from Freed-Hardeman University, and a B.S. in chemistry from Prairie View A&M University.
Stoddard is the founding director of Rhodes' STEM Cohort Mentoring Program, a demonstration of her dedication to mentoring and teaching.
At Rhodes, she said she enjoys bringing together lab instruction and lectures. She said it allows students to better understand the significance of what they're learning.
"I'm both a computational chemist and a wet-lab chemist. I do both, fully trained in both," Stoddard said. "And I love being able to bring both aspects to the classroom and allow the students to be able to actually do research."
Stoddard's students have published two papers. "They produce a lot of quality data, and they absolutely see then how the scientist is the link between science and society," she said. "It makes what they're learning in the textbook real."
Stoddard said she appreciates when students see the importance of why they are investing their time and studying the material. "Because you can save lives with it, you can build new bridges," she explains. "There's just so much that you have that you can innovate with knowing this information."
While teaching has been an important constant in her life, Stoddard said she did not recognize that it was until college where, after years of pre-med, she decided to go into academia and instruction instead.
"Drawing out each person's potential, that's my purpose," Stoddard said. "But the process that allows me to do that is my gifts, my talents, and my call. I'm gifted in teaching, mentoring, and encouraging. My talent is chemistry because that's what I'm training to do well. And my call is really to youth and young adults and people in crisis. So, where do you find a lot of those people? On the platform of a professor, a lot of times."
It is these concepts of "purpose" and "platform" that Stoddard said she wants to uphold and help people to understand. A purpose is a mission, while a platform is the place from which to fulfill that mission. She said, if the two are misaligned, "it's a recipe for a life of unfulfillment."
Stoddard often challenges students with the existential question.
"I ask this question: 'Do you know your purpose?'" she said. "'I will be a lawyer.' But that's not a purpose, that's a platform to serve your purpose. Your purpose is a mission statement."