Dear Department Chair: Letters from Black Women Leaders to the Next Generation is a compelling book about leadership, service, and the importance of mentorship/sponsorship within the academy. The book is edited by Drs. Stephanie Y. Evans, Stephanie Shonekan, and Stephanie G. Adams. And its publication by Wayne State University Press earlier this month comes right on time, as a new academic school year gets underway.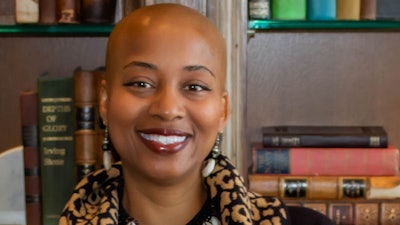 At a time when Black women remain disproportionately underrepresented in leadership roles within higher education, the editors of this book — all Black women — have brilliantly packaged sage advice in the form of love letters from other Black women who have navigated their way through the ranks of academe, all while providing invaluable departmental service to their colleges and universities.
With a powerful foreword written by veteran educator Dr. Johnnetta B. Cole, president emerita of Spelman College and Bennett College, the book "is a highly valuable resource for the next generation of academic leaders," notes Cole. "It is filled with information based on lived experiences of Black women who are currently administrators. And the sharing of those lived experiences is buttressed with specific data. There is an African Proverb that says: 'Until the lion tells the story of the hunt, the story will always glorify the hunter.' To make an important point, I want to add my proverb: 'Until the lioness tells the story of the hunt, you haven't heard all of the stories.'"
Evans, Shonekan, and Adams provide useful tips, including encouraging aspiring leaders to expand and broaden their network and to embrace the role of mentorship. They say the role of department chair should be in service to an institution, fundamentally providing care, guidance, and support to not only faculty colleagues but to support staff and students as well. In the process, they remind leaders that they, too, must exercise self-care.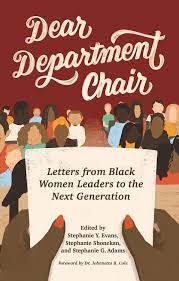 "If you can't be supportive, leave folks alone," they write. "Don't seek to be the only one or the main one. You are special, but not that special." And "Don't be a boss."
Having a boss mentality, they write, "is oppressive and predatory." They encourage department leaders to "respect and support work and workers — including unions. Be kind to others; they don't owe you or the institution their life."
The responsibility of leading an academic department — particularly in the wake of the COVID-19 pandemic and ongoing attacks on affirmative action and diversity, equity, and inclusion efforts — has increasingly become daunting.
"This is very hard work," says Evans, a full professor in the Institute for Women's, Gender, and Sexuality Studies at Georgia State University. She would know. Evans spent 12 years as a department chair at various institutions including Georgia State, Clark-Atlanta University, and the University of Florida.
"I am a supervisor, and if you're not doing your work, then that has to be addressed," she says in an interview with Diverse. "But this idea that 'I'm your boss, and I can tell you what to do and therefore I own you' — no, the institution should not be run like a plantation."
The genius of the book is that Evans, Shonekan, and Adams amplify the voices of Black women whose collective voices are often missing from higher education narratives. As Cole notes, "race and gender identities strongly affect how Black women administrators are responded to in the academy, but race and gender are only two of the multiple identities that can influence how Black women fare in top-level jobs at colleges and universities," she writes. "In addition to experiencing discrimination based on their race and gender, Black women in academic leadership roles also suffer discrimination based on age, sexual orientation, religion, and disabilities. As I like to quip: If you have seen one Black woman, you haven't seen us all."
Dear Department Chair: Letters from Black Women Leaders to the Next Generation should be required reading for all administrators who are interested in the triumphs, joys, challenges, and barriers that Black women leaders face within the academy. More importantly, the book should be a must-read for aspiring graduate students who are looking to someday transition into these roles. Simply put, this book is for everyone.
"Regardless of your heritage, background, or identity, we hope viewing higher education through the multidimensional lens of Black women administrators will improve your leadership vision," the editors write in the book's introduction. "Welcome to this ongoing conversation about the future of academic leadership. We have facilitated this forum to recognize the challenges you face. We offer our experiences as tools for perspective as you locate possible solutions to problems you will most likely encounter."
In this regard, Evans, Shonekan, and Adams have provided a critical framework and forum for continued discussions and an invaluable gift to the academy that will help to reshape higher education for many years to come.
Check out https://www.diverseeducation.com/podcasts later this month, for a conversation between Dr. Jamal Watson and Dr. Stephanie Y. Evans, one of the editors of Dear Department Chair: Letters from Black Women Leaders to the Next Generation.