Student affairs leader Quamina Carter did not take a traditional route to higher education. For a decade prior to coming to Claremont Graduate University (CGU), she worked as a clinical therapist in DePauw University's counseling center.
There, she had opportunities to work with the school's student affairs division and began to learn that she was "sort of good at that side of the camp," she says.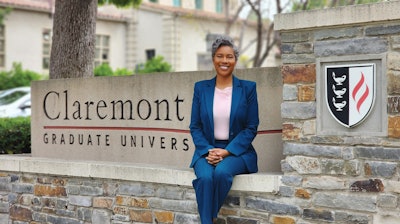 "Through that experience, I was able to get my foot in the door and do some student affairs work alongside colleagues and the president at DePauw University at that time," Carter says.
That penchant for student affairs stuck, recently bringing her into her current role as vice president of student affairs at CGU. CGU's former dean of students and campus life, she arrived on campus in 2017 and became the school's chief student affairs officer in June 2023.
"A lot of our clinical skills are very transferable," Carter says. "And having served in the counseling center at an undergraduate institution, I was super familiar with the policies and processes. I was usually the consultant on a lot of cases [and] also the confidant for students in matters where they needed advocacy and representation."
Being a trained and licensed therapist means already having ample empathy, listening skills, solution and resource-finding abilities, and a strategic mind, Carter says. These skills have proven to be a good fit to CGU's trans-disciplinary approaches to problem solving, she continues.
And with those assets, she has sought to improve student success at CGU and help coach rising student affairs leaders amid issues of turnover and fatigue in the field.
"Today's scholars are tomorrow's colleagues," Carter says. "So, all of us working at institutions, particularly if we have academic programs that are training rising higher education professionals, should be looking through that lens of early collaboration [and searching for] opportunities to engage those students in meaningful projects — creating, fostering, grooming, developing our future higher education and student affairs professionals."
Carter holds a B.S. in psychology from Tuskegee University, an M.S. in community counseling from Martin University, and is working toward a Ph.D. in higher education and student affairs from CGU.
As vice president of student affairs, Carter reports directly to CGU President Dr. Len Jessup and the Board of Trustees. She is involved in myriad school matters including campus life, international students services, disability services, the Clery Act, and financial aid as well as diversity, equity, and inclusion.
"She's done amazing work in the area of not only student affairs but also in leading our DEI initiative," says Jessup, adding that he considers Carter a trusted adviser. "In fact, she's been co-chair of our DEI committee now for quite some time and played a major role in shaping the DEI elements of the university's strategic plan."
Carter's psychology background plays an important role in understanding and helping CGU bolster its student inclusion and success efforts, Jessup says.
Alongside higher ed, Carter maintains her clinical practice at The Well Counseling and Consulting Group in Indianapolis, where she offers therapy and executive coaching for rising student and academic affairs professionals.
In her work, Carter says she holds in high regard two core principles: wellness and inclusion.
"One of the key factors that has been helpful in my knowledge base – it's woven through everything that I do – is the awareness that inclusive practices take longer but they are more sustainable and is the best path to solving problems," Carter says. "By including others, by having diverse fields, perspectives, understandings, and identities at a table, it may take longer to solidify a solution. But it's usually more sustainable because you've had full buy-in from a lot of different stakeholders that all hold varying views but with a similar goal in mind."
Wellness, not just for domestic students but also international and DACA students, has been a consideration in CGU's initiatives, Carter says. To that end, CGU has offered support in the form of health insurance, health and wellness services regardless of location, tuition insurance, and an emergency fund.
"Life happens," Carter says. "But as life happens, they're less likely to be negatively impacted by medical emergencies or procedures that could pull them away from their studies."
Carter's grandfather was one of the original Tuskegee Airmen during WWII and she talks about the impact that her grandfather had on people and communities.
Coming to CGU and supporting graduate students was an intentional decision. And her grandfather's influence was what helped guide her toward it.
"He would go around and he would speak. He would speak to schools and various community organizations. He received a Congressional Medal of Honor. He has an honorary doctorate," Carter says. "All of these things that were happening, both as I was young and while I was an adult, all really had a huge impact on my value system and my love for HBCUs and our veterans.
"As a proud alum of Tuskegee, one of my commitments is to create pathways for HBCU graduates to attend graduate school."