In April 2023, Manhattan College in Riverdale, New York, passed a significant threshold. The four-year, Catholic private school officially became an Hispanic-Serving Institution (HSI), meaning over 25% of their undergraduate population are Latinx. The school is now eligible for Title V HSI funds that can support student recruitment, education, sense of belonging, and completion.
Interim Provost Dr. Rani Roy says the school has already applied for two HSI grants and will find out in October whether they've been accepted. But being an HSI isn't "just about passing the 25% threshold — it's about intentionality," says Roy.
Manhattan College has been classified as an emerging HSI for years, says Roy. Emerging HSIs have a Latinx undergraduate enrollment rate between 15% and 24.9%. Data gathered by Excelencia in Education, a nonprofit organization working to improve and accelerate Latinx student success in postsecondary education, showed that in 2021, there were 401 emerging HSI institutions across 43 states.
Demographic changes have led to an increasing number of Latinx students attending higher education. The 2021 Latinx population in the U.S. totaled 62.5 million, just under 20% of the U.S. population representing a 13% growth from the year 2000, according to the Latino Policy & Politics Institute at the University of California, Los Angeles. This population is anticipated to continue to grow — by 2060, the U.S. Latinx population could reach 111.2 million, or 28% of the total population.
Manhattan College joins the ranks of 570 HSIs in the U.S., including 34 HSIs in New York City. The presidents of Manhattan College, Lehman College, and the College of Mount Saint Vincent, three Bronx-based HSIs within roughly 16 square miles of each other, all agree that taking on the identification of HSI means more than just representing the demographics of their surrounding neighborhoods. The Bronx is home to over one million people, 56% of whom are Latinx, according to 2020 U.S. Census data. Being an HSI means offering relevant pedagogy, targeted support, community uplift, and a dedication to the unique experiences of their Latinx students.
The Bronx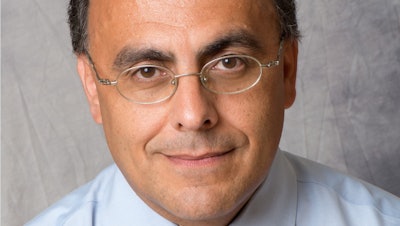 "The Bronx has been a landing place for immigrants, a place where people who want to make their way into and through New York City often start," says Dr. Fernando Delgado, president of Lehman College, a City University of New York (CUNY) institution in the Bronx that has held the distinction of HSI for 35 years. "In some ways, being an HSI was going to be inevitable by virtue of the percentage [of Latinx residents]. The distinction is, do you embrace the identification? Do you make other choices as an institution, when your intent is to become Hispanic serving, to intentionally serve these students?"
Lehman's undergraduate population is 56% Latinx, according to the National Center for Education Statistics (NCES), directly mirroring its home county.
"At Lehman, we have the platform and the resources to partner with schools and communities in the Bronx to be a social and economic engine — that is what helps us become intentionally an HSI and a Minority Serving Institution (MSI)," says Delgado. "We are around 83% students of color. We are doing things as an institution to welcome everyone, and we are relevant to everyone. There is an intentional effort to create a workforce and a culture around that workforce that's prepared to support and sustain diverse student populations."
Delgado came to Lehman in 2021 from the Midwest, where he often heard firsthand from Latinx students how much it meant to see him on campus. Delgado is himself a child of immigrants and a first-generation college-goer. There is power in being a role model, he says, and that's why he wants to make sure undergrads and graduates can see themselves represented in Lehman faculty, staff, and administration.
Role-modeling isn't just about his physical presence on campus, says Delgado, but a true commitment to meeting and engaging with his students. He takes the time to meet with his Latinx learners, to sit with them, discuss the challenges they face, and share his own history with them.
"It's an interesting opportunity to come out to them to say, 'I'm a university and college president, but your experiences resonate deeply with who I am," says Delgado. "It makes me feel good when I'm able to help students, because someone told me once, long ago, the future will look like you, and we don't have enough people in the university who look like you to make the difference they can or should. I spent the last few years trying to help people similar to me, who look like me or are from an underrepresented community."
Creating role models
According to the American Council on Education, a nonprofit member organization in higher education working to impact public policy, roughly 74% of full-time faculty in the U.S. are white and only 21% are faculty of color. Delgado encourages institutions on the cusp of becoming HSIs to evaluate their workforce to see if their scholars have visible role models.
"Independent of that, do you have a workforce that is culturally sensitive, socially adept, and interpersonally comfortable working with students who look very dissimilar and have very dissimilar backgrounds?" asks Delgado. "It's one of the reasons I'm so sad with the attacks on diversity, equity, and inclusion (DEI) in southern states, because they are diversifying fast and DEI is a practical response to making sure you have a work environment that's collaborative and successful for all the members of the campus, and that includes your students."
Lehman faculty are encouraged to look through their curriculum and pedagogy to make it more relevant to their Latinx students, in part, through Spanish-language programs and through the school's Department of Latin American and Latino Studies. Delgado also encourages faculty to think deeply about classroom management, something he said is often left to K-12 teachers and forgotten in higher education.
"Once you start getting more diverse populations, you have different voices [in the classroom] and sometimes they clash. It takes an adept person to successfully manage that tension in the classroom, which should be good and productive tension," says Delgado. "So be mindful about what you're teaching and how you're managing those classrooms."
Fulfilling a mission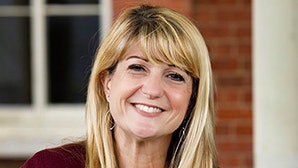 Just under four miles north-northwest of Lehman, the College of Mount Saint Vincent is a private, Catholic, four-year HSI in Riverdale. Its president, Dr. Susan Burns, is another midwesterner with a deep passion for serving diverse student populations. Burns, who arrived at The Mount in January 2021, says the institution is unlike any at which she had ever served.
"It's incredible the way [The Mount] truly lives the mission of our authentic inclusivity and commitment to human dignity, our obligations to each other, and our common humanity," says Burns. "The designation is HSI, but we who serve in this space talk about the difference between being Hispanic-recruiting and Hispanic-serving. The Mount is focused on serving."
The Mount has proudly been an HSI since the late 1990s, Burns says, and about 51% of its students are Pell Grant eligible.
In 2022, The Mount received a Title V HSI grant to develop new resources to help students who struggle in science, technology, engineering, and mathematics programs, otherwise known as STEM. The grant will run through 2027, and has allowed The Mount to hire support staff for tutoring and the development of new academic modules that support STEM specialists.
"These are meant to be high-impact support services for these students — and that's just the most recent grant," says Burns. "We developed summer programs for high-needs Hispanic students, which has expanded our academic support and our career development."
An example of the student support these funds have helped to develop is The Mount's integrated advising system. Every student receives direct, interpersonal advising with two different advisors from the day they arrive on campus. One advisor comes from within the faculty and another offers students professional advice from their intended industry.
"That integrative advising is also partnered with opportunity programs and is also partnered with a new Center for Leadership, available to all our students, which helps them develop their leadership skills and abilities," says Burns. "We're really focused on providing students the systems and supports and structures to make sure they're successful."
That includes factoring generous scholarships into the school budget to make sure The Mount is affordable for all who wish to attend. Like Lehman, The Mount is dedicated to community partnerships, connecting families with the social and economic mobility that higher education provides.
"Students' families are a part of the community," says Burns. As more institutions become HSIs, Burns encourages leaders to "think about the family and the community" their students come from.
"Think about what system structures have worked against these students before they got to you," says Burns, like "the under-resourced schools they come from and how you can be partners with those schools to help students be prepared, and really think about how you are working against those structures that have worked against those not well supported in the past."
Burns is on the board of the Bronx Chamber of Commerce and soon will be part of the Yonkers Chamber of Commerce, a large suburb of New York just a few minutes north of The Mount's campus. She works to ensure The Mount is partnered with not only Bronx K-12 schools but Yonkers public schools as well. Burns works deliberately to engage students with the community The Mount calls home.
"We're not just reflective of where we are, we contribute back to where we are," says Burns.
Serving the community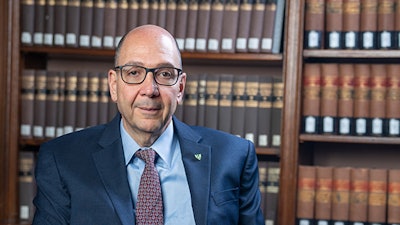 Like Burns, Delgado works to ensure his college is connected to and serving its community. When Bronx Borough President Vanessa L. Gibson asked Lehman to host a Bronx centered educational fair at their campus, highlighting all the postsecondary options within their borough, Delgado did not hesitate to accept.
Bronx institutions, says Delgado, are frequently in contact with each other, working with county leaders to move the Bronx and its communities forward.
"That's what I mean about schools serving intentionally," he says. "You're not just passively looking around and someone says, 'You crossed the threshold, you're an HSI,' but saying, 'Who's in our communities, how do we best serve them, and let's go get them.' We experience that in the Bronx."
As the Bronx's newest official HSI, Manhattan College looks to follow suit, says the school's president, Dr. Milo Riverso.
"Manhattan College has always been a product of the community we live in," says Riverso. "It's a part of our Lasallian Catholic tradition. You raise the quality of life for individuals by education."
Riverso and Provost Roy say that they are eagerly awaiting the new opportunities an official HSI designation offers, not just for their college, but for the Bronx as a whole.