Created in 2005 by Excelencia in Education, Examples of Excelencia is a national initiative that recognizes institutions and nonprofit organizations that identify, aggregate, and promote evidence-based practices that improve Latinx student access in higher education. The four entities recognized this year span a diverse geographic area, but they share the mission of uplifting their communities while also creating a broader impact in terms of education and the workforce.
Associate
Engineering Program at Wright College (EPW)
Part of the City Colleges of Chicago, Wright College is home to an engineering cohort program that has grown from nine students at its inception to 550 today. Utilizing a holistic approach, its mission is to ensure that all students thrive in engineering and computer science, particularly Latino, Black and women students, who are underrepresented in these fields.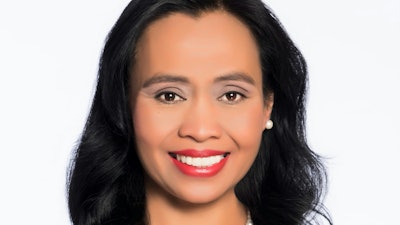 EPW was created by Dr. Doris Espiritu, Senior Advisor to the Provost, dean of the Center of Excellence for Engineering & Computer Science, City Colleges of Chicago. It began as a pilot program in 2015 and started in earnest in 2018 with 25 students after receiving a $1.68 million research grant from the National Science Foundation (NSF). Over the past five years, EPW has served 909 students, 68% of whom are Latino.
"We're changing the landscape of how community colleges serve underserved students," says Espiritu. "We are an affordable institution. Also, it's the environment. Having cohorts here is really important, especially for engineering and computer science because it's a community that supports each other."
Espiritu says EPW creates a sense of belonging in the engineering program and in the profession. Students know that if they successfully complete this program, they are guaranteed admission to an affiliated four-year institution. The transfer rate is 85% for students within three years of admission to EPW.
There is a dual admission program with the Armour College of Engineering at Illinois Institute of Technology (IIT), which provides scholarships. The IIT-Wright Engineering Program is an open-ended multi-year agreement that reflects the commitment of both institutions to support the successful transfer of community college students to complete four-year degrees in STEM and related fields.
"From day one, students are admitted to both institutions and get access to resources at both institutions with the opportunity to participate in optional activities and programs at Illinois Tech…that expand their interest for engineering and/or computer science and motivates them further to pursue a four-year degree," says Dr. Natacha DePaola, professor of Biomedical Engineering at Illinois Tech.
Alondra Gonzalez, a second-year student at Wright studying computer science, says participating in EPW has been life-changing. A first-generation Mexican-American and first-generation college student, Gonzalez says she has always been motivated to help her family move up the social mobility ladder.
"However, it was not until I became part of the program that I felt like I had a direction," says Gonzalez. "I feel like I have found a place in the engineering and computer science community. It has provided me with endless opportunities to improve myself academically, professionally and socially."
There is tutoring and mentoring, and Espiritu designed a model in which second-year students mentor first-year students. This continues after graduation when students attending four-year institutions mentor second-year EPW students.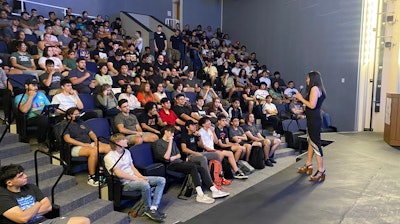 The faculty and staff overseeing EPW know each student personally. "I have to understand the students, who they are and their stories," says Espiritu. "Developing individual supports for each student."
That approach is evident in the Contextualized Bridge Program, funded by the NSF, designed to provide math and chemistry skills in the summer for students who need remediation in those areas. Students attend a six-week course contextualized for their needs.
"It's not one-size-fits-all," says Espiritu. "We design the curriculum individually to students' needs. There is also the belonging aspect of it."
To date, the Bridge Program has served over 300 students, 70% of whom are Latino. All Bridge participants eliminated at least one semester of remedial math and 54% were placed into calculus. Espiritu says the program has enabled the acceptance of students who had previously been denied because they lacked the required math skills.
Students are also being prepared for the workforce. Through partnerships with organizations such as the aerospace and defense technology company Northrop Grumman, EPW is able to offer internships and research opportunities. There are also partnerships with laboratories at Princeton University and Northeastern University that provide students with research internships. Gonzalez had an internship that took her to the Czech Republic.
"Not only did I gain experience in the computational biology world, but I got to actually see the world outside of Chicago," Gonzalez says.
"One secret of our program's exponential growth is retention," says Espiritu. In the last three years EPW's fall to fall retention ranges from 93% to 96%. "I track them in retention. I track them in graduation. I care more than just graduation at community college. I usually track after transfer and [four-year] graduation and getting a job after. The students usually report back to us where they are employed. That's the most satisfactory point of the work we do."
In addition to students who find excellent jobs after graduating from a four-year institution, some EPW alumni are pursuing graduate studies. "I think that is super amazing coming from students that didn't even qualify to be an engineer because of the math preparation," says Espiritu.
Baccalaureate
Spanish Translation and Interpreting Program, University of Texas at Arlington
Dr. Alicia Rueda-Acedo, director of the Spanish Translation and Interpreting Program at the University of Texas at Arlington (UTA), says one of the reasons she developed this program is to enable Latino Americans to acquire the professional skills necessary to take what they've been doing for their families most of their lives and turn it into a vibrant career. As the Hispanic population in the U.S. grows, they can fill the ever-increasing need for skilled translators and interpreters.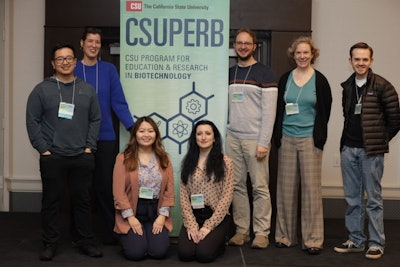 The program offers a B.A. as well as two certificates—one in translation (written) and one in interpreting (spoken). The four-year graduation rate for Latino students in the major is approximately 88%. All Latino students from the Fall 2014 cohort graduated with a B.A. within six years.
"We intentionally recruit and serve Latino students because they frequently have a personal connection to this profession," says Rueda-Acedo. "Our program aims to increase graduation rates among Latinos."
Rueda-Acedo, who is an associate professor of Spanish, was hired by UTA in 2005 to create a program in translation studies in response to the demand for professionals in the field of Spanish-English translation in the Dallas-Fort Worth (DFW) area.
"It is estimated that over 7 million people speak Spanish in Texas," says Rueda-Acedo, who from 2005–13 was the sole faculty member. "The demand for professional interpreters and translators continues to grow."
Due to the program's success and the employment rates of students who participated in the translation certificate program, in 2013 additional faculty was hired, which allowed for the development of the interpreting certificate and the major in Spanish Translation and Interpreting. While Latino students have been interested in the major since its inception, students from disciplines such as nursing, social work, business, and criminal justice have also sought out the courses and earned certificates.
"Our graduates play a crucial role in bridging language and cultural barriers to create a more equitable community and reduce existing disparities," says Dr. Mónica de la Fuente Iglesias, an assistant professor of Spanish and director of the Certificate in Spanish Interpreting, UTA. "They give voice to limited English proficient individuals during some of their most vulnerable moments—whether it's a medical appointment, a court proceeding, or accessing educational and social services."
Starting in 2011, Rueda-Acedo has incorporated innovative experiential learning activities and forged community partnerships with organizations such as the Arlington Public Library, Human Rights Initiative of North Texas and DFW Toys for Tots.
"In class, I teach the principles of community translation and interpreting—the kind of translation and interpreting that facilitates communication with speakers of minority languages—with public service, frequently medical, legal and educational settings, and I have provided my students with internships and service-learning components with companies and non-profit organizations," says Rueda-Acedo. "We collaborate with over 25 community partners where students obtain professional experience while serving the community."
To date, 391 students, 98.72% of them Latino, have collaborated with more than 25 non-profit organizations for a total of 6,782 hours. The students' volunteer work translating documents for Proyecto Inmigrante has a value of over $100,000 (when compared to what translation services charge). Also, internships—both paid and non-paid—have been established with Mary Kay, Inc., Teneo Linguistics Company, the Agape Clinic and Dallas Children's Hospital. Since 2015, 64 students, 93.75% of whom are Latino, have been placed in internships.
"I am inspired by everybody's willingness and enthusiasm to make our community a better place," says de la Fuente Iglesias.
Many students learn about the program through word of mouth. Additionally, recruitment efforts include a career day and open lectures on how to become a professional translator and interpreter. There are also several transfers from community colleges. Seventy-two and a half percent of the students in the program are first-generation college students and 75% are Pell grant eligible. Latino faculty at UTA closely mentor the students. Rueda-Acedo says the service learning is extremely beneficial in retention as well as the students' personal connection to this profession.
Graduates of the program find jobs in hospitals, educational settings, business and tourism related companies, government institutions, translation companies and as freelancer translators.
"Students understand the importance of local communities and develop intercultural competence and other translation sub-competencies, communication skills, civic responsibility and active citizenship," says Rueda-Acedo. "My experience creating and directing this program has been very gratifying, but the most inspiring aspect has been working together with my students and community members and partners. Knowing that thanks to service-learning my students are gaining professional experience before graduating and impacting their surrounding community is very rewarding."
Graduate
Graduate Equity Fellowship Program, California State University, Chico
If students want to find out whether a doctoral degree is right for them, California State University, Chico's Graduate Equity Fellowship Program (GEFP) is there to provide some direction.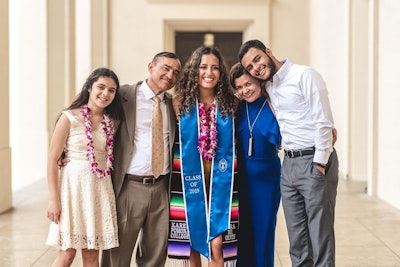 Admitting 10 students at a time, the graduate program allows participants to pursue paid research assistantships with faculty mentors on research projects.
"The mission of the Grad Equity Fellowship Program is to provide to students an opportunity to explore the possibility of going on to a Ph.D. program or other [kinds] of doctoral studies," says Dr. Sharon Barrios, program director and Cal State Chico's dean of graduate studies.
There is flexibility for which projects the students engage with, Barrios says. They can work on their mentor's already established research project or develop their own. Those taking part in the fellowship have come from a wide range of academic fields, such as biology, nutritional science, anthropology, health administration, fungal ecology, social work, history, and neuroscience.
Participating students – they can apply in their senior year of undergraduate studies – are financially assisted by the program by being paid $3,678 a semester in addition to a per-semester stipend of $1,050, though amounts are subject to change based on budget. Program fellows can then reapply for additional semesters, up to four.
Along with the assistantship, the graduate students are also offered research skills and writing workshops, peer group experiences, application support, and the chance to present their research at an annual research competition.
To be eligible for the program, students must fulfill several requirements. The criteria include – but are not limited to – being a California resident or having a California Nonresident Tuition Exemption; attaining admission to a CSU, Chico graduate program as a master's student; enrolling in at least six units related to the degree in question; achieving an undergraduate GPA of 2.70 or a graduate GPA of 3.0; and having a financial need of at least $1,000.
Through this program, Cal State Chico seeks to open the door into doctoral studies for those from underrepresented backgrounds, however they may be underrepresented – in terms of higher ed, socioeconomics, race, ethnicity, location, or something else.
"It's a way to give those students, who don't have a lot of privileged opportunities to step into a role and find their way forward," Barrios says. "We don't expect that they will all go on to Ph.Ds. That's not often even in their best interests. But we hope that if they're interested, we have provided them at least some pathway or gateway."
First-year fellow Airele Muscetta, who is looking to do research in nutrition and food science, says the program offered her financial opportunity and the opportunity to "just get involved with research and getting used to the idea of higher education and academic success, of what my future looks like."
And for first-year fellow Letty Mejia, who is investigating how the COVID-19 pandemic affected Latinx social workers, her faculty mentor has helped her learn and grow as a scholar.
"I feel like my professor/mentor serves as a guide," Mejia says. "But also, she's opened the possibilities that were unknown for me. I couldn't have ever imagined that there was ever a possibility of me publishing an article one day."
Though the program isn't prioritizing Latinx students, given the large Hispanic population at the school, it does have a proven track record of success within the community. It holds a 93% master's degree completion rate for the program's Latinx students since 1986. For comparison, the overall graduate student population's degree completion rate is 81%. And in the past decade – up to fall 2022 – 97% of Latinx fellows (32 participants) earned their master's degrees.
"You have students coming in who are experiencing imposter syndrome, maybe a little bit questioning [whether they are of the caliber to become a part of the program]," says Sarah Lehner, academic evaluator in the Office of Graduate Studies and former staff coordinator for the program. "What the students don't know is they're blowing us away with their research. What's been really cool is to watch the students in the program bond with one another, support each other, and blossom. They're winning research competitions. They're getting published. They're getting into Ph.D. programs.
"And so, by the end of a student's tenure in the program, you're seeing someone who came in, maybe feeling tentative and questioning themselves, coming out as a confident, well-spoken scholar who knows that they belong in their discipline and have something really solid to offer."
Community-Based Organization
College and Career Success, Breakthrough Central Texas
Located in Austin, Texas, Breakthrough Central Texas's College & Career Success Team (CCST) is present and ready to guide first-generation college students as they proceed through their postsecondary pursuits. The program – founded in 2008 as part of Breakthrough's larger support model – works to support students as they face the encounters and challenges of postsecondary education, offering resources such as academic advising, tutoring, emergency student support funds, legal aids, and tax services, according to CCST Director Dr. Arelis Palacios.
"Often times for first-gen students, ... there are challenges or barriers to persistence that often have to do with academic issues; financial aid; socio-emotional, personal concerns; familial obligations," Palacios says. "Students persisting from one year to another is a very continuous stream of support, and it's a very continuous stream of wraparound services that are needed so that we can absolutely help students get to the end goal and their finish line."
The CCST strategically seeks to provide its students the support they often can't access on their own, the core objective being to help students keep persisting in college, Palacios says.
The postsecondary program's assistance applies to a wide range of post-grade school aspirations that its students might have, ranging from four-year colleges to licenses and certificates, and many others in-between. It also involves 17 advisers who meet with their assigned students three times a semester to track progress and goals, Palacios says.
Breakthrough Central Texas's signature work includes its 12-year model, where 6th and 7th-grade students who are first-generation college aspirants enroll and through which the organization begins its long-term support for and relationship with them. Once they are finished with high school, these students fall into the hands of the CCST, not as fresh strangers, but as familiar and understood young adults.
"By the time they get to the CCST, we've had a six-year history with the student," Palacios says. "We know their intentions. We know their siblings. We know their families. We have a very good sense of what the student is interested in, because there's been very strategic advising throughout the years and throughout the summers to help students identify what their goals are."
Additionally, for the last three years and counting, the organization has been partnering with low-income student-serving high schools in the region to open up its services and eventual CCST enrollment to 11th graders, says Michael Griffith, executive director for Breakthrough Central Texas.
Breakthrough Central Texas is serving nearly 3,000 secondary students, and CCST an additional nearly 1,000 post-secondary students, Griffith says.
"They have this place that was with them for so long, that knows them and trusts them and provides that just-right timed guidance to help them take that next step and know that it can work, regardless of their documentation status, identity, [or] whether they're wanting to attend a predominantly white institution, far away or nearby," Griffith says.
CCST also works with their students' institutions to co-advise the young adults, Palacios says. "We have strategically gone into the universities that have the most critical mass – St. Edwards University, Austin Community College, and now Texas State University – that, in many respects, house the majority of our students," Palacios says. "And this co-advising model is 100% in collaboration with the institutional partner. We believe in absolutely helping them actualize their goals and vice versa."
One of Breakthrough Central Texas's goals is to prove the significance of state and federal investments in resources – for matters such as college advising, mental health services, emergency assistance, immigration aid, and other student needs, Griffith says.
"If we can provide those on a massive scale," he says, "we would see profound benefits."