Growing up in South Carolina, the Rev. Dr. Kimberly O. McManus knew the importance of education.
McManus graduated valedictorian of her high school and went on to Clemson University, where she earned a bachelor's degree in special education and a master's degree in counseling with an emphasis in student affairs.
Those credentials catapulted McManus into the world of education, where she has made it her focus and mission to help serve students, particularly those with disabilities. That journey first began at Piedmont Technical College (PTC), a two-year school in Greenwood, South Carolina. There, McManus served as the coordinator of disability support services and worked as a minority retention counselor.
"I really was able to learn quite a bit about the challenges and barriers that so many students face in accessing higher education," says McManus, who also dabbled in admissions before getting the opportunity to teach developmental English as an adjunct instructor.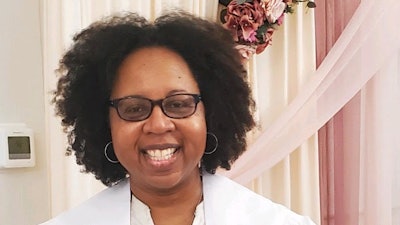 "I have had the great fortune of working with students, both in and outside of the classroom," says McManus, who as an educator remains deeply committed to providing equal access and opportunity to all college students. "I believe that everyone has the opportunity to succeed, whatever that success looks like."
After her time at PTC, McManus returned to her alma mater and worked as the coordinator of educational career services and placement. Then, she ventured into the nonprofit arena to serve as coordinator for Making Our Mothers Successful (MOMS), an initiative organized by the South Carolina Department of Justice that worked with adjudicated young women, who were either pregnant or were already mothers, to help them achieve their purpose.
"When a new governor came into office, all sex equity programs were cut across the state," says McManus, who also worked as a counselor, program coordinator, and instructor inside the juvenile justice facility.
By 2000, McManus was ready to relocate to Maryland. She began teaching classes in Prince George's County public schools and landed a part-time teaching position a year later at Bowie State University — the historically Black college and university. She eventually moved into a full-time post at Bowie before transitioning to Montgomery College, where she served in many roles including working with adults with developmental disabilities, serving as coordinator of disability services, and helping to oversee the writing center.
After leaving Montgomery College, McManus headed to Trinity Washington University, a small private Catholic university located in the nation's capital. She served for nearly nine years as the university's director of disability services. While working full-time, McManus pursued a Master of Divinity degree at Liberty University while simultaneously finishing her first doctorate in community college leadership at Morgan State University.
"I understood the plight of my students and identified with their journey, because I was working full-time and pursuing two degrees while also serving in ministry," she says.
The year 2019 was special for McManus. Not only was she appointed pastor of an African Methodist Episcopal (AME) church, but she also earned her second doctorate in ministry from Payne Theological Seminary.
Three years later, Bishop James Levert Davis appointed McManus as the first woman pastor of the historic Bethel AME church in Easton, Maryland. Founded in 1818, the congregation remains an important staple in the Hill community of Talbot County that produced writer, abolitionist, and influential orator Frederick Douglass.
"I am honored to be the first woman pastor of a church with such a storied history," says McManus. "As someone who loves history, it is humbling to continue the traditions that were established by our ancestors who, despite obstacles and legalized segregation, pushed forward to worship in spirit and in truth."
A poet and songstress, McManus has found a way to combine all her talents — as a pastor, an educator, and an artist — to inspire generations, young and old. That is no easy feat.
"My life's mission is to help people to find their true self and purpose," says McManus. "Ministry and education are two vehicles to help people find their own voices and to make a difference in their lives, their families, and their surrounding communities."