Through and through. Dr. Ruth M. López is an educator whose purpose is not just to teach but to support students. Her career as a teacher and an administrator spans middle school, high school, and now higher education.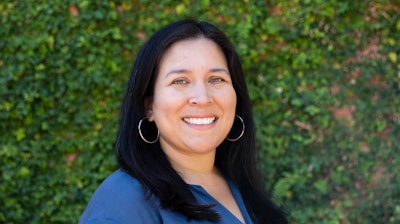 "I've been in the classroom on and off, but I've been supporting youth and students in different ways throughout that time," says López, who is starting a new chapter of her career as a tenured associate professor in educational leadership and policy in the University of Arizona College of Education.
The University of Arizona is the first four-year public institution in the state to be federally recognized as a Hispanic-Serving Institution (HSI). López — the daughter of immigrants — says the land-grant university was a promising choice, given its scholars and proximity to the U.S.-Mexico border and her scholarly work on immigration.
"As I was going through my career and figuring out the research that drives me and that I want to do, opportunities came up at the U of A," she says. "All these different boxes were getting checked."
Before López's current appointment, she served in a similar role as an assistant professor in the College of Education at the University of Houston. For seven years, she helped serve the needs of senior faculty and intrepid students. But even before she began teaching at the collegiate level in 2016, López taught and mentored youth. As an undergrad at The University of Texas at Austin, she worked with fellow classmates and friends to mentor middle school and high school students throughout Texas.
"I'm a first-generation student. And I'm a product of a lot of outreach work. TRIO programs supported my path toward college," says López.
López took on another mentor role as assistant director of UT Austin's University Outreach Centers in Houston after graduating in 2004 with bachelor's degrees in ethnic studies (Mexican American studies) and Spanish (Hispanic studies).
"My job, my office was actually at a high school in Houston," López says. "And I would go to six different middle and high schools and work with students, basically to guide them to get to college. I really got to know them well, because I would connect with them on a monthly basis or twice a month and take them on college visits and expose them to what college was going to be like."
Diversity matters in education are not foreign to López either. For four years, she served as program coordinator for University of Colorado Boulder's Colorado Diversity Initiative in science, technology, engineering, and math (STEM). At Boulder, where she holds a Ph.D. in educational foundations, policy, and practice, she helped to foster community for underrepresented Ph.D. students in STEM.
Growing up, López was surrounded by people of "different, mixed immigration statuses," giving her a sense of familiarity with the concept. She recalls going back and forth to Mexico and El Salvador. Ever since, she's concerned herself with questions about policies affecting undocumented students, the decision-making behind such policies, educational rights, and what schools were doing to support students of various immigration statuses and experiences.
One of López's examinations centered on media representation of the DREAM Act of 2010. She says she analyzed TV news coverage of the legislation in both Spanish and English.
"Something I learned was just the differences in coverage of these issues, depending on the language that it was being presented in," she says. "Something I learned is just that media shapes the way that the public thinks about immigrants, undocumented immigrants, immigration policy issues, and perhaps even how they make decisions about whether to support these issues."
López is a scholar who brings people together, according to Dr. Michele S. Moses, who served as her faculty adviser and co-chair of her dissertation committee.
"Her research is groundbreaking," says Moses. "It not only contributes to increasing Latine students' educational and political opportunities, but it also contributes to the advancement of methodological techniques to study contemporary issues of equity in politics. Dr. López's research, community engagement, and outreach make a profound difference to every community with which she works."
In the current day, threats to the field of education are not few and far between. And of these threats, two stand out as the biggest, López says. One is the anti-DEI push being made on the field, including book bans at the K-12 level and the targeting of student resources in higher education. The other, she continues, has to do with the unilateral decision-making being done on what students can learn about their culture, history, and identity.
"We're living in a time where, particularly students from historically underserved communities and marginalized communities, are having to deal with decisions being made, where they can't be their authentic self," says López. "When you really start talking to families, parents, students, this is not the education that they want and deserve. But decisions are being made without their input."