When Dr. Elmer Guy first came to Crownpoint Institute of Technology in 1999 as dean of instruction, he could not have known that, 24 years later, he would oversee the institution's renaming to Navajo Technical University (NTU). It became the first tribal college and university, or TCU, to offer a Ph.D. program — Diné (Navajo) Culture and Language Sustainability.
"The Ph.D. is not just about learning, reading, or writing Navajo, it's really preparing [its students] with tools so that they will be efficient in designing their research studies, conducting research, and finding solutions to some of the challenges that we have," says Guy. "Those same students are talented, creative. I'm thinking they'll become leaders, really able to find solutions."
The program launched its first cohort this fall with three students on a four-year path to a Ph.D. For Guy, it is the realization of dreams a long-time coming. He has nurtured the faculty, programming, and pedagogy of his institution and has watched it grow from a two-year technical school into a research university.
The creation of this Ph.D. has put NTU on the map across the world. Indigenous studies programs and cultural researchers from Australia, Taiwan, Canada, and other countries are reaching out to NTU to learn how the program was made, connected to both the cultural teaching methods of its native nation and the high-level academic research that can be used to support new policies or best practices.
"When our students are done with this program, they'll be well-trained to go into any position — a Tribal leader, a schoolteacher, a professor, an advocate, a nonprofit organizer — these are the kinds of things they learn," says Dr. Franklin Sage, an assistant professor of Diné culture, language, and leadership at NTU and one of the program's instructors.
"Students can design their own projects to get policies passed with data backing them up — data can help their communities and empower the nation," says Sage. "The students will really be able to articulate things in Navajo — their own language."
Building the discipline
There are only 32 fully accredited TCUs across the U.S., representing hundreds of indigenous tribes, cultures, and languages. TCUs are unique in that their founding principle is to serve indigenous people and their nations, connecting their history to their future, and empowering a new generation of learners with the skills to uplift their communities. The distinctive cultural focus of TCUs is now paired with the academic rigor of a Ph.D., and NTU leadership and faculty believe that this inaugural class will make history, using their new doctoral titles and research to bring about change and help indigenous nations become more sovereign.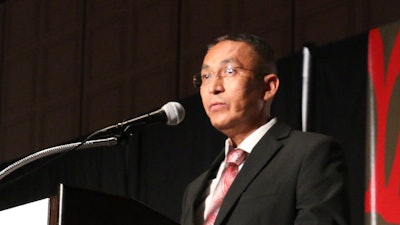 "It's going to take a couple of generations, but that's the hope of this [Ph.D.] program, to really empower and instill into our students that we need to do this as a nation," says Sage. "This is NTU's contribution to the Navajo Nation. We all play a role. What we're doing here is helping the Navajo Nation become true independents."
Guy agrees.
"Because we're losing the language in our younger generations, it's important to preserve it," he says. "It's about our tribal sovereignty — how can you be sovereign if you don't speak your language, know who you are, know your culture, your history?"
Dr. Wafa Hozien, university academic affairs administrator at NTU, was instrumental in the development of the program and its accreditation. Her specialty and passion are language sustainability and revitalization, a critical element to the program's construction.
"The Navajo language is in the first stage of being endangered — a lot of people have a stigma of speaking Navajo in schools, in high school they're made fun of," says Hozien. "It's like any immigrant group — they want to assimilate into American culture, and language is a way to do that. Their parents speak to them in Navajo, and their kids respond to them in English. It's hard, so the parents give up."
In Sage's classroom, the students are encouraged to speak entirely in Navajo. Both Sage and Guy are descendants of Navajo code-talkers, who were critical to the success of Allied missions during World War II (Axis intelligence could not decipher the unique language). Hozien points out that native language preservation is deeply important to President Guy, who helps other TCUs and indigenous tribes across the U.S. access "cultural sustainability and economic revitalization," both intrinsically connected to their native languages.
"Your language is your identity," says Hozien. "If you don't have a language, you don't have identity, culture, traditions, medicinal practices, and, most importantly, the loss of traditional ceremonies that serve as rites of passage through life."
It was Guy's dedication to cultural preservation that led to NTU officially requiring all undergraduate students to take a Navajo language course. He began meeting with faculty shortly after he first arrived and encouraged them to blend Western education and pedagogy with indigenous teachings — culinary students would learn traditional recipes, and environmental science students would learn about native plants and their uses.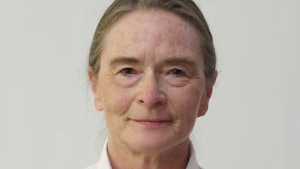 "We are a tribal college. We were chartered by the Navajo national government, and Navajo law says all schools have to teach native language and culture," says Guy. "This is the mission of TCUs."
Guy eventually made Navajo history and knowledge required courses, and the school gradually created more bachelor's degree programs. Its master's degree program in Diné Culture, Language, and Leadership required the institution to hire new faculty members and save money for a research library. As resources were slowly acquired, the institution began working toward Western accreditation and permission from the Navajo National Council to become a research university. After years of working, pushing, and waiting, NTU received its official go-ahead for its Doctor of Philosophy in Diné Culture and Language Sustainability in February 2023. Guy says he, NTU leaders, and faculty were all thrilled by the news. Hozien says she saw tears come to Guy's eyes.
Executing on a vision
"Because of Guy's vision, we have this program," says Hozien. "Our students, as a result, will be equipped with knowledge and tools to create meaningful change in their communities. When they graduate, they will be doctors."
Hozien also points to the sometimes-extreme living conditions of students and faculty members who live near, or take classes at, NTU. The conditions can make completion more challenging for students. Many commute over two hours on rural roads to make it to campus. Some don't have access to a wireless signal at home. Some don't have electricity or running water. Many are forced to buy water, as ground water supplies were poisoned through uranium mining contamination that occurred from 1944 to 1986. These are just some of the problems facing the indigenous communities NTU serves.
"We have buses and 15 passenger vans that go out to all corners of the Navajo Nation, but that means they have to get up at 5:00 A.M. to get here," says Hozien, adding that much of NTU's funding for programs like commuter buses depends on the kind of grants she and other faculty are able to write and receive. This could potentially put the growth of the new Ph.D. program at risk.
Dr. Siri G. Tuttle, professor of Navajo linguistics at NTU in both Ph.D. and master's level courses, teaches her students remotely from the west coast.
"The goal is for the language to be used more than it currently is," says Tuttle. "If someone says one more sentence in Navajo each day, that's more. Move it forward a little bit at a time and chip away at the loss. It might not feel like enough, but each of those pieces is a huge, enormous achievement."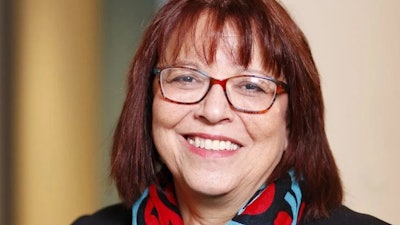 Tuttle says it was deeply important to her that the Ph.D. program offer the same academic rigor as any other Western institution, fully equipped to engage with those who may have spent their whole lives in academia. This first-class cohort, she says, will help fine-tune the program as needed to make it even stronger. Ultimately, more faculty, staff, and resources will be critical to the program's success, Tuttle says.
"The university needs to invest in more staff, more faculty, which is something we have to keep working on," says Tuttle. "They also need to develop a culture of having a graduate school — we need to build admin support for it, for faculty, and for the students, and we need to build up our library."
Those kinds of resources could be accessed through partnerships with neighboring schools like the University of New Mexico (UNM). Guy says NTU's engineering department is working hand in hand with UNM to potentially develop a material science doctoral program. UNM has the faculty but not the lab space, and NTU has the lab space but not the faculty. Coming together, the two can serve their region, state, and nations.
"They want to collaborate with us. The [Diné Culture and Language Sustainability] Ph.D. is really opening up opportunities to give our faculty the confidence to build up their programs — and I think we'll have another Ph.D. not long from today," says Guy. "We started out small, and when we celebrate the day our students graduate, [when we] honor and hood them, when we publish their research, there's going [to] be a lot of interest."
Guy says he looks forward to the day NTU can hire its own graduates to teach, to build up a linguistics program, perhaps. With the right faculty and a stable administration that believes in its TCU mission, he says, the sky is the limit to what NTU can do.
Dr. Cheryl Crazy Bull, president and CEO of the American Indian College Fund, a charity organization supporting Native American students' access to postsecondary education, agreed.
"NTU is educating a cohort of native scholars that can be disseminating their experience and giving to, not just other TCUs, but more broadly to indigenous studies as an academic field — there's a lot of opportunities to solidify that, at a variety of different institutions," says Crazy Bull. "What does this mean for predominately white schools that have indigenous studies programs? They want to strengthen those programs, and I think partnerships. Looking at the work NTU is doing can contribute to that in a positive way."