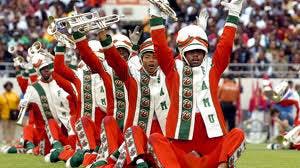 Florida A&M BandIn a surprise move rattling the core of its rebuilding efforts, Florida A&M University said late Wednesday it was restarting its search for a new director of its famous marching and pep bands.
The announcement of a new search came a day after the university abruptly adjourned a scheduled news conference at which interim President Larry Robinson was to announce his choice of a director after an exhaustive six months search.
The band was suspended in the fall of 2011 and soon saw its veteran director and music department chairman, Dr. Julian White, relieved of his post weeks after drum major Robert Champion died of physical injuries inflicted by several fellow band members during a hazing incident. Thirteen students were arrested in connection with the death.
After White retired last spring, the university began a search for a person who would be director of the band, working under rigid new rules governing student participating in the more than 400 member Marching 100.'
"We were unable to reach an agreement and we strongly feel that it is time to reopen the search to find the right fit for the task at hand," Robinson said it a brief statement. "Our goal is to continue the tradition that has made the Marching 100' great, but to also ensure that students are able to thrive in the right environment free from outside pressure and influence.""
Robinson did not identify who the final choice was nor address what caused the last-minute negotiations with the person to derail just before the choice was to be announced.
A university statement said the university had a firm commitment on Monday, but the candidate had several concerns."
The four finalists for the job were Dr. Shelby Chipman, associate director of the FAMU Marching 100'and second in command behind White before his retirement; Richard Beckford, a high school band director in Pompano Beach, Fla.; Gregory Drane, assistant band director at Penn State University and Jorim Reid, a FAMU alumnus who is director of the marching band at North Carolina Central University.
The four candidates were selected from a pool of several dozen applicants and had gone through screenings, interviews and vetting.
FAMU national alumni president Tommy Mitchell Sr. said he was not sure who the final choice was going to be, although university band alumni and other supporters of the university were hoping it was Chipman who he described as very bright, popular and a respected musician. He was not associated with hazing or any alleged misuse of money,"according to Mitchell, referring to the two issues that got the band and, by association the university, in hot water during the past 18 months.
Chipman was probably not the final choice however, if the university administration was concerned that selection of an inside candidate would in any way be interpreted by accrediting agencies and others scrutinizing the university that it was not doing all it could to disassociate the band from its history of having a hazing culture.
"You've got a perception problem," said Mitchell. "In order to resolve this there are people who would question the selection of someone involved with the band."
As for the impact having to start it band director search again might have on the university's overall plan to bring the band back, Mitchell said it may not seem as much of a setback of some think.
"This might be a setback but it might be a necessary delay because we need that person who is chosen to help maintain the quality we've always had," said Mitchell, hoping the start over gives Chipman a second chance.
Regardless, according to Mitchell, the administration is probably looking at a bigger picture than simply the band and that is whether whoever is chosen to lead it will pass muster with the university's inside constituents and outside assessors.
In announcing resumption of its band director search the university said it was "considering" use of a search firm.
The Marching 100'numbered more than 400 participants before it was suspended in December, 2011, including more than 100 musicians who were going on band trips at university expense and marching in uniform although not enrolled in the university that semester, according to the university. The suspension cost the institution thousands of dollars in revenue last fall, as the band has long been considered the drawing card to the university's football events by fan who come to see it perform at half time as much as they come to see the games.
Robinson said in an interview last summer shortly after taking responsibility for the university that he had no specific time table for putting the band back on the field, that he was more concerned with first getting fixes to the program right, regardless of how long that takes.