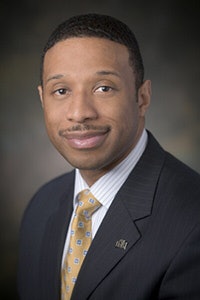 When Andrew Chad Watson first heard about the Professional Science Master's program, or PSM, at Rutgers University, he enrolled because he saw it as a "great fit" given his professional and academic experiences.
Earlier this year, as he finished his last course as a Master of Business and Science 4+1 student through the PSM at Rutgers with a concentration in Sustainability, Watson accepted a job as a project engineer at the nearby Public Service Electric and Gas Company, or PSE&G, in South Plainfield, N.J.
He believes the MBS courses he took through the PSM program, which he said combined science innovation with a strong business curriculum, gave him a competitive edge in his field.
"Being a part of the program and having graduated has made me a stronger candidate," said Watson, 24, and a member of the National Society of Black Engineers.
Watson is part of the steadily growing number of students—including underrepresented minorities—who are enrolling in and graduating from PSMs, according to a new survey released this month by the Council of Graduate Schools.
According to the report, titled "Enrollment and Degrees in Professional Science Master's (PSM) Programs: 2012," total enrollment in PSM programs grew by 10 percent, from 4,459 in 2010 to 4,894 in 2012.
Most of the increase—8 percent, or from 4,459 to 4,798—took place between 2010 and 2011, followed by a slight increase of 2 percent between 2011 and 2012, from 4,798 to 4,894.
The number of underrepresented minorities enrolled in PSM programs remained steady between 2010 and 2012 with a 5 percent increase between 2010 and 2011—from 1,039 to 1,086—followed by a 4 percent decrease between 2011 and 2012—from 1,086 to 1,042—the report states.
However, there has been an overall increase of 80 percent in the number of underrepresented minorities earning degrees from PSM programs between academic years 2010 and 2012, from 166 to 298, the report states.
The biggest jump—48 percent—took place between 2011 and 2012, when the number went from 201 to 298. Overall, institutions responding to the survey awarded 1,754 degrees in the 2011-12 academic year, or 59 percent more than the 1,102 that were awarded in the 2009-10 academic year.
Dr. Brian K. Bridges, executive director of the Patterson Research Institute at UNCF, said he was encouraged when he saw that underrepresented minorities comprise 25 percent of those enrolled in PSMs and 23 percent of PSM graduates last year.
"While these percentages lag behind the overall enrollment of underrepresented minorities in all graduate programs, they exceed the percentages of those enrolled in STEM graduate programs," Bridges said.
"This report could be an indicator that PSM programs have become more effective at recruiting underrepresented minority students than standard STEM programs," Bridges said.
He added, however, that, despite the success of PSMs, "more work remains to promote awareness and access" for underrepresented minority students.
PSMs are a relatively new creature on the higher education landscape.
A project known as the PSM initiative began in 1997 with funding from the Alfred P. Sloan Foundation to support the establishment of programs in the natural sciences and mathematics at research institutions. The program was eventually expanded to master's-focused institutions and is now run by the Council for Graduate Schools, which is seeking to make PSMs a permanent feature of graduate education.
As of July 2012, CGS recognized 299 programs from 124 institutions as PSMs.
Jeffrey R. Allum, Director of Research and Policy Analysis at the Council of Graduate Schools, said part of the appeal of PSMs that is driving their growth is the fact that the curriculum is "closely aligned with the local labor market."
"It makes students feel like the degree will have more value to potential employers than a (regular) master's degree or a doctorate," Allum said. "In terms of a career, the PSM is really geared toward positioning the student for jobs in the private sector, nonprofit organizations and government entities."
Nefertari Johnson, 43, of Bowie, Md., who is studying biotechnology at UMUC and is set to graduate this May, attests to the employment benefits of the PSM.
She said she had been attempting to get into the biomedical research field for 10 years but only got called for two or three interviews.
"Once I put on my resume that I was in graduate school, although I was nowhere near finishing, I started getting more responses from employers," said Johnson, who works doing HIV clinical trials projects for Social & Scientific Systems Inc.
Both Johnson and Watson are in two fields of study—biotechnology and environmental sciences, respectively—that dominate PSM enrollment.
According to the CGS survey, 16 percent of all PSM enrollment involved biotechnology majors, and 14 percent involved environmental sciences and natural resources majors. The largest field of study was computer/information sciences, which accounted for 21 percent of all PSM enrollees.
Bridges, of UNCF, said he found it encouraging that underrepresented minorities were most represented in computer science, which he said is "one of the most in-demand fields currently." The survey found that 42 percent of all computer/information science students in PSMs were underrepresented minorities, far more than in any other field.
"I'm sure this is being driven by the economy and students moving to fields where jobs are more abundant," Bridges said.