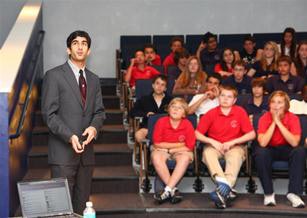 BOCA RATON, Fla. – Dr. Sameer Hinduja, an associate professor in the school of criminology and criminal justice at Florida Atlantic University, has studied cyberbullying since 2002. The now-co-director of the Cyberbullying Research Center admits being bullied himself as a boy, and says building a good school "climate" gets to the root of the problem.
"Create a climate related to connectedness, belongingness, safety, school spirit, good morale," says Hinduja, 35, an associate professor of criminal justice at Florida Atlantic University who has co-authored several books about cyberbullying and spoken about it at schools around the country and abroad. Anonymity in schools can leave students feeling they don't matter, he says.
As a result, "they feel they can do what they want without anyone at the school noticing, let alone caring," Hinduja says in a 2012 book he co-authored, "School Climate 2.0: Preventing bullying and sexting one classroom at a time."
Cyberbullying, which Hinduja defines as "willful and repeated harm" inflicted by computers, cellphones and other electronic devices, is particularly insidious because it can go on around the clock. Hurtful comments and photos can go viral, prompting more abuse of the victim.
Victims often don't know who are bullying them, since bullies can use anonymous e-mail address or pseudonyms. Since bullies don't see their victims' reactions, they may not recognize the harm they're causing. They may not even have a pressing reason for doing it.
Cyberbullying, while not an epidemic, has led to kids withdrawing from their friends, changing schools, cutting or otherwise abusing themselves—even committing suicide.
About a fifth of students reported being victimized, and a fifth said they did the bullying in an extensive study conducted in a big U.S. school district in February 2010 by Hinduja and his longtime collaborator, Dr. Justin Patchin. Some victims have also been perpetrators.
Hinduja and Patchin reject the idea of confiscating or banning the use of electronic devices, saying that they've become an indispensable tool for communicating and learning and that kids find ways to get around bans anyway. A zero-tolerance policy for cyberbullying at school is too inflexible, they say.
Parents can help by going online with their children and discussing their use of the Internet in a nonjudgmental way, says Hinduja, who has appeared on "Anderson Cooper: 360," NPR, the BBC and in The New York Times. Parents can take steps to take down postings, develop a plan of action in case their children are bullied, and keep up on the latest developments by talking to other parents, Hinduja says.
He also offers practical advice for schools, including setting clear policies about the use of devices and websites and getting students, teachers, guidance counselors and principals to talk about cyberbullying and put it into a larger perspective.
But overall, Hinduja says, schools should use a holistic approach—take steps to help ensure that students feel part of a school that recognizes and prizes their individuality.
Some school officials, overwhelmed by the pressures of testing, budget cuts and other issues, might wince at Hinduja's tips on creating a good environment, which include smaller student-teacher ratios, allowing students to evaluate teachers, drafting a climate plan and doing "social norming"—stressing to kids that most kids don't do cyberbullying.
Improving school climates can lead to higher academic achievement and fewer behavioral problems, he says.
The problem is sustaining the environment through staff turnover and other challenges facing the schools, says Sabrina Arredondo Mattson, director of the Safe Community Safe Schools  initiative at the University of Colorado in Boulder. Still, she says, schools need to do it.
The field of cyberbullying was wide open when Hinduja and Patchin began studying it in 2002. Over the years, they have written books and many articles, lectured at conferences, spoken frequently to students and school officials, consulted with attorneys on cyberbullying cases and created a website, www.cyberbullying.us
For Hinduja, studying cyberbullying was a way to combine his interests in criminal justice and computer science. He was young enough to relate to the way kids use new technology, he says. But he admits that, as a single guy with no children, he must "speak humbly" to parents.
Hinduja's own parents came from India and raised him and his sister, now a middle-school guidance counselor, in Oviedo, a suburb of Orlando, Fla. He was fascinated by "Law and Order" and "CSI" and knew computers well. His father once had a computer hardware and software business.
Hinduja earned a bachelor's degree in criminal justice from the University of Central Florida and master's and doctorate in cyber crime at Michigan State University, where he met Patchin. His Ph.D. thesis was on music piracy. He joined Boca Raton-based FAU in 2004 and has been honored for his research and teaching.
Describing himself as shy and self-conscious growing up, Hinduja recounts in "School Climate" how he was bullied as an eighth-grader.
A "quintessential nerd," he angered a boy by paying attention to a girl they were both attracted to. The rival challenged him to a fight after school.
He "got the living crap" beaten out of him in front of other students, he recalls.
Imagining how the bullying could have been carried out in cyberspace, Hinduja says he was lucky.
"Some adolescents continue to experience bullying into high school and beyond," he writes. "Or even worse, some don't make it that far."