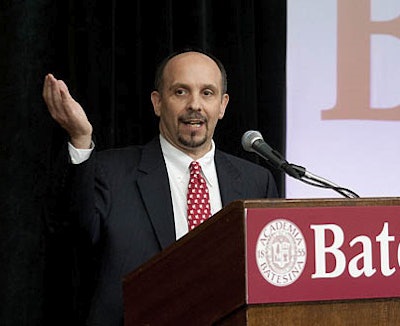 With a cohort of 20 U.S. cities and their metropolitan regions leading the way, the Indianapolis-based Lumina Foundation has launched a community mobilization campaign aimed at helping residents in selected metropolitan areas increase their attainment of postsecondary education and training.
The campaign, which will conclude at the end of 2016, will cover 75 American cities that will be partnered with Lumina and other national organizations to enact local action plans to "increase the percentage of high-quality credentials" by residents living in those communities. A coordinating organization in each of the chosen cities are receiving $200,000 to support their efforts to increase the number of residents with a college degree or certificate that's expected to connect them to employment.
In recent years, Lumina, whose philanthropic mission exclusively focuses on advancing American higher education, has established as a national priority the goal to help bring about a 60 percent postsecondary degree and credential attainment rate among American adults by 2025. Currently, 38 percent of American adults have an associate's degree or higher.
"There are many national and global experts that have made the point that the success of communities and metropolitan areas is increasingly derived from the skills and talents of the citizens in those communities," said Lumina Foundation president and chief executive officer Jamie Merisotis in a recent conference call to reporters.
"We know that local communities derive the most direct benefit from increased attainment, including a better talent base from which to create economic activity, more civically and socially conscious citizens, and a higher equality of life," he said.
Merisotis explained that research evidence has confirmed that among metropolitan "regions with high concentrations of people who are well-educated and those who work in specific fields like health care, technology and other fields for which postsecondary education is a prerequisite, these communities tend to have the highest levels of economic development."
He noted that Lumina's " intent with this new work with employers, civic leaders, community-based organizations, K-12 schools, colleges and universities is to provide resources, knowledge, expertise as well as well as financial support, and most importantly the ability to build relationships with other communities through creation of a network."
Haley Glover, the strategy director at Lumina Foundation overseeing the cities project, said the mobilization is beginning with 20 cities, which already had programs in place to boost higher education attainment by local residents. "These 20 cities represent the leading edge of a movement we're seeing across the country….[They are] communities that have set an attainment goal" for local residents, she said.
The campaign launch cohort of metropolitan communities includes: Albuquerque, N.M.; Boston, Mass.; Buffalo, N.Y.; Cincinnati, Ohio; Columbus, Ind.; Dayton, Ohio; Fort Wayne, Ind.; Greensboro, N.C.; Houston, Texas; Kalamazoo, Mich.; Louisville, Ky.; Memphis, Tenn.; Philadelphia, Pa.; Pittsburgh, Pa.; Providence, R.I.; Quad Cities, Iowa/Ill.; San Antonio, Texas; Santa Ana, Calif.; South Seattle/South King County, Wash. and Syracuse, N.Y.
Dr. Thomas J. Lasley, executive director of the Learn to Earn Dayton organization, said the Lumina Foundation's new program will help the Dayton, Ohio-based group attract greater support locally and result in getting the group access to valuable policy research and information. As a coordinator of college and career readiness programs in Dayton and Montgomery County, Learn to Earn Dayton has been based at the University of Dayton where Lasley is a faculty member and a former dean in the university's School of education and Health Sciences.
"We're trying to put together a set of strategies that go beyond tapping the kids that typically go to college," Lasley said. "What Lumina has been able to do is now giving us a platform to put the spotlight on the work that we're doing."
Joining Lumina in the community mobilization campaign are national thought-leadership organizations to whom the participating community groups and representatives, such as Learn to Earn Dayton, will have access. The thought-leadership organizations are as follows: American Chamber of Commerce Executives, Aspen Institute Forum for Community Solutions, Brookings Institution, Council for Adult and Experiential Learning, DCA, Inc., Excelencia in Education, The Harwood Institute, Institute for Higher Education Policy, National College Access Network, National League of Cities, OMG Center, Say Yes to Education Foundation, Strive Together, Talent Dividend and United Way Worldwide.
"We along with several other organizations are serving as an intermediary to help [Lumina] engage over the next three years 75 cities in this effort," said Dr. Jennifer Engle, vice president for policy research at the Washington-based Institute for Higher Education Policy (IHEP).
She explained that as an intermediary IHEP will provide strategic information and other resources that can help local organizations negotiate and put into action complex policies and practices. The national organizations will pull "together strategic resources that can help the cities move forward their attainment agenda," Engle added.