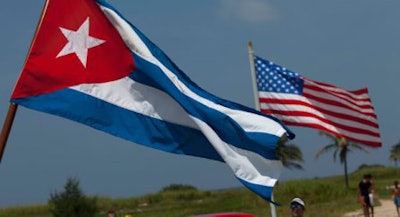 GREENWOOD, Ind. (AP) – For more than 40 years, U.S. tourism to the island nation of Cuba has been forbidden.
An embargo placed on travel in the 1960s essentially has cut off one of the most fascinating countries in the world.
Few U.S. travelers have been able to experience the spicy mix of garlic, cumin and oregano in authentic meat turnovers called empanadas or enjoy a café cubano espresso sweetened with locally grown sugar.
But this winter, Greenwood native Jordyn Perry was able to experience Cuban culture firsthand.
Perry, 21, toured Cuba as part of a school-sponsored research trip through Illinois College. She worked with botanists, educators and doctors to examine the benefits and disadvantages of the public health care system in preparation for her own career in occupational therapy, the Daily Journal reported.
The trip helped dispel the misconception of the Cuban people's hatred of the U.S. and exposed her to a land that has been hidden from travelers for so long.
"I didn't think the Cuban people would be willing or wanting to talk to us. But they were ecstatic," she said. "I think it gave much of the people a sense of hope that things were changing there."
Perry said the people she encountered were more helpful than many she meets in the U.S.
In the capital city of Havana, she and her fellow students stared at an indecipherable bus system map. They were waiting to take a taxi to the correct bus stop in order to enjoy some of Havana's nightlife.
But speaking and reading only minimal Spanish, they were lost.
The students must have looked distressed because a family approached them and starting speaking English. Within minutes, the family arranged a taxi for the youths and chatted about everyday life.
"They talked to us about their culture and where they worked, the schools their children went to," Perry said. "People were going out of the way to make sure we were going to see their country and enjoying."
"That's something we don't see in America."
The excursion to Cuba was part of the BreakAways program at Illinois College, a liberal arts school in Jacksonville. The group trips are led by college faculty during breaks in the normal academic calendar.
The experiences are aimed at instilling in students a different perspective on how the world works, said Steven Gardner, a Spanish professor and one of the organizers of the trip.
"Cuba is only 90 miles from the U.S., but it's probably the country we know the least about. The news we do get is ideologically and politically tainted," he said. "We thought it was important to let our students go to a society like Cuba and understand what the society is without this interference."
Trips this year include sessions in New York, Japan and France. But Cuba is a new opportunity for Illinois College students.
Due to the embargo placed on Cuba in 1962, travel by almost all tourists from the U.S. has been banned. But President Barack Obama eased those restrictions in 2011, making it possible for those in academic, cultural or religious groups to enter the country.
A research team from Illinois College had been working on a project with Cuban orchid specialist Ernesto Mujica. But this was the first time Illinois College students traveled to the country.
The trip had a variety of focal points. Students examined the health care system by visiting physicians' offices and hospitals. To learn about child care and development, they worked in educational centers in Havana.
And as an offshoot, the group studied the rare ghost orchid in the Guanahacabibes National Park.
"We opted for Cuba because that country has been identified worldwide as one place to see before it completely changes. Indeed, we witnessed changes literally while we were there," said Lawrence Zettler, chairman of the biology department at Illinois College and one of the faculty supervisors for the Cuba trip.
For Perry, the trip was an opportunity to study subjects related to her goals of becoming a therapist. A junior at Illinois College, she is involved in a wide array of activities on campus in an attempt to increase her worldliness.
She is a member of the swim team, a psychology major and a participant in the Best Buddies program helping children with disabilities.
Her academic adviser, psychology professor Elizabeth Rellinger-Zettler, was one of the faculty guides and recommended the trip to her.
"From a psychological perspective, Cuba is a fascinating culture not only because of the differences we can observe regarding family life and cultural identity but also in terms of their focus on providing education and health care to all citizens," Rellinger-Zettler said. "Because Jordyn is already involved with people with special needs, looking at the psychological and social services provided to people with disabilities was an important part of the trip for her."
This was not Perry's first trip to the Caribbean. In high school, she traveled to Puerto Rico and Haiti to do mission work.
Her experience revealed the difficulties in the health care field in other parts of the world, which shaped her interest in making that her career.
In particular, Haiti showed how fortunate people living U.S. are for the level of care available to them.
"Where we were, there was not any specific health care. We brought in a dentist so that kids could get free oral care and a toothbrush that would last them until the next time someone gave them one," she said. "Kids walked one or two miles with a fever, just because they knew we'd have a doctor there."
The group left for Cuba on Dec. 31. Upon arriving, Perry was immediately struck by the paradox of the country, starting with the health care system.
Poverty levels were comparable to what she'd seen in Haiti. Few people had cars, and often people would wait hours just to get a taxi ride to the grocery store.
But everyone receives quality health care.
"If you go to a doctor, they have optometry, orthodontists; everyone can receive those services. No one is turned away," she said. "Everyone in the health care system receives a home-care visit from their physician once a year."
The students visited a psychological center, where all of the patients received occupational therapy as part of their daily lesson.
"Part of what we wanted to do was show them how education and health care has been very successful and provide a lot of models that work very, very well with limited resources," Gardner said. "We wanted them to examine what they're doing in Cuba, how you cover everyone in a health care and education system."
Perry also experienced the difference in the social nature of Cuban life. People were outgoing and talkative.
During the evenings, the students ate at state-run restaurants, where they had traditional Cuban fare. Occasionally, they enjoyed in-home restaurants—people's homes that have been opened up for the public to eat in.
Everywhere they went, musicians and artists provided music in exchange for tips.
"In almost every restaurant, someone was playing the drums or singing and dancing," she said.
The group returned from Cuba on Jan. 11. Each student is responsible for writing a term paper on the experience and to share the journal they kept for the 12 days they were out of the country.
For Perry, she has used the trip to re-evaluate her own approach to life. Just the chance to see such a mysterious country on her own was worth the trip.
"It changes the way I think about things, examining how much we take for granted. In Cuba, people talk about how they don't have toilet seats, toilet paper, hot showers," she said. "We're very lucky here for what we have."