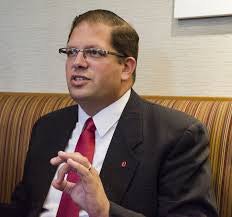 COLUMBUS, Ohio — Ohio State University's fired marching band director was lauded for "courageous" efforts to address attitudes surrounding the band's traditions seven weeks before he was fired, according to records the university released this week.
Jonathan Waters was dismissed July 24 after a two-month investigation concluded he knew about but failed to stop activities contributing to a "sexualized culture" within the celebrated organization, including students marching partially clad, playing groping games on buses and bestowing sometimes lewd nicknames on new members.
In an annual performance review signed June 2, School of Music Director Richard Blatti gave Waters high across-the-board marks for the $150,000-a-year job, including with regard to band culture.
"Jon is confronted with many years of 'tradition' and many well-meaning alumni whose proclivities and excesses need constant but gradual attitude adjustment," Blatti wrote. "Jon has already begun to address these predispositions and is courageous in tackling some of the more extreme views head-on."
University spokesman Gary Lewis said, "Those comments stand alone and are separate from the complaint and the subsequent investigation which led to the personnel action."
The university released Waters' personnel file to The Associated Press following a public records request.
According to the file, Blatti had been critical of a younger Waters as a conductor and leader and observed he "occasionally shifts blame when circumstances dictate."
The most recent evaluation period ended in March, before the university launched its investigation into a band parent's complaint, but it was signed about a week after the probe began.
Waters' attorney, David Axelrod, said statements from the review prove Ohio State was aware traditions cited in its investigation were longstanding.
"The personnel file just illustrates the absurdity of the situation," he said.
During a speech Wednesday marking Ohio State President Michael Drake's first public forum since the firing, Drake received applause when he said he was standing up for the university's tradition of excellence in replacing band leadership. He acknowledged he is open to new facts coming to light but said he sees virtually no chance Waters will be reinstated.
"Based on the facts, we stand by our decision," he told a packed forum of the Columbus Metropolitan Club.
Waters has highlighted efforts he says he was making to improve band culture. He had led the organization, lauded as The Best Damn Band in the Land, since 2012, creating revolutionary halftime shows that drew millions of views on YouTube.
But the university's investigation faulted Waters for failing to intervene in a number of offending activities engaged in by the band, including an annual initiation-type ritual for new members in which the band entered Ohio Stadium in underwear, dubbed the Midnight Ramp.
Waters and his supporters contend the university's police and athletic departments witnessed the longstanding event over the years, suggesting the university's tacit approval — though university leaders have suggested the report's revelations came as a surprise. In response to another AP records request, Ohio State said there was no documentation campus police attended the event during Waters' two years in charge.
Axelrod, Waters' attorney, said they could produce dozens of witnesses who saw police at Waters' last two Midnight Ramps. Gary Leppla, who is part of a band alumni contingent that's conducting its own review, surmised their presence was simply not documented.
"This is just one of those cool wink-and-nod traditions that they got to be a part of," Leppla said.
Asked at Wednesday's forum whether university leaders reasonably should have known what was going on inside the band, Drake said, "There are a lot of things that we just speculate that may have been the case."
The TBDBITL Alumni Club is aggressively lobbying for Waters' reinstatement, including with music by a contingent of alumni outside Drake's event Wednesday.
A handful of female band alumni, including two who were cited as witnesses in the band culture probe, have come forward since Waters was fired to question elements of the investigation's report, including how it portrayed band culture, Waters and details of their accounts.
Drake, who took over as president on June 30, said he has zero tolerance for sexual harassment and intimidation revealed by investigators. He said Wednesday even one incident of sexual harassment is too many.