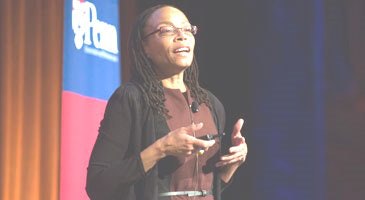 SAN FRANCISCO — The Civil Rights Act of 1964 was supposed to end racial discrimination, but people of color might have just as much difficulty today accessing the same health care, educational and employment opportunities as Whites as they did prior to the passage of the historic legislation.
That was the somber consensus of a panel of scholars who examined racial hierarchy in the past 50 years.
For example, the biotechnology and pharmaceutical industries have developed race-specific products, such as a drug for African-Americans who endure heart failure, said Dr. Dorothy Roberts, the George A. Weiss University Professor of Law and Sociology at the University of Pennsylvania. Furthermore, pharmaceutical officials claimed that patients' medical reactions to the drug differed along racial lines, suggesting that innate differences exist among racial groups.
Making matters worse is when scholars treat race as merely a study of biological differences and ancestry rather than as social construct. "This is what leads to the persistence of racial inequality and a racial caste system," Roberts said.
She noted the irony of how race-based social remedies are increasingly coming under attack in the courts. "It's unconstitutional to use race to challenge institutional racism, but it's fine to create a race-specific medication."
Roberts' remarks came during a panel discussion at the annual American Sociological Association conference, which brought together about 5,000 sociologists and other academic researchers who explored ideas and studies related to economic and other inequalities. The conference ends Tuesday.
In her comments about biopolitics and race, Roberts warned that too much focus on genetics results in harmful stereotypes such as Blacks excelling in sports because of innate physical prowess and Whites excelling in academics over Blacks.
She and her co-panelists discussed a variety of racial disparities.
Dr. John Skrentny, a University of California, San Diego sociology professor, pointed out how Black police officers in New York City were transferred to a high-crime area in the late 1990s in efforts to quell a spike in racial violence. Skrentny also noted how Black managers of a U.S. drugstore chain once complained that their placement in stores in predominantly minority, low-income neighborhoods meant they could not score as high on their annual performance evaluations, which were based in part on store sales, as the managers in affluent areas.
"Since the Civil Rights Act was signed, there have been more job opportunities for Blacks but also job limitations," Skrentny said. "Racial realism needs to be acknowledged and reformed to fit the goals of the Act."
The social changes promised under the Civil Rights Act have also eluded many of the minorities who aspire to become Americans, said Kevin Johnson, dean of the University of California, Davis law school.
The Immigration Act of 1965, which followed passage of the civil rights measure, erased the previous quota system that had benefited Northern Europeans but imposed a cap of 120,000 new arrivals annually from the Western Hemisphere. This has disproportionately impeded people from Mexico, who are more likely to desire U.S. entry than those from other countries around the world, Johnson said.
Consequently, increasing numbers of Mexican immigrants are undocumented, he said.
The sociologists' conference has featured 600 sessions and 3,600 studies of subjects such as political participation, relationships, gender, technology, bullying, social media, sex and religion.
The theme of the conference is "Hard Times: The Impact of Economic Inequality on Families and Individuals," so race and ethnicity have often emerged in presentations and panel discussions. Not surprisingly, the fatal shooting earlier this month of 18-year-old Michael Brown, an unarmed African-American, by a White police officer in Ferguson, Missouri, also has been discussed during conference sessions.
Dr. Wendy Leo Moore, a Texas A&M University associate professor of sociology who organized the civil rights panel, initially resisted the idea of bringing Brown's death into the conversation because the aftermath continues to unfold and information continues to emerge. At first, it seemed more appropriate to focus on the gains and losses across 50 years.
But while waiting to board her flight for the conference, a televised news report at the airport disclosed that Brown had been a suspect in a convenience store robbery prior to the encounter with police. Immediately, the White passengers in the boarding area remarked that the shooting was justified — an attitude that exasperated Moore because the police officer didn't know this about Brown when he shot him.
"Is it possible to go through legal challenges to deconstruct racial supremacy?" Moore asked the panelists.
Dr. Aldon Morris, the Leon Forrest Professor of Sociology and African-American Studies at Northwestern University, replied that it would be "futile" to rely on government for solutions.
Morris pointed out how legislation such as the Civil Rights Act resulted "not from something in the air or falling from the sky," but from grassroots struggles and pressure put on establishment institutions. Yet the legislation has failed to erase disparities in educational access. He lamented how year after year, almost no Black or Latino students enroll in his courses on the civil rights movement — unless it's a varsity athlete.
Commemorations such as the 50th anniversary of President Johnson signing the Civil Rights Act "lull us to sleep and enable us to engage in symbolic hugs and return to business as usual," Morris said. "But we have a long way to go."
Roberts applauded the calls for racial justice among protesters in Ferguson, a suburb of St. Louis. "We should affirm our common humanity by revisiting social justice, as the protesters in Ferguson are reminding us."