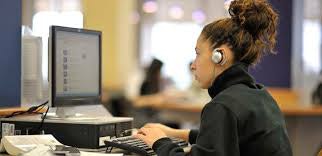 A new mobile phone app that nudges students to perform certain tasks that are part of the college admissions process. College advisers who interact with students via Skype. Websites that produce a list of prospective colleges based on student preferences.
These are just a few of the growing number of ways that technology is reshaping the landscape of college advising.
Whereas students seeking college advice in the days of old may have been forced to meet with their overburdened guidance counselors in cramped offices — and then only during school hours — students of today have a bourgeoning array of options to get college advisement at their fingertips in the virtual world via laptops and phones.
Those at the vanguard of the movement to use technology to help students through the college search and application process say it will ultimately enable large numbers of students — particularly those from families of lesser economic means — to achieve their college dreams like never before.
"Clearly, the research demonstrates that aspirations for kids from low-income households are just as high as that of other kids," said Don Fraser Jr., founder and president of CollegeSnapps, a company that created an app for students to get information, updates and alerts relative to their college quests.
"However, they don't know what that means or the steps to make it happen," Fraser said. "So to help them with the whole notion of 'You don't know what you don't know,' we need to close the information gap.
"We need to make sure that they receive high-quality, timely information, and oftentimes they're not getting that due to all the reasons we know: High caseloads. No counselor. No parent who knows how to guide them through the nuances of the process. It's not their fault."
To help close the information gap, Fraser's company developed a free mobile phone app that the company's website refers to as "an advisor in your pocket."
Among other things, the app reminds students to perform certain tasks in their bids to get admitted to college, such as completing their college admission essays or obtaining letters of recommendation for their college applications.
Fraser harbors no illusion that technology is an adequate substitute for advice from an experienced advisor. In fact, part of CollegeSnapps involves a platform for students to ask questions and get timely responses, as well as access to similar questions that have already been posed and answered.
His app has been purchased for a fee by college access organizations that wish to use the app with large groups in a more systematic way.
Technology pioneers are also developing ways for students to develop and narrow down their lists of college choices online.
One such platform is TractusInsight.com, a website that generates a list of college choices based on filter options that range from location, size and setting to acceptance rate and whether a school is above, at or below a student's academic qualifications.
'We're using technology to surface suggestions, tools to make comparison and narrowing-down simpler, and guidance regarding what a 'good list' should be," said Lori McGlone, CEO and co-founder of Tractus Insight.
McGlone said the website makes it easier to compare colleges across hundreds of data points — a process that she says should be started sooner rather than later.
"The days of applying haphazardly and then doing the real research once acceptances arrive are gone," McGlone said. "It's critical to do your best to identify colleges that are most likely to be a fit and then apply to those schools."
Students are also getting advice from actual advisors in the virtual world — something that knowledgeable sources say is expected to become more commonplace in the 2014-2015 school year.
Among the organizations that already offer such "virtual advising" is the Virginia-based Jack Kent Cooke Foundation, which provides college scholarships to a select group of high-achieving students from low-income families.
Though the educational advisors at the foundation meet with young scholars and their families in person, much of the advising takes place via Skype, email, Facebook and texting.
"Virtual advising allows us to efficiently and cost-effectively support Scholars through the highs and lows of adolescence," said Rebecca Cullen, director of Young Scholars and Alumni Programs at the Cooke Foundation. It also enables the advisors to build upon the work they conduct in person, such as goal-setting, high school and college counseling.
For Fraser, technology should complement what real advisors do, not supplant it, and the technology must be developed and utilized in a thoughtful way.
"I'm obviously glad that people are looking to leverage technology," Fraser said. "But I think that people need to be cautious in what they're building, knowledgeable about how students consume this stuff and what they need, and collaborative.
"If you can do those things, I think you're going to be posed for more success because we have seen lots of technology be introduced to education that looks great on paper and never gets implemented."