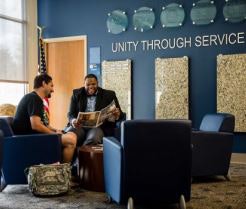 Last semester, Sam Alix made the dean's list for the first time in his college career. The 47-year-old disabled Air Force veteran attributes his success to the Center of Excellence for Veteran Student Success at San Jacinto College, where he's pursuing an associate degree in mental health counseling.
Alix says the warmth of the office staff, along with their patience and willingness to help him succeed, has benefited him immeasurably.
"The folks at the veterans center were so inviting," says Alix, who sustained trauma while serving in Iraq and retired as a master sergeant in 2009. "They allowed me to ease into the college experience and also provided a safe place to study, do research and ask questions.
"I was having memory issues but they were patient with me. That gave me the confidence that I needed to thrive in the college environment," he adds. "They never get tired of you asking the same question over and over again. I have had questions about things other college students might find simple, like printing."
San Jacinto College opened its three Centers of Excellence for Veteran Student Success two years ago as part of its strategy for the recruitment and retention of veterans. The Houston-area community college that operates three campuses counts more than 1,400 veterans among its students.
Alix says the existence of a veterans center where he can fraternize with other students who are former or active military has been helpful and provides a safe haven for him on campus.
Recruiting vets
In recent years, hundreds of colleges and universities around the country have been developing strategies to recruit veterans and active military students and help them thrive in the academic environment.
American colleges and universities currently enroll the largest number of veterans and active-duty military personnel since the end of World War II, according to the American Council on Education (ACE). The large enrollment is a result of a combination of factors, including the lengthy wars in Iraq and Afghanistan.
Deborah Seymour, assistant vice president for education attainment and innovation at ACE, says the high veteran enrollment is also a function of changing times.
"It's becoming increasingly important to achieve a higher education degree to promote employability and innovation," she says. "Institutions acknowledge that. Gone are the days of the high school degree being a ticket to success. And universities recognize that."
Many colleges are coming up with new strategies for engaging veteran students by training faculty and staff to cater to their unique needs, building centers where veterans can meet other veterans and developing or structuring curriculums in a way that best suits them.
Addressing needs
College of­ficials say veterans bring a broad range of strengths to classrooms—as well as a wide variety of needs. Some may have suffered combat injuries or trauma that affects the way they learn.
As a result of their life experiences, some also prefer smaller class sizes and greater contact with instructors, says Hannah Wood, a student at Southern Methodist University (SMU), which she says has seen an explosion in the use of GI benefits since 2005.
Wood, a petty of­ficer in the Navy and president of SMU MilVets, an organization of veterans, says others want to know that they are not isolated and like to enjoy access to amenities such as a veterans advisory board or support group.
Dr. Rita Kirk, a professor of communication studies at SMU and faculty adviser to MilVets, adds: "Veterans, especially those who were not of­ficers, are accustomed to taking orders, as well as responsibility, for their actions. As such, they expect to meet course requirements and, I ­find, often fail to seek help outside class. They make no excuses when they underperform, but they do not always avail themselves of the same help other students regularly seek."
On San Jacinto College's South Campus, the veterans of­fice includes a coordinator, an education planner and a part-time enrollment specialist. It serves as a one-stop shop facility, says Eugene Bernard, who heads the South Campus of­fice.
He says that, in addition to providing a place where students can meet with college staff that advocate for them and help them navigate the college's academic and bureaucratic maze, the center provides a lounge for students to hang out, socialize and study together.
Bernard says the center works with a corps of volunteer faculty members to tutor students. The of­fice has also introduced priority registration for veterans.
"Students would come in at the last minute to register," he says, adding that his of­fice worked with admission and registration departments to make that flexibility happen.
Bernard says the of­fice also works to help students succeed in their personal lives. The of­fice has hosted financial literacy workshops, educates them about career opportunities and has conversations with them about university plans when they are done at San Jacinto.
Finding best university
Seymour says there is no one-size-­fits-all model for dealing with veteran students.
"What we have learned is that there is no one exemplar," she says. "Each institution has to ­figure out their own population and figure out what is best for their population."
ACE hosts an online military and veterans toolkit that serves as a forum for college representatives to ask questions and exchange ideas about smart practices for serving this group of students.
"Institutions post what they are finding," she says. "We have 2,000 users and over 1,000 institutions using the toolkit. It has become a trend in terms of doing research for what they need."
Jen Arthur, director of admissions in the Jenkins MBA Program at North Carolina State University, says the business school actively recruits military personnel by advertising in various publications targeted at them and by attending military fairs and other events that heighten the college's visibility.
She says the college has a supply-chain management program that is attractive to military candidates. But Arthur says the college also recognizes that ­flexibility is important to active-duty military personnel.
For instance, she says, one of their programs is an online degree that also requires students to come to campus for a three-day residency.
"We make exceptions for the military students so they can be completely online," Arthur says.
Patrick Partridge, chief marketing officer for Western Governors University (WGU), a nonprofit online institution of approximately 50,000 students that counts veterans and military among 10 percent of its enrollment, says the setup of his school is particularly attractive to veterans.
"The most important thing to realize is that we are a university for degree seekers at the bachelor's or master's level who want to finish quickly and who have substantial college credits (at) the bachelor's level," he says. "Unlike other universities that serve the military, we are much more oriented toward a soldier who is active duty or a veteran and who is looking at doing it at a pretty quick pace."
Partridge says each student is placed with a faculty mentor who helps them throughout the entire program. He adds that self-pacing and ­flexibility are important components of the WGU experience.
Terms last six months, and students typically take between four and six courses, but some of the more ambitious ones take as many as eight or nine—or all—for a flat fee of $3,000, including e-textbooks. Price is an important factor for veterans, Partridge says, because it makes their benefits go further.
The affordability, coupled with the ­flexibility and self-pacing, makes the school attractive to military students and has consistently earned WGU ratings as one of the nation's most military-friendly schools.
Kirk says becoming an attractive college to veterans boils down to two words: "to care."
"These are people who have chosen to put their lives on the line and step up when less than 1 percent of the U.S. population did," she says. "All they want now is to figure out how to find a place back in a world where the expectations have changed.
"They want recognition for the fact that their life experiences are vastly different from the traditional college student, (although they) often decline to be called heroes. But mostly, they want to find each other."