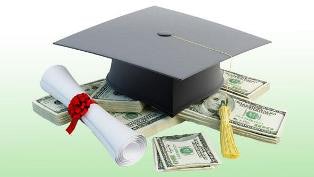 When it comes to making higher education more affordable in the future, the question of whether to go to school online or to a traditional campus won't be an either-or proposition—it will be a question of how much of which.
That was one of the major points made during a panel discussion on college access and affordability Thursday at a National Education Week "Thought Leader Summit" held at the National Press Club.
As competency-based credentials and online courses become more common on the landscape of higher education, students will have to decide whether football, fraternities and other things to be found on traditional campuses are worth thousands of dollars more than less costly alternatives, one of the panelists suggested.
"For traditional schools, the cost of those institutions is not going to change in the short term," said Phil Bronner, CEO and co-founder of Quad Learning, a venture-backed startup that helps move high-performing students through community colleges into top tier colleges and universities, thereby lessening the overall cost of earning a four-year degree.
"Because of health care and other things, the price will go up," Bronner said. "The only way a parent or a student can get a lower cost is to transfer in lower cost credits."
Future students will continue to get degrees from traditional institutions, Bronner said, but those students will also spend less time at traditional institutions than before.
Burck Smith, CEO and founder of Straighterline, a company that provides online first- and second-year general education courses to help students shave costs off their degrees, said more must be done to help students understand the true price of a degree.
"If you think about how many ways we—the country and higher education—have to confuse what the actual price is, it's really sort of astounding," Smith said. "You've got the list price, net price, scholarships and discounts … not to mention what kind of loan terms or what kind of Pell grant you get, whether the loans are dischargeable or not.
"It's almost impossible to know what you'll be paying," Smith said. "Until you can actually make the price clear, ratings aren't going to do much," he said of the Obama administration's proposed college rating system, which, among other things, is meant to help prospective college students make more informed decisions about which college to attend.
Chris Etesse, CEO at Flat World Knowledge, a company that provides online course materials, extolled competency-based education, which enables students to learn at their own pace, over online courses that merely "map back" to credit-hour courses that meet at specific times—something he says does not have to be done online.
Competency-based education enables students, particularly adult learners with family and work obligations, to complete work during lunch hours or while in transit or other hours that they have free to do coursework.
"That's where we're going to get the benefit … when we allow students to learn the way they act in real life," Etesse said.
Rajeev Arora, Senior Vice President of Product at Parchment, an online company that helps students secure and send transcripts, said it's important for increasingly itinerant students to have a clear sense of how much progress they've made toward a degree.
"Many have credit right now for a degree and just don't know," Arora said.