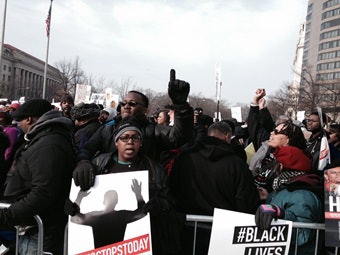 WASHINGTON D.C. — U.S. Secretary of Education Arne Duncan was among the sea of protestors who marched on Saturday to protest the recent deaths of several unarmed Black men killed at the hands of White police officers.
"I'm proud to march," said Duncan, who did not speak at the March and rally organized by civil rights activist Rev. Al Sharpton. "Black lives matter."
Diverse spotted Duncan approaching Michael Brown Sr.—the father of the 18-year-old Ferguson, Mo., teenager who was gunned down in August—and offering his condolences.
Duncan's unusual presence at the gathering might be viewed as tacit endorsement by the Obama administration for police reform, in the wake of the refusal by grand juries to indict police officers who killed unarmed Black men and boys in Staten Island, N.Y., and Ferguson.
The issue has been particularly tough for Obama, who has been cautious throughout his presidency when it comes to racial issues, much to the chagrin of some who had hoped that the nation's first Black president could help to improve the climate for African-Americans.
Protesters, armed with posters and chants, descended on Pennsylvania Avenue, calling for the federal government to do more to closely monitor the actions of local police officers.
Saturday's March was interracial and intergenerational, with college students marching alongside well-known academics like Dr. Michael Eric Dyson of Georgetown.
"Black people are tired of not being able to breathe," Dyson told Diverse, referencing the last words that Eric Garner, 43, uttered after a New York police officer placed him in a chokehold. "We are outraged by the silent complicity of the status quo."
At the march, several college-age students like Terrence Little, 23, of Hyattsville, Md., said that he was encouraged by the activism of college students but added that civil rights leadership needed to make room for young people to push the movement forward.
"This is our moment," said Little, who has taken classes at Prince George's Community College. "Young people have to be given leadership roles and invited to the table to help solve these problems."
At one point during the rally, the crowd began chanting "Let the young people speak" and a group of college-age activists stormed the stage and commandeered the microphone.
"We came here knowing that our voices would be excluded from the program," said Janessa Robinson, an organizer with D.C Ferguson, the grassroots group that spearheaded demonstrations for the past three months. "We had to force them to give us a voice."
But Dyson said that "leadership comes where it will" and that it "emerges where it is needed." Unlike the civil rights marches of 50 years ago, he said that young women—in particular—have lent their voices and talent to the movement.
For his part, Sharpton, 60, dismissed any intergenerational divide and said that protesters were united in pushing for long-term systemic change.
"This is not a Black march or a White march," Sharpton said. "This is an American march so the rights of all Americans are protected. I'm inspired when I see White kids holding up signs saying, 'Black Lives Matter.'"
Jamal Eric Watson can be reached at [email protected]. You can follow him on twitter @jamalericwatson