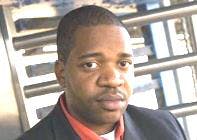 For as long as he can remember, Dr. James Braxton Peterson has always been enamored with hip-hop. In his native Newark, New Jersey, it was all around him as a kid.
"I grew up with hip-hop," says Peterson, who remembers listening to the music in 1979 at the ripe age of 8 years old. "I was at an age when hip-hop was just dawning so I was able to grow up with it."
It's no coincidence then that Peterson, who is director of the Africana Studies Program and an associate professor of English at Lehigh University, recently released The Hip-Hop Underground and African American Culture: Beneath the Surface (Palgrave Macmillan), which grew out of his dissertation.
The book has been receiving widespread recognition and praise by academicians and a host of grassroots activists.
"I worked on the book for 20 years," says Peterson, who earned his Ph.D. from the University of Pennsylvania in 2003 and has taught hip-hop related courses since graduate school. "This work is near and dear to me. I've always been fascinated with the concept of the underground within hip-hop culture."
Now, a rising star within the academy, Peterson has become a sought-after voice on hip-hop and other matters. His presence as a visible commentator on MSNBC has allowed him to shed a light on how the hip-hop generation was able to mobilize in the wake of the tragic shooting of Trayvon Martin and the police killings of Michael Brown and Eric Garner.
"I think he's very bright," says civil rights activist Rev. Al Sharpton, who regularly invites Peterson onto his MSNBC show PoliticsNation. Sharpton says that Peterson offers a sophisticated analysis of hip-hop that demonstrates that the cultural phenomenon is not merely monolithic.
At the time when Peterson was breaking into the field, not many scholars, with the exception of Dr. Michael Eric Dyson, and a few others, were engaged in critical studies focused on hip-hop.
Now, Peterson says that he's impressed by how much the field has expanded in a remarkably short period of time.
"Now we have all of these hip-hop scholars and dissertations on hip-hop," he says with a laugh. "The flood gates are open now, but in the early years, not a lot of people were taking this work seriously. I really felt I was really connecting the dots for people and situating my work in African-American culture."
Peterson says that his intellectual journey was inspired by the literary work of established Black writers like Ralph Ellison and Amiri Baraka. But he says that he was also encouraged and inspired by a litany of Black intellectuals, including Dyson and Dr. Farah Griffin, who currently is the William B. Ransford Professor of English and Comparative Literature and African-American Studies at Columbia University.
"Farah did many, many things for me that she will not take credit for," says Peterson, who first encountered Griffin as a graduate student when she taught at the University of Pennsylvania. "She taught in a way that I would ultimately model as a teacher."
In an interview with Diverse, Dyson says that Peterson has established himself as one of the nation's foremost scholars on hip-hop.
"James Peterson is at forefront of a new wave of hip-hop scholars who marry the most sophisticated literary and cultural theory with scrupulous attention to the vernacular forms that pulse through hip-hop culture," says Dyson. "He is able to illuminate lyrics, unearth hidden racial meanings, detail cultural significations and explore the wide range of literacies that characterize the best hip-hop."
Dyson says that Peterson isn't merely a scholar, but a "hip-hop head," who can simultaneously "theorize and criticize its multiple expressions across the intellectual and popular span of American culture."
"James Braxton Peterson is one of the greatest figures that hip-hop culture has produced," says Dyson. "He just happens to be a top shelf-academic who studies the culture."
Peterson has now become a mentor to dozens of other students, many of whom remain deeply interested in hip-hop culture and its ensuring its longevity.
"Dr. James Peterson is an amazing mentor who provides nothing but genuine support, guidance and inspiration to his mentors and students," says Cynthia Estremera, a doctoral student at Lehigh University. "He has been an anchor in my professional/academic development, even passing down publishing and writing opportunities to myself and other graduate students so that we can create for ourselves.
"While other professors in academia are busy putting students through rigorous litmus tests, he has been an advocate of showing graduate students the best way to succeed by motivating us and pushing us in the right direction."
Estremera says that Peterson's new book on hip-hop "is a reflection of not only his research and interests, but also of the dialogue that manifested in classroom discussions with his students which is invaluable and rare these day," she says. "In the midst of his publications, talks, media appearances and university commitments, Dr. Peterson indefatigably puts his students first."
Jamal Eric Watson can be reached at jwatson1@diverseeducation.com You can follow him on Twitter @jamalericwatson.