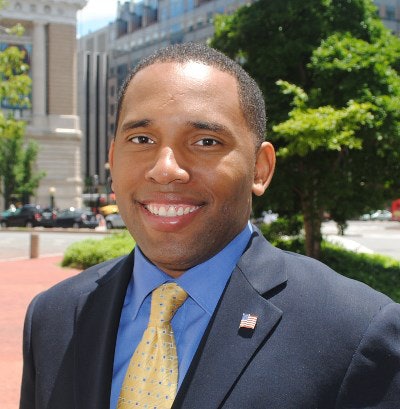 Dr. John Michael Lee has long-term plans of landing a job as a college president.Dr. John Michael Lee Jr., who has served as the public face for the Office for Access and Success at the Association of Public and Land-grant Universities, is stepping down from his position at the advocacy organization after nearly two and a half years on the job.
"I think I have accomplished all that I set out to do when I started," said Lee, 35, who has been credited with raising the profile of the Office for Access and Success (OAS) by training a spotlight on the issues and challenges that confront historically Black colleges and universities and other minority-serving institutions. "I have always said that my ultimate goal has always been to make a difference in the field of education and serve as an advocate for underrepresented and underserved students. I am very proud of everything that we have been able to accomplish together."
Lee, who came to APLU in 2012 after spending five years as director of the Advocacy and Policy Center at the College Board, said that he will now focus his efforts on building his consulting firm, North Star Educational Consulting, which will "continue to focus on issues of diversity, access and success for students in education."
He is currently enrolled in graduate-level courses in philanthropic studies at the Lilly Family School of Philanthropy at Indiana University-Purdue University Indianapolis and ultimately has long-term plans of landing a job as a college president.
"I'm definitely interested in the presidency," said Lee, who has participated in several leadership programs aimed at grooming future college presidents. Along the way, he has been mentored by current and former presidents, including M. Peter McPherson, APLU's current president, who presided over Michigan State University from 1993 to 2004.
In a memo sent to the Council of 1890 Universities, the Commission on Access, Diversity, and Excellence Executive Committee and APLU's staff, McPherson, along with Drs. Juliette B. Bell, chair of APLU's Council of 1890 Universities and president of the University of Maryland Eastern Shore, and Kevin D. Rome, chair of APLU's Commission on Access, Diversity, and Excellence and president of Lincoln University of Missouri, praised Lee's accomplishment and said that his focus on diversity and student advancement issues has advanced the work of APLU.
"During his tenure at APLU, John has been a very active vice president," the memo stated. "He has worked with his colleagues at APLU on our national agenda to improve readiness, access and outcomes for students and worked to strengthen member institutions through the use of evidence, advocacy, convenings and initiatives."
They specifically pointed to his work in designing and implementing new programs that included the Project Degree Completion Awards, the Minority Male Stem Initiative, the HBCU Innovation, Commercialization and Entrepreneurship Collaborative and the HBCU Student Success Summit, which will hold its second gathering in Atlanta in June.
The OAS office at APLU has experienced high turnover in recent years. Prior to Lee, Dr. Dr. Lorenzo L. Esters spent three years at the organization before he was tapped to serve as vice president of student success and enrollment management at Kentucky State University.
Like Esters, Lee said wants to continue to provide guidance on enrollment issues to colleges and universities across the nation.
Jamal Eric Watson can be reached a jwatson1@diverseeducation.com. You can follow him on Twitter @jamalericwatson.