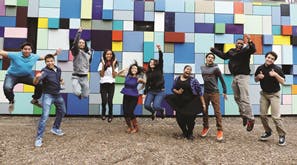 Members of the Carleton College Houston posse matriculated at Carleton in fall 2014. (Photo courtesy of the Posse Foundation)As a high school senior in Hyattsville, Maryland, Austin Gladden set his sights on heading to the University of Maryland or James Madison University. Both are close to home, but as it turns out, life planned to send him further afield.
Unbeknownst to him, Gladden had been nominated to the Posse Foundation, which would place him with a school and help provide him with tuition money. Successfully moving through four rounds of interviews, Gladden is now set to attend the University of Wisconsin next fall.
Once he was nominated to attend the University of Wisconsin as a Posse Scholar, Gladden still had to apply and be admitted. The process was not without its stresses, but was "totally worth it," he says.
"When I found out I was nominated for the school, I'm one of those people who immediately goes on the website, looks at the YouTube videos, so I was kind of set on going there," he says. "So when I did get selected, I was shocked. I almost threw my phone when they called me and told me that I made it because I was so excited."
Gladden says he plans to study journalism or communications — and that he is even looking forward to outfitting himself with the obligatory heavy coats and boots for Wisconsin's sub-zero winter days.
Even though the college application process itself is a daunting prospect for many high school seniors, Gladden says he had a feeling of being "right at home" with Posse from the start of the selection process in September.
"­They really just made me feel like I was at home, like I could really talk to somebody and get feedback on certain things," Gladden says of the people he met during the process. "It really felt like I was talking to somebody who was in my family, or one of my best friends."
Breaking records
Gladden is part of one of the largest contingents of Posse Scholars to date. He will join 680 others as freshmen on college campuses across the nation next fall. They will be divided into groups of about 10 each, embark on an eight-month training program and eventually head to college together.
The Posse Foundation, which is celebrating its 25th year of existence this year, also announced its largest haul yet in scholarships from partner institutions. Posse Scholars will be awarded a total of $117 million in aid to attend well-regarded colleges and universities across the nation.
The foundation works on a city-by-city basis. Headquartered in New York City, there are eight other regional offices in major metropolitan areas across the country, such as Boston, Washington, D.C., Chicago and Los Angeles.
As with Gladden, local students are nominated to the program by teachers or other community leaders. They are students who show leadership or talent in some way, but might otherwise be overlooked in the traditional application process due to a lack of guidance or other resources.
Once nominated, they complete a series of interviews while also applying for a selected partner college. Colleges, in turn, are prepared to offer millions of dollars in merit-based leadership scholarships for each posse member.
For institutions, the benefits of having a posse on campus extend far beyond upping their diversity score, says Mike Schoenfeld, senior vice president and chief philanthropic advisor at Middlebury College.
"The perception may be that this is a way to bring diversity to a college or university, with the thinking, 'Gosh, what a great way to recruit underserved populations,'" Schoenfeld tells Diverse. "But I think what we learn pretty quickly and what Posse knows all along is that it's truly a leadership program, and [that] leadership can be found in lots of places. It can't be measured necessarily by test scores or grades. It comes from inside a person's being — and regardless of the background, there's leadership in lots of places."
Middlebury has welcomed at least one posse to its rural Vermont campus for the past 15 years — Schoenfeld introduced the idea in the capacity he held then as Middlebury's dean of enrollment planning. The college started out with a posse from New York City, added one from Chicago in 2012, and will welcome a third from Los Angeles next fall.
Because students arrive on campus in close-knit posses, they have a built-in support network and can more effectively reach out to others on campus.
"Sometimes diversity in itself doesn't really unify a campus. It can divide a campus if the diverse pieces are not working together," Schoenfeld says. "But I think Posse by its very nature begins as a mini-community of very different people and from very different backgrounds, who are then predisposed to carry on community building outside their posse, and really start to make an impact [by] community building."
Posse Foundation founder and president Deborah Bial makes a distinction similar to Schoenfeld between leadership and identity. "Posse is really a leadership program that cares about diversity in a very deliberate way," Bial tells Diverse.
While this year marks a milestone for the foundation, Bial says she is already looking ahead to the future. She hopes to grow the number of partner institutions to 100 by 2020. Though that would mean doubling the number of partnerships in less time than the foundation has been in existence, Bial says it is a tangible goal.
"The growth has been exponential in the past 10 years," Bial explains.
The organization now is in nine cities and has 51 university partners. Bial says that, next year, Posse will expand to its 10th urban location in the Bay Area.
"We want to recruit 1,000 kids a year, and support 4,000 kids enrolled on campus, so there would be 5,000 kids a year in our pipeline," Bial says. "We're a little more than halfway there."
The demand for the program indicates that there is room for growth.
"There were more than 15,000 high school seniors nominated for Posse scholarships this year across the country," Bial says. "So the 680 who won the scholarships [are] an incredibly small percentage — [they're] very special kids."