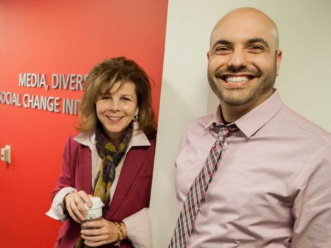 Negative social media reaction to the recent Academy Award nominations made it clear that Americans are growing increasingly critical of Hollywood for failing to include and reward people of color who work in and produce mainstream films.
In December, the Academy of Motion Picture Arts and Sciences drew much criticism after Academy members neglected to nominate Ava DuVernay for Best Director and David Oyelowo for Best Actor in the acclaimed civil rights movement drama Selma.
Critics have long pointed to such Oscar snubs as symptomatic of Hollywood's inattention to diversity in the U.S. film and television entertainment industry.
In an effort to raise industry and public awareness around film and TV diversity, researchers at the University of Southern California's Annenberg School for Communication and Journalism announced last month that the school's Media, Diversity, & Social Change (MDSC) Initiative will conduct an annual survey and grade Hollywood firms on their diversity efforts. The annual survey is titled the Comprehensive Analysis and Report on Diversity (CARD) and it will report on how well major entertainment companies facilitate "diversity in hiring, casting, and content" in film, television and digital platforms.
"In 2013, there were 17 films among the top 100 grossing movies that featured not one Black or African-American speaking character. Across 600 popular films between 2007 and 2013, just two [films] were directed by Black women," said Dr. Stacy Smith, director of the MDSC Initiative, in a statement.
"Clearly, not one group or one company is solely responsible for the lack of diversity on-screen or behind the camera. … We need a broader look at who is doing well, and who needs to step up their game. The USC Annenberg CARD will do just that," she explained.
As part of the CARD research, MDSC researchers will examine the chain of command at major media companies to document diversity in executive suite decision-making. Aspects of on-screen diversity spanning film, TV and digital content — including gender, race/ethnicity and LGBT representation — will be analyzed and graded. Smith will manage the USC Annenberg CARD.
For its part, the MDSC Initiative is a thinktank that brings together research scientists and more than 100 graduate and undergraduate students to complete annual studies of diversity in American media. USC launched the MDSC Initiative in 2006. In 2014, the Initiative released "Race/Ethnicity in 600 Popular Films: Examining On Screen Portrayals and Behind the Camera Diversity," which found that film diversity falls far short than that of the U.S. population.
"The mission of this new institute and report card is integrated into everything we do," said USC Annenberg Dean Ernest J. Wilson III in a statement. "This is not a sidebar; this is core to our school's vision."
Dr. Nancy Wang Yuen, an associate professor of sociology at Biola University and author of the forthcoming book, "Reel Inequality: Hollywood Actors and Racism," told Diverse that she believes the Annenberg CARD report can potentially exert influence on Hollywood studios to become more inclusive of people of color as participants and producers in film and television. One challenge is that, in the film industry, Hollywood companies tend to be box office-driven above all other factors, she notes.
"In terms of outcomes of whether Hollywood studios would actually change their ways, I think it depends on a synergy of other events [and developments such] as films with people of color actually doing well at the box office," Yuen said.
Given "a change in perspective of whether films that feature people of color make money and then the Annenberg study coming out evaluating that [success], the two [factors] together can effect change," she explains.
Yuen says it's notable that television networks and digital platforms, such as the Netflix streaming service, are currently experiencing success with shows with diverse casts, such as Scandal and Orange is the New Black. The Annenberg CARD study should be able to provide evidence based on social science methodology that will validate the idea that audiences are interested in and will view programs with racially and ethnically diverse casts and that are produced by diverse writers and directors," she adds.
"The fact that ABC is doing really well with its slate of diverse shows and Empire on Fox is super popular … it's perfect timing for when this report comes out," she said.
"[The report's evidence will] ride on the back of all these successful shows," and "will provide" entertainment executives valuable research on which they can base their decisions to greenlight new diverse programs, according to Yuen.