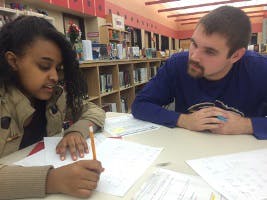 SILVER SPRING, Md. — When Micah Charles gets up on Saturday morning to take advantage of the tutoring offered through the Saturday School program at his high school, he doesn't think of it as "extra class."
Rather, the 16-year-old junior at Montgomery Blair High School sees it as a way to better his chances of doing well on the SAT and to bypass the need for those pesky remedial college courses in math, which he admits is not his strong suit.
"It's really just like training," Charles said in an interview with Diverse after attending an SAT prep course led by a math instructor, who taught the students one of the "tricky" concepts about the number zero as an absolute value—something that could come up on the SAT.
"When you're practicing for a sport, you're going to have to put in a certain amount of time," Charles said. "You just have to be able to do it."
Charles is by no means alone.
Upward of 3,000 students—or roughly 2 percent of the nearly 154,000 students in the increasingly diverse Montgomery County Public Schools system—attend the Saturday School that is run by the nonprofit George B. Thomas, Sr., Learning Academy.
Program supporters say the Saturday School, which relies on paid teachers and college students as volunteer tutors, could benefit the world of higher education in numerous ways if it were to be replicated—something that is beginning to happen.
The program, which runs from October through April of the school year, operates on about $1.4 million a year, which translates to about $467 per student.
The program serves students in grades 1 through 12. Most of the participants at the high school level are "moderate to high-achieving" minority students. More than half are eligible for free and reduced lunch, and, for many, English is a second language.
Leonard Haynes, a board member of the academy that runs the Saturday School, said a primary benefit of the Saturday School is that it helps K-12 students set their sights on higher learning.
"Students participating in the Saturday School are exposed to college students who can encourage their aspiration to do their best and put going to higher education high on their agenda," said Haynes, who is also a senior administrator in the Office of Postsecondary Education at the U.S. Department of Education.
Haynes said the Saturday School also provides an important "clinical experience" for college students who are aspiring to become teachers.
The program, which began in 1986 with just 21 students and 19 volunteers, is associated with higher student GPAs and might be helping to boost college entrance exam scores, said Michael A. Thomas, executive director of the George B. Thomas, Sr., Learning Academy, Inc.
The academy was founded by George B. Thomas, Sr., former Voorhees College president, and his fellow members of Omega Psi Phi Fraternity, Inc.
Michael Thomas, who is not related to the academy's namesake, noted that the program provides 65 hours of tutoring for a flat fee of $30—a fraction of what just one hour of private tutoring would cost. Plus there's breakfast thanks to after-school grant funding.
"If students come to us consistently, they're going to show academic improvement, and also they're going to develop a stronger self-confidence in terms of tackling anything as it relates to schools," Thomas said of the program.
To bolster his point, Thomas pointed to a 2014 evaluation of the program that found students who attended Saturday School 55 percent or more of the time—considered the "treatment group"—did better in school than those who attended less than 55 percent of the time—considered the "comparison group."
For instance, the end-of-the-year cumulative GPA for the treatment group was 2.8 compared to 2.6 for the comparison group, according to the evaluation.
At the elementary and middle school level, students in the treatment group got B's more frequently in math and English and had better attendance than those in the comparison group.
"Saturday School participation had a significant practical impact on the reading, English, and mathematics achievement of elementary and middle school students who were performing below grade level at the beginning of the school year (low achievers)," the evaluation states. "These students are at greatest risk for dropping out of high school and failing to attain college and work readiness outcomes."
Perhaps the biggest endorsement of the Saturday School program is the fact that a nearby school district—Prince George's County Public Schools—plans to partner with the George B. Thomas, Sr., Learning Academy to pilot a Saturday School for 200 students in its district starting in fall 2015.
Sherrie A. Johnson, a public information officer for Prince George's County Public Schools, said her school district wants to partner with the George B. Thomas, Sr., Learning Academy because it has a "proven track record of increasing performance of participants."
"We see Saturday School as an opportunity to reinforce taught curricula and an opportunity for students to accelerate academically," Johnson said.
Thomas, executive director of the nonprofit that runs the Saturday School, said college students are essential to the program. Recently, he said, the program began to partner with students at Bowie State University. Other participating colleges include Johns Hopkins University and the University of Maryland, College Park.
The college volunteers are students such as Christopher Lowman, 20, a junior at the University of Maryland, College Park, who says he volunteers as part of his involvement in the National Society of Collegiate Scholars.
"A lot of times it's just about walking the students through the simple steps and then they realize, 'Oh, that's all I have to do,'" Lowman said.
"I hope that I'm having an impact and actually teaching them something at the same time," Lawman said. "It's very easy to sit here and do the whole problem, but it's about explaining."
Which is what Lowman did the other day with Selome Seyoum, a sophomore at Albert Einstein High School in Kensington, Maryland.
"I feel like I did something wrong," Seyoum told Lowman after completing one of the many equations she was working on for her Algebra II class.
Lowman pointed out a "slight issue" with failing to multiply everything in the equation by the same thing.
Seyoum said she initially didn't want to come to the Saturday School but now sees the benefits.
"The classes that we take regularly are hard to understand," she said. "You don't get individual help from the teacher."
But when it comes to Saturday School, which she said was her father's idea, Seyoum said: "I like it because I understand it better."
Dirk Cauley, Assistant Principal at Blair High School and a site director for the Saturday School there, said the Saturday School program gets future college students acclimated to working with others instead of struggling by themselves in college.
"This program forces you to be in situations where you work with others to solve problems," Cauley said.
"That for me—being able to work cooperatively with others—is very, very important," Cauley said. "I think this environment teaches you to create relationships with other scholars. I think that's the way we take it through the next level."