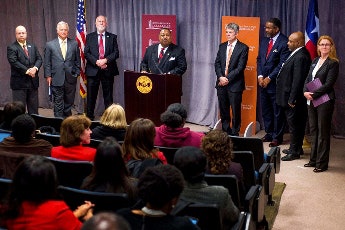 Huston-Tillotson University and the Dell Medical School at The University of Texas at Austin are collaborating to build a $35 million health care and wellness center that will address mental health disparities and boost primary care for medically underserved residents in Austin and surrounding Travis County, Texas.
Officials last week announced that faculty and staff members from both institutions are jointly planning and will manage the Sandra Joy Anderson Community Health and Wellness Center, which will be located on the Huston-Tillotson campus in East Austin. The institutions expect to hire a team that will create combined training programs, new models of care, and research to address needs in East Austin and other local communities. Construction of the center's 14,700-square-foot clinic is expected to begin in March and completed in August, according to the Austin American-Statesman newspaper.
Dr. Larry L. Earvin, president and chief executive officer of Huston-Tillotson (HT) University, said the partnership represents a unique opportunity for the Austin-based historically Black university to scale its health services such that it meet the needs of local residents. The Dell Medical School's participation is critical because it will bring new public health care resources to Travis County, which has had limited mental health services for residents, he noted.
"We are really excited about this opportunity for us to be able to serve this need in our community," Earvin said at last week's news conference, which was attended by government and health care officials.
Said Texas state Sen. Kirk Watson, D-Austin, "This is truly a historic day, not only for Huston-Tillotson University and the new Dell Medical School at the University of Texas at Austin but for all of Central Texas," according to the Austin American-Statesman.
Officials have named the proposed health and wellness center for the late daughter of 92-year-old Huston-Tillotson graduate Ada Cecilia Collins Anderson. Last year, Anderson donated $3 million to Huston-Tillotson University, the largest gift ever made in the university's history. Anderson, a civil rights activist, attended Samuel Huston College and Tillotson College, before the schools merged, and she earned a master's degree from UT-Austin in 1965.
Anderson's gift is helping to fund the new center. Travis County is also supporting the center, which is expected to serve more than 6,800 patients at a cost of $3.4 million a year, the Austin American-Statesman reported. The Austin Travis County Integral Care organization is expected to be the behavioral health provider handling mental health services at the new center. Primary medical care will be provided by the CommUnityCare organization, a public clinic system that has 25 facilities in Travis County.
The HT and UT collaboration will enable the yet-to-be-fully-launched Dell Medical School to fulfill its partnership with Central Health, a public health care organization that serves Travis County and manages CommUnityCare, to improve the delivery of health care to uninsured and vulnerable county residents. The Dell Medical School is set to enroll its first class of medical students in 2016.
"This collaboration will give HT and UT students more opportunities to learn and grow, and it will allow our universities to work with our community to develop new, culturally appropriate models of care. The Community Health and Wellness Center also will help relieve the strain on Travis County's mental health resources, adding treatment options and services that residents and taxpayers need," Earvin and inaugural Dell Medical School dean Clay Johnston wrote in a commentary article published in the Austin American Statesman.
Also involved with helping plan the clinic is a prominent African-American psychiatrist, Dr. William Lawson, a professor and chairman of the psychiatry department at the Howard University College of Medicine. "National data from various sources are pointing to the prevalence of mental illness throughout communities—and a disparity in access to mental health care services for minority populations… I am pleased to be a part of this collaboration in order to address, in many instances, hidden community medical care needs," Lawson said in a statement.