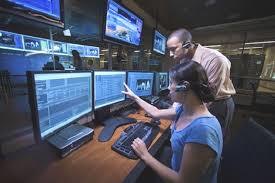 FAYETTEVILLE, N.C. — Fayetteville State University's Center for Defense and Homeland Security drew noted experts from around the country to its Cyber Security Symposium last week. The audience of small business owners, educators, military personnel, veterans and other professionals heard the latest news and issues regarding cybersecurity attacks.
The center's goal is to increase the knowledge and use of this growing field, said Charles Curtis, executive director of the Center for Defense and Homeland Security at FSU.
"This is a good fit for a veteran moving into the private sector," said Curtis. The university's Cyber Academy, founded five years ago, targets service members who are transitioning into civil careers. Curtis said there is a shortage of approximately 40,000 cybersecurity professionals in the country.
Businesses, colleges and legislators all need to collaborate in building the infrastructure to combat the country's cyberattacks, said Curtis. Targeting military personnel for the program was a good fit because service members are used to working with security and national risk issues, he said.
The Cyber Security Symposium focused on numerous cybersecurity threats as well as workforce training. Hackers and security breaches are increasingly in the news, such as the 40 million credit cards stolen from K-Mart. The university received a $600,000 grant last year from the Office of Naval Research for a cyber-STEM (science, technology, engineering and math) project. The program primarily helps high school students learn about cybersecurity, career certificates that enable them to obtain good jobs, administrators say.
Keynote speaker Kenyata Wesley, the Department of Defense's deputy director for technology and innovation, said that today technology leads the way in how the country fights wars. Today software drives 75 percent of fighter planes. "Planes will be vulnerable if they are not protected. Offensively, intel is the key," he said.
The Military and Legislative panel on Friday included Rep. David Price, D-N.C., ranking member of the Homeland Security Appropriations. Vice Admiral Jan Tighe, commander of the U.S. Fleet Cyber Command 10th Fleet, stressed more emphasis on cybersecurity offence as well as defense. "We should operate as if this is a war we are fighting," she said. She encouraged companies to employ more analysts to regularly examine data. Col. Donald Bray, commander of the Army Cyber Protection Brigrade, emphasized a secure network and protection not only on the battleground but through all information sources. "If the network is great but the application is vulnerable, that is no use to the war fighter," he said.
Meldon Hollis Jr., associate director for the White House Initiative on Historically Black College and Universities, notes that the new battlefield is not something you can see but the destruction is vast. John Schleifer, vice president and chief technology officer with Defense Solutions Sector with L-3 National Security Solutions, advised the audience to "figure out what are the criteria to protect what you want to protect."
One issue in the workplace is access versus security and the experts advocated the encryption of passwords to protect intellectual property. Schleifer advised audience members to regularly be on guard about security issues. In 2014, about 31 percent of people whose computers were hacked received the news from someone else.
During the Cybersecurity Research panel, Dr. Josyula Rao, director of security research at IBM, recalls that the first cyberattack took place in the 1980s. What has changed since then, he noted, was that organizations today work more closely with their business partners and suppliers to protect cybersecurity. But as companies continue to face threats they should educate employees as well as strengthen their security. "It offence versus defense, and sharing any threats to vulnerable information," he said.
Dr. Marc Zissman, associate head of the Cyber Security and Information Sciences Division at MIT's Lincoln Lab, says there are more than 300 employees in MIT's cybersecurity area. Most of the work focuses on research, development and testing backed by the U.S. Department of Defense. Most recently, he has been responsible for developing and administering a strategic plan for growing the laboratory's cybersecurity research, development, evaluation and technology transfer efforts.
Other Cyber Security Symposium panels included Cybersecurity Employment, Cybersecurity Federal Contracting and Entrepreneurship, and Cybersecurity Technical Training.