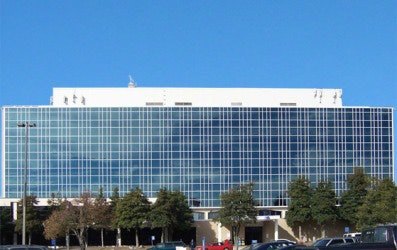 The recent decision by Howard University leaders to slash 84 staff positions will not include Howard's historical but struggling hospital, university officials said this week. However, the hospital already was hit with 25 layoffs in late January.
As a variety of management changes have been announced in swift succession, the 263 resident physicians and fellows have decided to unionize. The Committee of Interns and Residents (CIR/SIEU Healthcare) confirmed that the resident physicians had filed for union representation last December.
Last October the hospital partnered with California-based Paladin Healthcare Capital, and in December the Paladin and HUH team announced yet another intended partnership, this time with United Medical Center (UMC), a financially troubled hospital in southeast D.C., owned by the city. In November, the hospital announced a new senior leadership team, led by veteran strategic management executive Sandra Austin, who was named CEO.
A Jan. 5 news release said Howard University President Wayne A.I. Frederick had signed a letter of intent to enter into a collaborative agreement Paladin and the District, "to transform the United Medical Center in Southeast D.C."
The collaboration has evoked reasonable concern from some of the 1,660 HUH staff, given the financial predicaments of the hospitals involved. According to the Howard University Treasurer's report (at howard.edu) for fiscal year 2014, "Howard University generated [an] operating profit of $13 million and the Howard University Hospital generated an operating loss of $58 million. Losses associated with the Howard University Hospital were primarily derived from lower-than-expected patient service revenues."
The report also states that revenue from "hospital, faculty practice and dental clinic, is 11 percent lower than in fiscal year 2013."
United Medical Center, the only full service hospital in southeast D.C., has long struggled for fiscal stability, having been rescued in 2010 by a taxpayer bailout. The letter of intent, which is not a final agreement pending several regulatory hurdles, was viewed skeptically by some city officials.
And Howard skeptics have noted that the various partnerships, which were all announced within a few months of each other, indicate more outsourcing at Howard. The letter of intent stated that Paladin would carry out day-to-day operations at the hospital "to enhance HUH's operational efficiency (and) achieve fiscal viability…"
Dr. Jeffrey Fearing, former senior medical photographer at the hospital, says people have "a sense of paranoia about their futures" because of management by outside companies.
"I hear from a number of the employees there, that their positions are under (the supervision) of outside companies and they have to be rehired by those companies, so it creates a tremendous amount of fear."
However, Fearing expresses optimism about Howard's future. "I have a lot of faith in Dr. Frederick's leadership and what he's attempting to do. I've known him since he was in medical school, and he's been tremendously impressive and he's highly regarded. So I'm cautiously optimistic."