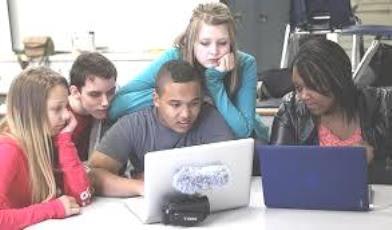 As if getting into college wasn't hard enough, now students have to worry about college admissions officers doing web searches and scanning their social media accounts for information that could possibly influence the decision of whether to accept a particular student into college.
At least that's one of the findings of a survey released this week by Cornerstone Reputation, a Somerville, Massachusetts-based firm that found a growing number of college admissions officers turning to the Internet to verify or information or to learn more about college applicants.
The firm's founder, Carolynn Crabtree — who says her résumé includes a stint as an officer with the CIA — says a key implication of the survey's findings is for students to be more aware of how what they say or do online could undermine their efforts to get into the college of their choice.
"Once derogatory information is found online, that can often be a strong decision factor in terms of whether a university wants to welcome that student into their own culture because of how they might behave once they go there," Crabtree told Diverse.
Crabtree, who also has experience conducting alumni admission interviews for applicants to her alma mater, Princeton University, based her remarks on newly released results from her firm's "Cornerstone Reputation Undergraduate Admissions Survey Report."
Among other things, the survey found that:
In the 2013-14 admissions season, 40 percent of admissions officers searched applicants online, up from 27 percent the previous season.
The number of admissions officers who do searches could actually be much higher, since 59 percent report that other admissions officers at their schools use online searches.
More than half of all surveyed admissions officers, 54 percent, admitted to searching for information on applicants using Google or a major social media platform such as Facebook or Twitter.
Of those who did online searches, 44 percent found content that left a negative impression about the applicant.
On the other hand, 46 percent found content that left a positive impression.
The vast majority of schools — 76 percent — do not have a formal policy regarding online searches for information about applicants.
On the upside, 24 percent of admissions officers believe that an applicant could "gain an advantage" in the admissions process by building a positive online presence.
The survey, however, has some limitations, and the above figures may not be indicative of the practices and habits of college admissions officers in general.
For instance, the results are based on a sample of 226 admissions officers that represent 112 of 200 surveyed schools. The schools included 66 percent of the top 100 liberal arts colleges, 44 percent of the top 100 national universities, based on popular college rankings. The survey also included half of the Ivy League schools.
"This response is out of approximately 2800 four-year colleges in the United States, and thus the results of this survey should not be considered broadly applicable to all undergraduate college admissions in the U.S.," the survey states.
The other thing to keep in mind is that Cornerstone Reputation is business.
For $49 a pop, Cornerstone Reputation will give students or their parents a "reading" of their online profiles and a "score" that will give them an idea of how they might look in the eyes of the people who judge their college applications.
Be that as it may, the firm's survey contains some interesting revelations from college admissions officers about how and why they use information on the Web to judge applicants to their schools.
For instance, while some officers used the Web to verify information in a student's application, others admitted to doing searches based on a "gut feeling" or "personal curiosity," the survey states.
"The most common reason, cited by 63 percent of the population who answered the question, was a desire for clarification of an aspect of an application," the survey states.
Officers also search for "red flags" or to see if a student is genuinely interested in their school.
One officer admitted to searching to see what groups a student belongs to on Facebook, what kinds of things they "liked" on Facebook, and the quality of their Tweets, or posts on Twitter.
"Don't expect me to think you're a good match for a residential campus if your page is misogynistic," the officer said.
However, admissions officers aren't always looking for or influenced by things that rub them the wrong way.
They also search for and are moved by more positive things, such as well-written articles, such as in a student newspaper, or citations of an academic achievement, volunteer work and the like.
"Officers also commented that any general display of talent, interests, and passions such as a student-made video, visual arts electronic portfolio, musical talent, published work, a positive news article about the student from local, national, or international news outlet, and displays of activism can be positive and impressive content," the survey states.
David Hawkins, executive director for educational content and policy at the National Association for College Admission Counseling, or NACAC, said the organization does not have any policies that are specific to social media, although he said various efforts are afoot to develop a "framework" for state legislation governing employers' and universities' social media policies.
For instance, this weekend in Chicago, the Uniform Law Commission — an organization that works to bring uniformity to state laws — is supposed to take up the issue of educational institution's access to students' or prospective students' social media accounts.
Still, the issue of using social media accounts in admissions decisions has been on NACAC's radar for quite some time.
For instance, the issue was broached in a 2009 NACAC "discussion paper" titled "Reaching the Wired Generation: How Social Media is Changing College Admission."
Admissions officers interviewed for that paper indicated that they used search engines and social networking sites to "verify information or research students who were candidates for scholarships or entry into high demand programs with limited spaces.
"In all these cases the intent was to protect the school from potential embarrassment," the paper states. "No school wants to announce the winner of a prestigious scholarship only to have compromising pictures turn up on the Internet the next day."
According to the paper, no school indicated checking every applicant.
"Online research appears to be more of a precaution at this point or a source of additional information for critical decision making," the paper states. "The search engines used most often are Google and Yahoo, and the social networking sites include Facebook and Myspace.
"The value of these social networking sites for college admission offices cannot be underestimated," the paper continues. However, the context for that statement was to encourage universities to have a greater online presence themselves. "As more and more young people take up residence in these online networks, a presence will be mandatory," the paper states.
A check with admissions directors and officers at various institutions of higher education found a range of responses to the question of whether officers should browse a social media sites to learn more about applicants.
James Rawlins, director of admissions at the University of Oregon, said he specifically forbids his staff from going online to learn more about students.
"I don't like my staff to go there," said Rawlins, a past president of NACAC. "We find that students aren't very careful about their privacy settings, and we don't want it to be about their personal space when making admissions decisions."
Shawn L. Felton, director of undergraduate admissions at Cornell University, told Diverse via email that Cornell does not consider student social media activity "in any systematic way" during the admissions process.
"It is possible that an individual Facebook or Twitter post may come to our attention, but this would be an exception rather than the rule," Felton said.
He said examples of when social media use influenced a decision at Cornell include photos of students using alcohol or banned substances, and making "inappropriate or insensitive comments," such as "racist, homophobic, sexist, and/or xenophobic posts/comments."
"Please note that, in almost every case, these examples are brought to our attention by fellow students," Felton said. "Cornell does not seek out this information, but we will consider information that is brought to our attention."
Nathan Lockett, an admissions officer at George Mason University, said he believed that there are "very few circumstances where the social media would sway a decision."
"I think the only way it could change an 'admit' to a 'deny' is if it showed that the student lied on their application, or a demonstrated a pattern of violence, discrimination or something of that nature," Lockett said. "I think changing a 'deny' to an 'admit' is probably even less likely, and if it has ever happened, I'd be really interested in finding out the circumstances."
Lockett also noted that applications are often read by more than one person.
"So to deny a student who should be admitted a counselor would need some way to convince the other counselors of why the student shouldn't be admitted," Lockett said.
Jamaal Abdul-Alim can be reached at dcwriter360@yahoo.com. Or follow him on Twitter @dcwriter360.