Dr. Derrick E. Griffith, the acting dean of student affairs and enrollment management at Medgar Evers College in Brooklyn, was among the seven victims killed on Tuesday after the Amtrak train traveling from Washington, D.C., to New York derailed in Philadelphia.
Griffith, 42, recently defended his dissertation in urban education in March from the CUNY Graduate Center and was scheduled to graduate on May 27. He came to Medgar Evers in 2011 to become Acting Assistant Provost for Student Success after having served as Executive Director of Groundwork, Inc., a Brooklyn-based community organization working to increase college access among residents of public housing developments.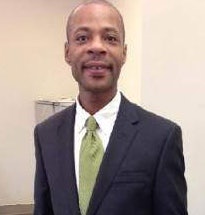 Prior to that, he was the founding Director and Principal of CUNY Prep Transitional High School which is run by CUNY's Office of Academic Affairs. In that capacity, he oversaw the administration of CUNY Prep, a model school that continues to offer out-of-school youth between the ages of 16 and 18 an opportunity for full-time study in order to qualify for admission to college.
"Derrick was one of the most important people to not just the college as a whole but to student life," said Dr. Rudy Crew, president of Medgar Evers College. "He supported and advocated for students in times of crisis. There is nothing I could say that would give adequate verbiage to the kind of person he was."
Griffith was a former social studies teacher and a member of Phi Beta Sigma Fraternity Incorporated. A native New Yorker, he graduated from Clara Barton High School for Health Professions in Brooklyn and earned a bachelors degree in History from the University of North Carolina at Charlotte while he was working as a licensed practical nurse. In 1994, he was awarded the Max and Dora Cohen Scholarship to attend the Margaret Warner Graduate School of Education and Human Development at the University of Rochester. In 1995, he received a Masters degree in Counseling and Human Development and later enrolled at the CUNY Graduate Center where he defended his dissertation "What's 'Black; Got to Do With It: An Analysis of Low-Income Black Students and Educational Outcomes." Dr. Juan Battle, a professor of Sociology, Public Health and Urban Education was his dissertation advisor.
Amtrak Northeast Regional Train 188—one of the busiest to travel along the Northeast corridor—was carrying 238 people when the seven cars jumped the rails.
According to media reports, the train was traveling at 106 mph in a 50 mile zone.
Officials have been careful not to blame the train engineer, 32-year-old Brandon Bostian, but sources close to the investigation say that Bostian declined to be interviewed by police.
"We are heartbroken by what we've experienced here," said Michael Nutter, the mayor of Philadelphia. "We have not experienced anything like this in modern times."