Dr. Derrick E. Griffith could usually be found walking the campus of Medgar Evers College late into the evening. As acting dean of student affairs and enrollment management, Griffith was an exacting role model who encouraged the school's mostly Black and Latino students to stay in college.
News that Griffith, 42, had been killed on Tuesday after an Amtrak train traveling from Washington, D.C., to New York jumped the railways and derailed in Philadelphia, sent shockwaves across campus where everyone knew him as "Dean Griffith."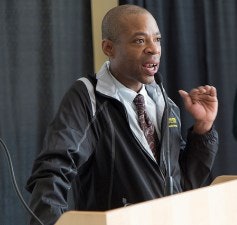 Medgar Evers College students, staff and faculty agree that Dr. Derrick E. Griffith was a champion for the downtrodden."He was passionate about education," said Raschaad Hoggard, who was one of Griffith's colleagues at Medgar Evers for the past four years. "He was a beacon of hope and had a passion for inspiring young brothers and sisters. I really appreciate his drive. He was wedded to students and his life was an inspiration."
As much as he encouraged students to be resilient in the pursuit of their dreams, he, too, was a lifelong learner. He had just completed an important milestone in his academic trajectory. In March, he successfully defended his dissertation and was scheduled to graduate later this month with a Ph.D. in urban education from the City University of New York (CUNY) Graduate Center.
In an interview with Diverse, Griffith's dissertation advisor at CUNY said that he was a model educator.
"He was dedicated to the students he served," said Juan Battle, who is a professor of sociology, public health and urban education. "He was a gentleman, a joy, my student, and more important to me, he was my friend."
Students, staff and faculty gathered throughout campus on Thursday to remember the man who they called a pillar in their community. A candlelight vigil was held in the evening. They said that he was a champion for the downtrodden who encouraged students to pursue their education with vigor.
Griffith had experience in both the areas of higher education and in K-12. He served as a school principal for a number of years and, in 2003, founded the CUNY Preparatory Transitional High School. In 2011, he was the executive director of Groundwork, Inc., an organization formed to support young people living in high-poverty urban communities. He joined Medgar Evers College that same year as assistant provost in what would become the first of a number of roles he would fill throughout his tenure.
"There could not be a finer educator," said Dr. Rudy Crew, president of Medgar Evers. "He was an outstanding and very distinguished person who guided many, many students at Medgar Evers since 2011, and finished his Ph.D. about a month ago and was really the source of tremendous motivation for all of us in one form or another; he did so much for the students."
As the National Transportation Board began studying the data from the train's "black box" recorder for clues to what happened, rescuers pulled a victim from the debris. A total of eight people were killed in the accident. Griffith is survived by his son and mother.
Jamal Eric Watson can be reached at jwatson1@diverseeducation.com. You can follow him on Twitter @jamalericwatson.