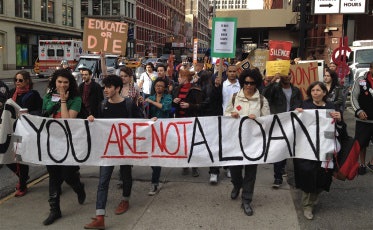 WASHINGTON — In order to win the White House in 2016, the successful candidate will have to develop a higher education agenda that deals with student debt, a political analyst told a group of higher education accreditors Wednesday.
"You can't go into a discussion — especially with anyone under the age of 30 — and not have the issue of student debt raised," said Amy Walter, national editor of The Cook Political Report and a frequent news commentator.
Indeed, 7 in 10 seniors who graduated from public and nonprofit colleges in 2013 had student loan debt, with an average of $28,400 per borrower, according to The Institute for College Access & Success's Project on Student Debt.
"Each candidate is going to have to an answer for that," Walter said.
Walter made her remarks at the 2015 Summer Workshop of the Council for Higher Education Accreditation, or CHEA, during a talk titled "The Changing Political Landscape for Higher Education and Accreditation."
Her talk comes at a time when accreditors are facing increasing expectations from government to assure that institutions offer quality education that pays off in the long run.
According to Walter, the 2016 presidential race hinges largely on "two major forces that are going to ultimately bump up against each other": map and mood.
By "map," Walter is referring to how things will shake out based on Electoral College votes. A candidate needs 270 Electoral College votes to win, and currently — as in recent history — the "map" favors Democrats, Walter said.
"It's 191 Republican and 247 for Democrats, with 100 undecided," Walter said of Electoral College votes.
"Where Republicans do well is in a lot of states that are big geographically," she continued. "Alaska is a big state. It just doesn't have many people in it. Democrats do well in heavily populated states."
Walter showed calculations that reveal Democrats have 18 different ways to win based on what happens in the undecided states, whereas Republicans only have 11 ways to win.
With Republicans, Walter said, "the reason they have a 'map problem' is because they have a demographic problem."
She said that, while 2012 presidential contender Mitt Romney did well with older White voters, the White vote is steadily declining and will probably constitute 70 percent or less of the electorate in 2016, while other segments of the population are growing.
If Republicans are to succeed, they must succeed with an increasingly diverse electorate, particularly among Latinos, African-Americans and women, Walter said.
"Republicans don't need to overwhelmingly carry these categories. They don't need to win 50 percent of Latinos or 30 or 40 percent of African-Americans," Walter said. "They just need to do 5 or 6 points better than Mitt Romney did."
But on the "mood" side of the equation, Republicans may be better poised to capture the White House, Walter said.
 "The challenge for Democrats is more about the mood," Walter said. "The mood is a change mood, that after eight years of one party in power, the country is ready to pick somebody that is of a different party, temperament, perhaps having different policies," Walter said. "We kind of get tired of looking at the same person for eight years."
Walter noted that the last time a Democrat succeeded a two-term Democratic president was in 1836, when Martin Van Buren succeeded Democratic Party founder Andrew Jackson.
She said the country's mood toward President Obama will largely determine how well the Democratic nominee does.
If Obama is faring poorly in approval ratings — which currently hover around 45 percent, or about average for elected presidents this far into their presidencies, according to Gallup — it could make it more difficult for the Democratic nominee to win.
A key question for Democrats will be if young voters get excited and energized to turn out like they did in 2008 — when 66 percent of those under 30 voted for Obama, thus making the disparity between young voters and other age groups "larger than in any presidential election since exit polling began in 1972," according to the Pew Research Center.
"This is a pretty pessimistic bunch," Walter said of young voters, particularly those dealing with student debt.
A recent poll found that, among people under the age of 40, 54 percent feel pessimistic about the direction of the United States — more than the 51 percent of older Americans that felt pessimistic.
"They don't feel like it's getting better or that people are listening to them," Walter said. "It's actually pretty scary how pessimistic this generation is."