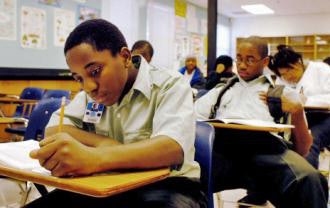 More low-income students than ever are taking the ACT national college admissions examination, according to statistics released Monday by the ACT and the National Council for Community and Education Partnerships. However, half of those same students failed to meet any of the four key test benchmarks, indicating they are ill-prepared for first-year college coursework.
Overall, the low-income students' achievement results have remained flat over the past five years as noted in the report The Condition of College & Career Readiness 2014: Low Income Students. The report is the fourth in a series focusing on individual demographic groups of ACT test takers from the high school graduating class of 2014. By comparison, 31 percent of all students tested reached at least one of the benchmarks.
"We've known for a long time that family income and educational success are strongly correlated, and these data confirm that," said Jim Larimore, ACT chief officer for the advancement of underserved learners. "Our hope is that these findings will bring more attention to the urgent need to improve the academic quality of instruction these students receive and the rigor of courses offered at their schools."
The ACT recommends a core curriculum of four years of English and three years each of math, science and social studies. The Iowa-based nonprofit organization claims that students who follow the recommendations are much more likely than those who don't to show readiness for college coursework.
The report's data were compiled from the results of more than 1.8 million ACT-tested 2014 high school graduates. During registration for the exam, students are asked to provide information about parental education, family income, high school course taking and postsecondary aspirations.