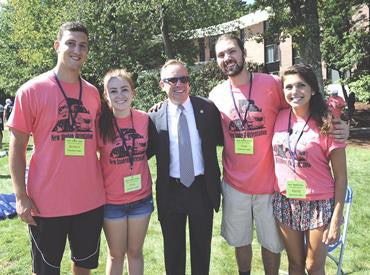 At Fair­field University, a Jesuit institution set on 200 acres on Connecticut's coastline, new students get an early start on learning about consensual sex, being an active bystander, and sexual assault and prevention.
Over the summer, incoming students take a mandatory online education program that addresses subjects such as sexual assault and stalking. They learn techniques to empower themselves, particularly in vulnerable situations. When they arrive on campus in the days before fall classes begin, they are broken up by gender and meet in groups where they have frank discussions about consent. They are taught tools about giving affirmative consent during relationships with partners, according to Karen Donoghue, associate vice president and dean of students at Fairfield.
"The ­first six weeks are considered the red zone [when] it comes to sexual assault," she says.
Donoghue says that the university also trains all students in being "active bystanders," who watch out for sexual assault, violence, harassment and stalking.
"Then we are also giving them techniques like watching out for your friend. If you see someone in trouble, call and get them help," she says. "We are giving them tools to speak up if someone is using derogatory and harassing language to stop them from using those terms or hitting on someone who is incapacitated. We want to create a culture in which someone steps in if another person is being taken advantage of."
National crisis
In the wake of heightened national attention to issues such as hazing, bullying and sexual assaults, the nation's colleges and universities are increasingly re­fining and updating their techniques for keeping their students safe. The techniques range from the routine — partnering with local law enforcement or setting up multidisciplinary teams of faculty and staff to investigate reported violations — to offering opportunities for self-defense training tactics, providing escort services on campus, and using technology to promote con­fidentiality and further enhance the safety of students.
At Fairfield, the university has worked diligently to expand its education and outreach to men.
"We've been very lacking as a society as a whole in educating men," says Todd Pelazza, director of public safety at Fair­field.
"We also have an all-male high school on our campus. This was the ­first year we did the program for the school. Each of them pledged to be part of the white ribbon campaign. Every two years we conduct a climate survey. Overwhelmingly students feel very safe. We do a lot of mentoring on campus. One of our programs is called Man 2 Man. It's done in residence halls and facilitated by RAs."
Florida A&M University (FAMU), which was under fire a few years ago for an incident in which a member of the school's marching band was killed during hazing, has installed dozens of cameras on the campus. The university has 329 security cameras placed in strategic locations throughout the campus.
The college also has multiple emergency blue light systems housed on the campus. The systems are monitored by FAMU's Department of Campus Safety & Security to facilitate reporting emergencies. When activated, the interactive emergency system automatically relays the geographical location of the caller to the Police Communications Center.
"Student safety is a key aspect of our orientation programs and is embedded in our daily student life programs throughout the academic year," Dr. William Hudson Jr., vice president for student affairs at FAMU, said in a prepared statement. FAMU officials say that they regularly provide students with crime prevention tips and tools, including programs such as self-defense tactics and other forms of defense training.
Technology tools utilized by FAMU include text messaging, email and a web-based, real-time system that alerts students, faculty and staff about crime or other emergencies on or near the campus. They also employ Operation ID, a theft prevention program that involves marking property with a distinguishing number that makes it easy for police to identify stolen property when recovered.
Prevention tactics
Some universities invest a considerable amount of time looking ahead. For instance, Post University has a threat assessment team, a group made up of faculty and staff, which involves students, while exploring ways to ensure the university's overall safety. The team, which meets throughout the year, conducts safety training and carries out emergency drills to ensure that all concerned parties on campus are well versed on their roles in the event of an emergency.
"Area law enforcement, fire and emergency medical services personnel are regularly invited to attend these trainings and drills to provide input on how best to interact with and assist them in the event of an emergency," says David Jannetty, academic program manager for the emergency management and homeland security program at Post and a former deputy police chief in the Waterbury, Connecticut, Police Department.
"As such, the university maintains an excellent relationship with the local first-responder community. This relationship has allowed our first responders to better understand and, ultimately, better address the needs of our campus and student body in a crisis situation."
Jannetty says that the rash of mass shootings in public places, including schools, necessitates this kind of call to action.
"School shootings and workplace violence incidents have become more prevalent throughout the U.S.," he says. "Unfortunately, as these violent acts occur more frequently, it is important for colleges and universities to prepare students for life-threatening situations. Analyses of past school-shooting incidents have determined 'red flags' were often missed or not dealt with properly. As a result, the Post community felt it was necessary to establish more robust campus-safety training and programs in order to prevent violence on its campus."
Some colleges try to reach students by creating environments that are conducive for them to report incidents without fear of repercussion.
At St. Anselm College, a Benedictine liberal arts college in Manchester, New Hampshire, President Steven DiSalvo says that he and his team have focused on creating safe harbors for students.
"One of the big issues is [the] ability to create safe spaces to allow students to confidentially report incidents," DiSalvo says.
"Most of the times it involves alcohol and drugs and witnesses are reluctant to come forward. Some of it has to do with [the] fact that minors might have been drinking and there is no safe harbor for them. Then you've got the potential victim that is fearful of retaliation and lives in fear that that person or the friends of that person will retaliate against her."
He says that it is important for students to know their reporting will be kept confidential. DiSalvo also says that the college is in the process of creating a mobile app that would make it possible for students to file reports confidentially at the click of a button.
"There are too many barriers to going to the dean's office," he says. "We've got some prototypes of the app and will like to get it live this semester. Along with that comes education of students. With more education, it becomes an inverse relationship with the number of reported incidents.
"I think we're a little bit ahead of the curve. Last year, we had a couple of students who decided [they] would launch a campaign. We did a program called 'Walk [a Mile] in Their Shoes.' One of the fundamental issues around dating violence is physical harm is a byproduct of [the] root problem, which is power and control over another human being."
Donoghue says that teaching students to be respectful and kind to each other are vital aspects of campus safety.
"We are trying to be ahead of the game when it comes to this," she says. "[We] don't want any of our students to be victims of sexual assault."