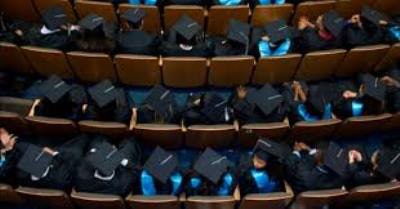 The college admissions process is "rigged" against high-achieving poor students, and the way to solve the problem is to institute a "poverty preference" in the college admissions process.
So argued former New York City Schools chancellor Harold O. Levy, executive director of the Jack Kent Cooke Foundation, as the foundation released a new report that shows only a paltry portion of the student population at elite colleges are high-achieving, low-income students.
The report, titled "True Merit: Ensuring Our Brightest Students Have Access to Our Best Colleges and Universities," says so-called "need-blind" policies have failed. As evidence, the report notes that 72 percent of the students at the nation's most competitive universities are from the country's top income quartile, while only 3 percent hail from the nation's poorest families.
It also found that high-achieving students from the top income quartile enroll in highly competitive universities at three times the rate of their high-achieving peers in the lowest income quartile—24 percent versus 8 percent—and at similarly disparate rates in very competitive or competitive institutions of higher learning.
Further, the report shows that the percent of first-time, full-time freshmen receiving Pell grants has risen at all but the most highly competitive colleges and universities since 2000. For instance, the percentage of such students has risen from 24 to 30 percent at very competitive universities but has remained virtually flat—rising only from 16 to 17 percent—at the most competitive universities, from 2000 through 2013, the report states.
Levy, whose foundation offers scholarships of up to $40,000 to high-achieving students with economic need, noted two reasons why high-achieving low-income students are so woefully underrepresented at elite institutions.
First, many don't apply to top colleges and universities because they get inadequate counseling in high school—a problem that he said occasionally affects even Cooke scholars.
Second, Levy said, the college admissions process is "rigged" against high-achieving, low-income students because it gives undue deference to factors that favor wealthier students. Those factors, he said, include high scores on college entrance exams for which poorer students cannot afford to prepare as well as wealthier students, "legacy" preferences for children of alumni, and athletic preferences for students who play sports that are not popular among or easily accessible to students of lesser means, such as squash, sailing and polo.
"The individual practices may be innocent on their face, but when examined as part of the entire admissions system, there are important unforeseen impacts that actively discriminate" in admission to the elite schools, Levy said.
Levy conceded that the report does not quantify whether the low numbers of high-achieving, low-income students at elite schools are due primarily to the fact that few apply in the first place or whether it is due more so to the ways the admissions process favors wealthier students.
Still, there is little disagreement that better counseling at the high school level could help alleviate the situation.
"It is an unfortunate reality that there are systemic barriers to access for many under-represented populations in the U.S.," said David Hawkins, executive director for Educational Content and Policy at the National Association for College Admission Counseling.
Among those barriers, Hawkins said, are high caseloads for counselors, limited resources and information for college advising in high school counseling offices, and limited funding and other support for professional development.
"When those three factors are combined, what results is a scarce and under-supported resource that creates a barrier to under-represented students on top of the existing barriers they face," Hawkins said.
But not everyone is convinced that a "poverty preference" is the solution.
"It is no better policy to give some students preferences on account of their family income than to give preferences based on the happenstance of their ancestry," said George Leef, director of research for the John William Pope Center for Higher Education Policy.
"The weakness in this approach is the assumption that it is necessarily a big advantage for a student to attend a prestige college or university," Leef said. "In fact, such schools are often less beneficial for many students because the faculty is more immersed in their research than in working with the undergraduates."
The Cooke report maintains that high-achieving, low-income students fare better at more competitive colleges.
For instance, one chart shows that lower-income, high-achieving students graduate at a rate of 90 percent at the most highly competitive institutions—just one percentage point lower than higher-income, high-achieving students.
The less competitive the institution, the lower the graduation rate for low-income, high-achieving students, the chart shows.
"Part of it is making sure high-achieving students are surrounded by other high-achieving students," said Jennifer Giancola, a co-author of the report. "You're surrounded by other students where dropping out is not something that you're talking about."
While the report paints a dismal picture of what elite institutions are doing to attract more low-income students—at one point the report says "they are just being ignored"—the reality is many institutions are actively engaged in new and ongoing efforts to tackle the problem.
For instance, the newly-formed Coalition for Access, Affordability, and Success—made up of 80 colleges and universities, including all eight of the Ivy League schools—was developed recently to improve the college application process for all students, including those who are under-resourced.
"Solving this problem and sending a message that these students are desired by leading universities is one reason why the Coalition is creating new tools," said James G. Nondorf, Vice President for Enrollment and Student Advancement and Dean of Admissions and Financial Aid at the University of Chicago, which is a coalition member.
And as the U.S. Supreme Court reconsiders the use of race-conscious affirmative action, some schools, such as Yale University, have already taken the lead in implementing "race-neutral" ways to reach out to low-income students.
Levy conceded he wasn't sure what the target number should be in terms of the percentage of high-achieving, low-income students at elite institutions but added that the status quo is unacceptable.
"Poor kids are capable and they're not getting in, and rich kids are getting in at such a disproportionate number you have to be able to justify that," Levy said.