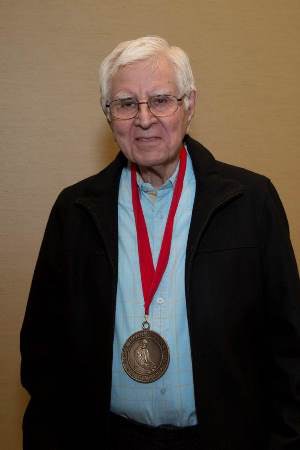 SAN FRANCISCO — Last night, Dr. Rodolfo F. Acuña, the founder of the Department of Chicana and Chicano Studies and a professor emeritus at California State University, Northridge, accepted Diverse's 2016 Dr. John Hope Franklin Award at the 98th American Council on Education Annual Meeting.
Notably, at the height of the civil rights movement, Acuña, who received a doctorate in Latin American studies in 1968 with a concentration in history, was recruited by students, faculty and the community and became the founding faculty member of CSUN's Department of Chicana and Chicano Studies. Very quickly, he developed 45 courses and, by 1969, the department had been born. Today, it is the largest of its kind in the country.
In his acceptance speech, Acuña reflected on the "moral outrage" generated by movements like the fight for civil rights in the 1960s. "We are there as a Chicano Studies Department because of the sacrifice of Black students because eight of them went to prison for taking over the administration building." However, Acuña expressed concern that "our collective memory is getting to be very fuzzy right now."
Humorously noting that people have wondered if he wakes up angry, Acuña reflected on something his mother told him, which he translated as, "You have to be proud of your family. You have to be proud of your community. … And I thank you very much."
Noting that Acuña is known as the father of Chicano studies, American Council on Education President Molly Broad remarked at the event that Acuña's contribution that discipline "has helped to elevate Chicano studies and continues to cultivate important scholarship enriching the understanding and the uniqueness of Chicano studies.
"It is really my great pleasure to join with all of you in reflecting on the richness of our own diversity, the role that folks like John Hope Franklin and Rudy Acuña are playing to help us remember the richness of that diversity."
As an activist and scholar for more than four decades, Acuña has been a leading voice in higher education and in the Mexican American community. He has authored 20 titles, 32 academic articles and chapters in books, 155 book reviews and 188 opinion pieces, according to his CSUN biography.
The Dr. John Hope Franklin Award was created in 2004 to pay tribute to the late Franklin, an historian, writer, educator and humanitarian who made significant contributions to shaping the perspective of American history in the 20th century. Diverse created the award to institutionalize and celebrate on an ongoing basis his scholarly contributions to the nation. The individuals and organizations chosen are those whose contributions to higher education are consistent with the highest standards of excellence.