Beyond all the scrutiny of Hillary Clinton's private server e-mails and outcry over Donald Trump's "locker room" talk about women, an array of important higher education issues hang in the balance Tuesday as votes are cast to determine the next occupant of the Oval Office.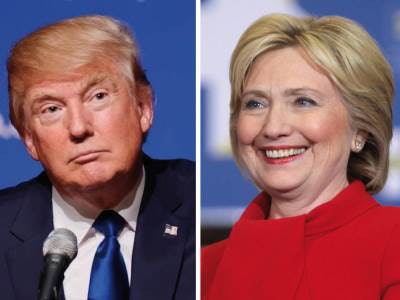 The issues range from the use of race in college admissions to achieve diversity on campus to protection of campus free speech.
Much of the next administration's approach will be reflected in who gets appointed to lead federal education policy and who gets appointed to the U.S. Supreme Court, observers say.
"The big difference between a Clinton and a Trump administration regarding higher education would come from the vastly differing philosophies of the people appointed to run the Department of Education," said George Leef, director of research for the John William Pope Center for Higher Education Policy.
"With Clinton, they would undoubtedly match the left/progressive philosophy of the Obama administrators, so we would get a continuation of current policies on sexual assault, free speech, diversity, hostility to for-profit schools, and so on," Leef said. "With Trump, I think it is probable but by no means certain that leadership in the Department would go to people who are generally skeptical about the benefits—and even legality—of the Obama administration's activism. The Department would shift from unbounded interventionism to undoing its initiatives of the last few years."
The candidates have different approaches to college affordability—an issue that had gained some traction in the long and grueling run-up to Election Day.
Clinton has indicated that she wants to reduce the interest rates on student loans so that the government does not "profit" from the loans—although that characterization of the problem, as well as the workability of her planned solution, has been called into question.
"By Clinton's rationale, she has targeted the wrong loans," Jason D. DeLisle, resident fellow at the American Enterprise Institute, wrote in a paper earlier this year.
The paper notes that Congressional Budget Office estimates show that the interest rates on undergraduate loans are "already low enough"—at 4.65 percent APR—"that, when combined with other benefits, the program operates at a cost to taxpayers."
Trump, on the other hand, has recently proffered an income-contingent repayment program in which borrowers would pay no more than 12.5 percent of their income per month and all outstanding debt being forgiven after 15 years of regular payments. Under current law, federal direct loan borrowers may cap their monthly payments at 10 percent income and get the remainder of their undergraduate debt forgiven after 20 years or regular payments.
"What he laid out would be a more generous plan than current law," said Terry Hartle, senior vice president for government relations at the American Council on Education, the umbrella lobbying group for the higher education sector. "It would be more liberal for borrowers."
The centerpiece of Clinton's college affordability plan is free college. Specifically, by 2021, students from families with income up to $125,000 would pay no tuition at in-state four-year public colleges and universities. Leading up to that, students from families that make $85,000 a year or less would be able to attend an in-state four-year public college or university without paying tuition, according to the Clinton campaign website.
"The goal here would be for states to agree to maintain support for higher education and to maintain tuition, rein in tuition increases in exchange for receiving federal funding," Hartle said. "It is a very big, expensive, controversial, perhaps, proposal."
Michelle Asha Cooper, president of the Institute for Higher Education Policy, said Trump has remained silent on most of these issues, "however, at one point, he did indicate that he would restore the role of private banks to determine loan worthiness and provide student lending"—a move that Hartle said would come at a "substantial cost to the federal government."
Leef, of the Pope Center, was skeptical that either candidate could do much on the issue of college affordability.
"Clinton would talk about that but not do anything because the prospect of 'free college' is electorally better than actually doing it and dealing with all of the problems it would entail," Leef said. "Trump, too, will talk about lowering the cost, but, aside from the possibility of a marginal improvement in easing the path for new, innovative schools to enter the market—and thus lowering costs by giving students more options—there isn't much else he could do."
While both candidates have put forth plans to make college more affordable, the issue of college completion, which has been a central focus of the Obama administration, has gotten short shrift, according to José Luis Santos, vice president of higher education policy and practice at the Education Trust, an organization that focuses on issues of equity in public education.
"Any effort aimed at making college more affordable can and should simultaneously leverage new investments to ensure that students are better prepared and prompt colleges and universities to prioritize student success, especially among underserved groups of students," Santos said. "Additionally, we hope to see much more conversation about how to strengthen the Pell Grant program, including restoring year-round Pell, which we know Secretary Clinton supports, and increasing Pell's buying power."
Lezli Baskerville, CEO of NAFEO—an umbrella group for the nation's HBCUs and Predominantly Black Institutions, or PBIs—said voters can expect a Clinton administration to "do better than did this Administration in investing in HBCUs."
"The HBCU advocacy team was unable to get this Administration to understand that, if the numbers of Pell grant recipients increased or the Pell awards increased and the dollars for HBCU infrastructures and institutional strengthening did not, more of the traditional base of diverse students attending HBCUs would opt to attend other than an HBCU, even though they thought an HBCU was more aligned with their preparation and aspirations," Baskerville said.
That won't happen under Clinton's watch, Baskerville said.
"She has given us reason to believe that she will better leverage the value of HBCUs and invest more substantially in these institutions," Baskerville said.
Diverse reached out to Ashley Bell—senior strategist and national director of African American Engagement for the Republican National Committee—for comment regarding Trump's position on HBCUs but did not get a response.
Tyrone Gayle, a spokesperson for Hillary for America, touted Clinton's free college plan and noted that the plan includes a $25 billion fund to support HBCUs, Hispanic Serving Institutions and other minority-serving institutions. He touted Clinton's free college plan.
"This is a compact with the states and the institutions, an agreement to be affordable in exchange for getting federal support on a per-student basis, with the funds weighted toward low-income students so that they do not get left out," Gayle said. "Additionally, our plan includes $25 billion for HBCUs and minority serving institutions that addresses some of these issues."
The candidates differ sharply when it comes to regulating the beleaguered for-profit college sector, which has seen several of its large education providers collapse amid allegations of fraud in recent years.
"Hillary Clinton has promised to strengthen the protections that have been implemented by President Obama," said Robert Shireman, senior fellow at The Century Foundation, who specified that he was speaking as an informal Clinton adviser and as former deputy undersecretary in the U.S. Department of Education under President Obama.
"Donald Trump has not indicated what he would do to protect consumers from predatory colleges," Shireman said. "But we do know that he has strenuously defended his own 'university' that was not a high-quality educational operation."
Shireman was speaking in reference to Trump University, a now defunct real estate seminar program facing a class action lawsuit that alleges students were defrauded. Among other things, the student litigants say they were subjected to a bait-and-switch scam in which they signed up for seminars that ended up being "infomercials."
But Clinton has been linked to the for-profit college sector herself. Namely, her husband, former president Bill Clinton, has reaped millions of dollars as an "honorary chancellor" for Laureate International Universities. News reports—based in part on some of Clinton's many leaked e-mails—indicate that Secretary Clinton arranged for Laureate to be represented at a private State Department dinner on higher education policy.
On the topic of free speech, Hartle noted that, while Trump has indicated he will do more to protect free speech on campus, it's unclear as to how that would be accomplished.
Cooper expressed reservations about Trump being a champion of free speech.
"I think this election season's tone and rhetoric has been most disturbing, and it is my hope that the American public—but those within academic institutions in particular—does not use Donald Trump's style and rhetoric as the model for free speech," Cooper said. "Instead, free speech at colleges and universities should be characterized by civility, dialogue, and the respectful exchange of ideas."
With regard to the legality of racial preferences in college admissions, which the U.S. Supreme Court allowed earlier this year to continue to be used on a narrow basis, both candidates would "probably be at polar opposites," according to Leef.
"Clinton would undoubtedly appoint judges who have no problem with public universities using preferences," Leef said. "Trump, on the other hand, has pledged to nominate judges who look with disdain on the idea that 'diversity' justifies treating students as group representatives and then favoring some over others."
Jamaal Abdul-Alim can be reached at jabdul-alim@diverseeducation.com or you can follow him on Twitter @dcwriter360.