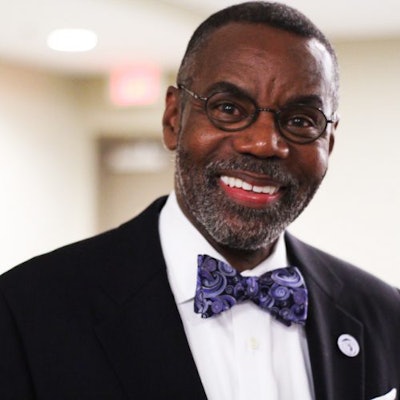 Dr. Elfred Anthony Pinkard—a seasoned college administrator who has spent most of his career working at historically Black colleges and universities, has been selected to serve as the 22nd President of Wilberforce University.
Pinkard currently serves as the executive vice president and provost at the historically Black college in Ohio. He will replace Dr. Herman J. Felton, Jr., who according to sources, is being considered for the presidency at another HBCU.
"We are excited that Dr. Pinkard will lead us into the next phase of the legacy of Wilberforce University," said Mark Wilson, chairman of the board of trustees. "He is a seasoned administrator who is uniquely qualified for the position as he has worked closely with Dr. Felton in developing the path forward for the University. The incredible and exciting momentum occasioned by the Wilberforce Renaissance will continue unabated."
Pinkard—who will begin his post in March—was always considered a successor to Felton, who arrived at Wilberforce last year. A lawyer and U.S. Marine Corps veteran, Felton served as senior vice president, chief operating officer and vice president of institutional advancement at Livingstone College in North Carolina. Prior to Livingston, Felton was the director of development at Murray State University in Kentucky and co-founded the Higher Education Leadership Foundation (HELF), an organization that works to identify and cultivate a pipeline of highly skilled and principled leaders to serve at HBCUs.
"I'd like to thank Chairman Mark Wilson and the entire Wilberforce University Board of Trustees for this incredible opportunity to lead Wilberforce into a bright and vibrant future," said Pinkard in an interview with Diverse. "I must also thank current President Herman J. Felton, Jr., for showing me what visionary, fearless and kind leadership looks like and for being a wonderful colleague and friend. I am excited about the opportunities that await Wilberforce University and I invite all those who love and cherish this venerable institution to join me in continuing the hard work of advancing the Wilberforce Renaissance."
Pinkard earned a doctorate from Harvard University, a masters degree from Howard University and his undergraduate degree from Morehouse College.
Over a career that has spanned 40 years, he has served as the founding executive director of the United Negro College Fund 's Institute of Capacity Building, and has held administrative and teaching positions at Johnson C. Smith University, Dillard University, Spelman College, Florida Memorial University, Miami Dade College, Colgate University, the College of Wooster and California State University-Long Beach.
"I am honored to be appointed the 22nd President of Wilberforce University," said Pinkard. "First, I must acknowledge the Divine intervention that has placed Wilberforce in the path of my life's journey."
Jamal Watson can be reached at jwatson1@diverseeducation.com