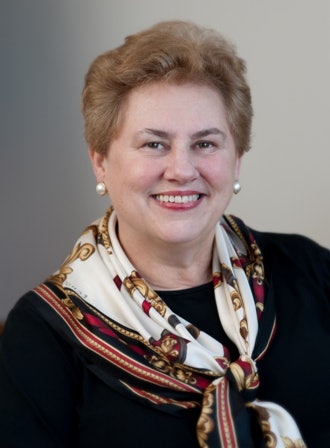 Simmons College, the highly regarded private women's liberal arts institution in Massachusetts, says it will name its newly created College of Media, Arts, and Humanities in honor of Gwen Ifill, a journalism icon of her era. Ifill died a year ago yesterday at age 61 after a long battle with cancer.
Ifilll, who maintained an envied level of humility as she rose to the top ranks of America's news industry, graduated in 1977 from Simmons and became one of the small college's best ambassadors. Simmons officials say Ifill visited her alma mater frequently and never missed a chance to credit it will helping launch her successful news media career.
"The kind of unimpeded curiosity Gwen brought to her work, coupled with her warmth, integrity and commitment to truth-telling, is something all of our students aspire to–no matter what [their] field of study," says Simmons President Helen Drinan in her announcement Tuesday of Ifill's honor.
Ifill was "a star alumna," says Drinan, who holds two graduate degrees from Simmons.
Veteran journalist Dorothy Gilliam, a former reporter and columnist for The Washington Post and a past president of the National Association of Black Journalists, hailed the Simmons move, characterizing it as "a well-deserved and appropriate honor." Gilliam, who had been at the Post for 15 years when Ifill arrived there as a rookie reporter, said Ifill had become "one of the most successful female journalists in journalism history" before her death.
Indeed, Ifill used her intellect and talent to rapidly rise to the top of the ego-laden and highly competitive news business. After a rocky start at the Boston Herald-American, she worked as a reporter for the Baltimore Evening Sun, The Washington Post and NBC News. In the 1990's she was hired as a news moderator for PBS's "Washington Week in Review."   She was the only woman and the only Black moderator of 2004 vice presidential debate.  She also was moderator of the vice presidential debate four years later. In 2016, she moderated a debate between then-aspiring presidential candidates Bernie Sanders and Hillary Clinton.
The designation of the new arts and humanities college in Ifill's name is the latest step in the institution's recognition of her achievements. Simmons houses Ifill's papers and personal effects, including volumes of notes and papers, her 41 degrees and jackets from political election work. The new College of Media, Arts, and Humanities officially starts July 1, 2018.
Drinan says the establishment of the new school comes as Simmons is recasting five of its organizational units into four. She says the new school hopes to create Ifill Scholars for a journalism program, among other projects.
"We obviously plan to invest and raise money for the school," says Drinan, noting the front-end investment into the new venture was practical for the institution, which has 1,700 full-time undergraduate students. Simmons has an endowment valued at approximately $185 million, she says, adding that endowing a scholarship at Simmons in Ifill's honor would cost roughly $1 million in order to generate enough annual income to support the scholarship.