HONG KONG—More than 350 educators, business leaders, politicians and philanthropists from around the world gathered here this week to strategize on how to address educational challenges from a global perspective.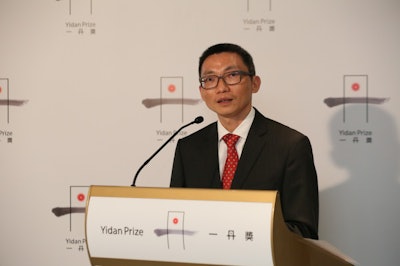 The day-long Yidan Summit was convened by Dr. Charles Chen Yidan, a billionaire businessman who has donated $7.75 million of his own money to create the prestigious Yidan Prize, which provides $3.9 million to two individuals each year to support education research and innovative ideas that tackle pressing challenges in the field of education.
"First and foremost, the Yidan Prize pushes for progress in the field of education," said the businessman-turned philanthropist. "I envision the Prize as a platform that brings together the best ideas about education from around the world, to exchange pedagogical theories and practices that are effective and benevolent."
Yidan said that the Prize also seeks to connect the past with the future.
"The Prize reviews extraordinary research and development in education. Not only does it pay tribute to revolutionary achievements, it is also forward-looking," said Yidan. "We aspire to promote ingenious ideas and share outstanding outcomes so they may be applied on a larger international scale, creating global account."
Dr. Carol S. Dweck, the Lewis and Virginia Eaton professor of Psychology at Stanford University was the recipient of the inaugural prize, along with Dr. Vicky Colbert, founder of Fundación Escuela Nueva, a nongovernmental organization  (NGO) that has pioneered education reform in rural schools throughout Latin America.
Dweck has been lauded for her research across the decades on "growth mindset" which is the belief that "everyone has the potential to develop their abilities." And Colbert's educational work in poor rural communities has received international recognition. Both Dweck and Colbert said that the funds will enable them to continue their work.
The Yidan Prize is the single largest international award given in the field of education. In an interview with Diverse, Yidan said that his foundation will work with other philanthropic organizations like the Bill and Melinda Gates Foundation to improve education throughout the world.
"I think the Prize is just a kind of medium," said Yidan. "I want to build a platform and bring together stakeholders to focus on big educational ideas."
Indeed, a variety of topics including the affordability of education, youth unemployment, STEM and the achievement gap were discussed both in the K-12 and the higher education context. The Yidan Prize Foundation said that it wants to alleviate some of the existing disparities in education by 2030.
The Summit's theme was: "Education Redefined: The Future is Now."
"Education does not yield immediate results," said Yidan. "But the essence of education is a driving force behind social progress."
Jamal Watson can be reached at jwatson1@diverseeducation.com. You can follow him on Twitter @jamalericwatson