One New Hampshire college has eliminated the enrollment application fee for first-generation students as an extension of its institutional initiatives to increase diversity and inclusion.
Saint Anselm College will no longer require the $50 application fee from applicants who would be the first in their family to graduate from college. The policy is "effective immediately" and applies to students who are U.S. and international students.
"Application fees represent just one more barrier that can keep talented students from diversifying their college choices," said Eric Nichols, vice president of enrollment and dean of admission — and a first-generation student himself. "If this simple change can make the process easier for first-generation students, I think we have a responsibility to take that step. More than just a financial gesture, it reflects that Saint Anselm is committed to providing access and opportunity to first-generation students."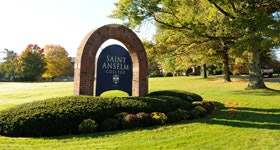 Nichols says that while Saint Anselm is not the first school in the nation to make such a change, the idea has gained momentum over the years. He recalled that his colleagues at Texas Christian University, Bowdoin College and Trinity College recently made similar decisions and the institutions saw positive results from the changes.
The administrator, seeing these results, first discussed the idea to eliminate the application fee with the senior leadership team within the admissions department at Saint Anselm. He then took the proposal to the president's cabinet, "which has representation from all divisions of the college," he said.
"There was unanimous support for this policy change," Nichols added.
Using the Common Application, students who apply to Saint Anselm only have to check the box indicating that they are a first-generation student to receive their fee waiver now.
School officials made the new admissions fee waiver announcement following the arrival of the Class of 2021 in which 18 percent of the incoming class is first-generation. The 571 new students are the largest and most diverse class in Saint Anselm's history.
This year has been transformative for Saint Anselm — a traditionally Catholic, Benedictine liberal arts college — in that the institution also welcomed its first chief diversity officer, Dr. Ande Diaz, in February. She has been tasked with helping Saint Anselm president Dr. Steven R. DiSalvo and the entire college recruit, retain and strengthen an "intentionally diverse" and inclusive community environment on campus, said Michelle Adams O'Regan, executive director of college communications and marketing.
"The composition of the incoming class speaks to Saint Anselm College's commitment to building a diverse community," Diaz said. "Our efforts to welcome international and minority students to Saint Anselm [are] a top priority, and this class is an outstanding example of that commitment in action."
Institutional initiatives going forward seek to address diversity from multiple angles – geographic, gender, racial and programmatic diversity, Nichols said. In campus life, residential life, athletics and other departments, faculty, staff and students will continue to conduct and participate in ongoing diversity programs.
The college will also expand its Access Academy program, an initiative aimed at supporting refugee, immigrant and other under-represented students, which is offered through the college's Meelia Center for Community Engagement.
"There is more work to be done but we are moving in the right direction," Nichols said.
Tiffany Pennamon can be reached at [email protected]. You can follow her on Twitter @tiffanypennamon.