Frederick Douglass — the former Maryland slave who later emerged as a prominent abolitionist leader — will receive an honorary doctorate posthumously next week from the University of Rochester.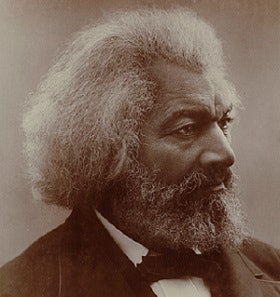 The upstate New York institution will honor Douglass at its commencement on May 20, with the Honorary Doctor of Laws 123 years after Douglass' death.
Jessica Lacher-Feldman, assistant dean and the Joseph N. Lambert & Harold B. Schleifer director of Rare Books, Special Collections, and Preservation, said the decision to honor Douglass came amid numerous activities across Rochester celebrating the 200th birthday of the early civil rights leader.
Lacher-Feldman floated the idea of giving Douglass an honorary degree and, several months ago, the university's board of trustees approved the measure.
"It's very exciting," said Lacher-Feldman, who oversees the Douglass collection, which includes, among other things, letters written by Douglass, a spoon that he owned and a lock of his hair.
Douglass, who settled in Rochester and founded the North Star in 1847, is considered an icon in the city, which erected a statue of the orator and statesman — the first statue in the country to memorialize an African-American.
Douglass lived in Rochester for 27 years and is buried in the city's Mount Hope Cemetery.
University of Rochester, which was started three years after Douglass' arrival, is home to the Frederick Douglass Institute for African and African American Studies, which has been offering an interdisciplinary major that encompasses a broad range of undergraduate courses in collaboration with other departments since 1986.
Born in 1818, Douglass escaped to the North at the age of 20 and eventually married Anna Murray. He chronicled his experience in three memoirs: Narrative of the Life of Frederick Douglass, My Bondage and My Freedom and The Life and Times of Frederick Douglass. They remain popular texts at colleges and universities across the nation.
Later, he served as a recruiter of African-American soldiers for the Union Army and accepted a position as U.S. Marshal under President Rutherford B. Hayes. Douglass went on to serve in various roles under five U.S. presidents.
University officials said Douglass' great-great-great-grandson, Kenneth B. Morris Jr., founder and president of the Frederick Douglass Family Initiatives, will accept the degree.
Dougalss "taught himself to read and write and became an accomplished writer and orator," the university said in a statement, adding that during his time in Rochester, Douglass worked alongside Susan B. Anthony and became an advocate for women's rights, even attending the 1848 Women's Rights Convention at Seneca Falls.
Jamal Eric Watson can be reached at [email protected]. You can follow him on Twitter @jamalericwatson