The Steve Fund – a nonprofit dedicated to improving mental health for students of color – is hosting a series of on-campus, daylong conferences called "Young, Gifted and @Risk."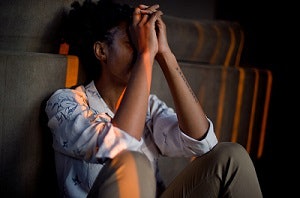 Each conference will bring faculty, administration, students and mental health experts together for in-depth discussions on the emotional well-being of minority students.
The first conference in the series took place this Thursday at the University of Michigan, and two more will convene at Georgetown University and the City University of New York (CUNY) next month, on Nov. 1 and Nov. 15 respectively.
While all of the conferences focus on the same broader theme, the Steve Fund worked with each school to create a conference agenda tailored to their interests.
The program "depends on what the desire is of that particular campus," said Dr. Annelle Primm, chief medical officer at the Steve Fund. "We work in close collaboration with them in designing the program and in ensuring that some of the key issues of concern on that campus are highlighted and uplifted."
University of Michigan's conference "Young, Gifted, @Risk & Resilient" focused on how campus climate impacts mental health for students of color. One panel, for example, delved into the effect microaggressions can have on minority students while another dealt with how to respond to racial biases in higher education.
At Georgetown University, the "Young, Gifted and Advancing" conference will emphasize how students' mental health and emotional wellbeing affect persistence rates among students of color.
The third conference in the series, which includes participants from multiple CUNY campuses, will focus on the mental health needs of nontraditional students on community college campuses.
The Steve Fund began running these conferences in 2014 with its initial convening at Brown University. Since then, the organization has hosted similar gatherings at Stanford University, Washington University, University of Pennsylvania, University of Texas at Austin and Harvard University.
"There's almost no college or university that doesn't want to have this conversation in a big way," Primm said.
The goal of the conference series is to not only bridge the gap between mental health experts, staff and students of color but to makes sure participants leave with ideas for practical solutions to improve minority students' mental health on each campus.
It's also a chance for Steve Fund staff to witness the diverse conversations happening around mental health on campuses today in order to offer the resources schools need.
The series is "really quite a wonderful opportunity for the Steve Fund to see how the focus on mental health and well-being for students of color gets translated in different flavors on the different campuses," Primm said. "It makes a nice cornucopia of ways of addressing the issue of mental health and wellbeing in students of color, looking at different facets of that issue, different dimensions."
While each conference is unique, Anuja Khemka, executive director of The Steve Fund, has watched themes emerge at campuses across the country.
One issue that frequently comes up in these discussions is that students of color are less likely to seek out mental health services when they're struggling. She shared that in her own family, it wasn't the norm to freely talk about mental health.
"For young people of color, the stigma seems to be more," she said. "Conversations about mental health need to be normalized."
Campuses also often lack counselors of color who "get the nuances" of their day-to-day lives, she added. Meanwhile, the mental health resources that do exist on campus aren't always so easily accessible, which is why the Steve Fund focuses on mental health support services students can access via their phones like its crisis text line for young people of color.
Khemka hopes the conferences will be an opportunity for university stakeholders to learn about the Steve Fund resource and others and make them available to their students.
"Honestly, the biggest goal is that [attendees] go back empowered to support the mental health and wellness of young people of color on their campuses," she said. "For me, that's the ultimate goal."
Sara Weissman can be reached at [email protected].