Dr. Michael V. Drake, who made history in 2014 when he was named the first African-American president of The Ohio State University, announced on Thursday that he will retire from the post at the end of the 2019-2020 academic school year.
He and his wife Brenda will stay in the Columbus area and Drake will remain on the OSU faculty.
"Ohio State is a very special place. Brenda and I are blessed to be part of the incredible Buckeye community," said Drake, 69, a board-certified ophthalmologist who previously served as chancellor of the University of California, Irvine and prior to that served as vice chancellor for health affairs for the University of California system. "The work being done at this university through teaching, learning, research, creative expression, community engagement and leading-edge partnerships is unprecedented in our 150-year history."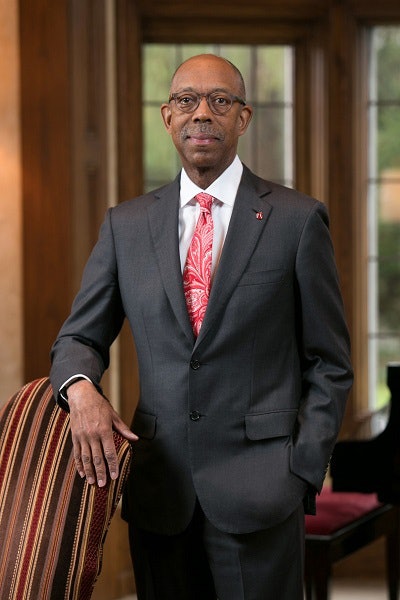 Though a five-year stint as president of a university—particularly one as large as OSU— isn't unusual these days, Drake's tenure was marked by some noticeable challenges. He had to grapple with a number of public scandals, including a report that outlined disturbing allegations of a disturbing culture in the university's marching band, where charges of sexual harassment, hazing, alcohol abuse and even rape was rampant for years. While the report led to the firing of band director Jonathan Waters, there were other issues as well, including a prominent football coach and a former team doctor accused of sexual abuse.
In his letter to the OSU community, Drake didn't dwell on those setbacks but focused instead on the future and lauded the many accomplishments, including record graduation rates, that took place on his watch.
"There is no better time to position a new leader for success as the state of our university has never been stronger," he wrote. "Through your contributions and the contributions of all our students, faculty, staff, alumni and partners, Ohio State has seen all-time highs in several of our most important indicators. These include affordability measures, faculty research and impact, the academic excellence and diversity of our students, graduation rates, alumni and donor support, our campus environment and so much more."
Drake said that all of the efforts support the university's strategic vision to "strengthen Ohio State's position as a leading national flagship public research university."
Peter McPherson, president of the Association of Public & Land-Grant Universities, praised Drake as "an extraordinary public university leader" who is "smart, incisive" and has served with distinction as chair of APLU's Board of Directors over the past year.
"I witnessed firsthand his ability to help public universities better deliver on their public service mission," McPherson said. "I wish him the best as he looks toward retirement. He will leave an outstanding legacy at The Ohio State University when he retires next year."
Dr. Monica Cox, chair of the Department of Engineering Education at OSU said that Drake has been an ardent supporter for education, particularly teaching.
"He has committed resources across the university to ensuring that our students have access to the best education, especially students who represent diverse perspectives and backgrounds," she said. "His presence has contributed to the diversity, equity and inclusion but also his commitment of resources to all groups at the university has helped us to grow and be visible."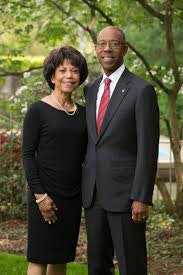 Dr. Alicia L. Bertone, dean of the graduate school and vice provost for graduate studies at OSU said that Drake was a strong cheerleader for graduate education
"He certainly came from a perspective with his M.D. degree that he understood professional students and advanced education beyond the four-year degree and the value it can bring and really helped increase the visibility of the graduate school," said Bertone, who added that he played a critical role in advocating for diversity and inclusion initiatives, particularly within the graduate school.
"He was just a really good person. And in being a good person, that came across in everything which helped support a positive atmosphere," said Bertone. "It permeates down from the top. So, he basically led by example."
Recently, the Board of Trustees approved a 2.5 percent raise, making Drake one of the highest paid college presidents in the country, with a base pay of $892,000.
Dr. Leonard Haynes III, a member of OSU's national Alumni Association Board of Directors said that during his tenure, Drake not only worked to increase racial diversity among the university's undergraduate student population but "he was concerned with access and opportunity for these students" and his efforts are yielding results, Haynes added.
"He has played a key role in improving diversity among the faculty, which has included appointing the first Black dean in the College of Education," Haynes said, adding that Drake is "thoughtful, intellectually curious and not someone to make hasty, rash decisions."
Sarah Wood, Sara Weissman and B. Denise Hawkins contributed to this report.