SV Academy, a tuition-free online vocational program for tech sales, recently partnered with two universities, Florida International University and Arizona State University. The school's goal is to diversify its student pool – and Silicon Valley.
The new collegiate program will enable students and alumni from both universities to leave SV Academy's 12-week training with a co-branded certificate from the online school and their university. The program promises students instructors from companies like Google, Facebook and LinkedIn, a full-time job at a median starting salary of $79,000 and job preparation with a year of on-the-job mentorship.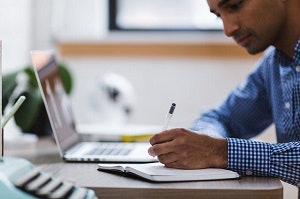 The online program is designed to have a communal feel with video coaching sessions with mentors, both one-on-one and in groups, collective assignments and events where students can meet in person. At the end, students receive job placements with companies in the program's network like SurveyMonkey or Cloudfare.
Joseph Riquelme, assistant vice president of Florida International University online, called the partnership a "win-win," a symbiotic relationship between employers and higher education institutions.
He sees the free program as part of a trend where universities can work on "building the relationship with the corporate sector," he said, so industries will sponsor programs that train students in skills that make them hireable. "It creates opportunity without additional hurdles for our students."
The way SV Academy works is it's funded by corporate investors, including actor Ashton Kutcher and talent manager Guy Oseary, co-founders of the venture capital firm Sound Ventures.
In a statement, Kutcher described SV Academy as a "team that's democratizing access to life-changing careers and economic opportunity with a truly unique approach."
"This is education that's hands-on and tuition-free, with a job on the other side," he said.
SV Academy is a new kid on the block in the higher education space. The program has only existed since 2017 and is in the process of welcoming its 30th cohort. So far, the company reports that its graduates are 25% African- American, 16% Latinx, 60% women and 70% percent first-generation college graduates.
At SV Academy, employers are the "customers," said Joel Scott, co-founder of SV Academy and the former vice president of operations at Hewlett Packard. They're paying to train their future employees in a "high-demand" field that's overlooked by students who want to go into the tech world.
Scott and SV Academy Co-Founder Rahim Fazal chose to focus on tech sales because it's a little-known pathway into the tech industry that doesn't require coding with a lot of job openings, high likelihood of promotion and transferable skills, he said.
As former software company executives, "we know that this role is an invaluable role for the future employee and also a critical role for the employer," Scott said.
But they specifically want to see diverse students take advantage of that pathway and hopefully become future vice presidents and CEOs. When he and his colleagues look at applications, he said he asks himself, "Do these people have what it takes to be top performers, but they just don't have the access or the resources or the know-how or the connections to do so?"
The new SV Academy partnerships were created "very intentionally" to focus on schools that serve underrepresented students, Scott added. Arizona State has the benefit of being a large public university, while Florida International University graduates more Latinx students than any other higher education institution in the continental U.S.
"For us, the goal is not to find these diverse, underresourced candidates and educate them and train and get this job," he said. "The goal is actually much more ambitious. We want social change."
Because predatory programs have been known to market "too-good-to-be-true pitches" to underrepresented applicants, Scott is used to hearing questions like, "What's the catch?"
He described overcoming that "initial doubt" as "the hardest part" of his work.
People are unused to an education model where investors pay the costs, and there's a built-in job placement on the other side. Admittedly, it's "not the most lucrative," Scott added, but he wasn't interested in "building a business on the backs of learners," especially non-traditional students.
"Our view is we're going to put you through an application process and then we're going to take on the risk," he said. "We will train you and we will vet you, and if you can't keep up, that's on us."
While he – and SV Academy – are new to the higher education world, he sees the school's expansion as evidence that "some really amazing people that could do amazing things can't do those things without support and love that is not designed into the university experience," he said, citing students who hold multiple jobs as an example.
"As much as we teach the content, we're also coaching the person and understanding that person's reality and helping them think through strategies to address those realities."
Sara Weissman can be reached at [email protected].