Dr. Donna M. Carroll, president of Dominican University, has received national attention for her support of undocumented students.
The successes of Carroll's 27-year presidency of Dominican University, a private Catholic university located 10 miles west of Chicago, are easy to detail. Under her leadership, the university experienced sustained substantial growth — from 729 undergraduates to more than 2,000. The full-time faculty has doubled; new schools and programs have been established; the operating budget has increased; three new buildings have been built; and a second campus was purchased.
The university has received numerous accolades, including being ranked by U.S. News & World Report among the top 10 Midwest regional universities and also cited as number one in Chicagoland offering a "best value" in college education. Carroll says Dominican's high ranking on social mobility is integral to the university's identity and reputation.
A female lay leader of a Catholic institution was unusual in the mid-1990s, but Carroll says, "I was very blessed to have a religious community here that was ready to welcome a lay president. Over time, the mission became something that aligned with what was important to me, my own social justice advocacy. It became very deeply part of who I am."
What holds great importance for Carroll, who retires at the end of this academic year, is the university's commitment to diversity, equity and inclusion. There is a large Pell-eligible population. A Hispanic-Serving Institution since 2011, race and culture are active variables in the university's strategic planning. Carroll has been outspoken on the national stage about the university's support of undocumented students.
"Our Catholic mission gives us the context within which we can have a strong voice," says Carroll. "We're in institutions that have been doing equity and inclusion work since the beginning. It's deeply embedded in the history of Catholic institutions, and that gives us credibility in our voice."
Dominican became a "Sanctuary Campus" in 2016, which began as a statement of support for undocumented students, but has evolved into a broader statement of support for marginalized students. The surrounding River Forest village created a welcoming resolution, and the university and the village signed a partnership agreement earlier this year, pledging to work together to combat systemic racism in the village and on campus.
"The community approached us, and we were able to frame this within our Truth, Racial Healing and Transformation model (from the Association of American Colleges & Universities)," says Carroll. "The community looks to us as a resource, and we look at continuing to build those relationships as a way of making our students more welcome and understood in the community.
"You can't be afraid of the difficult conversations," she adds. "We're all really learning together."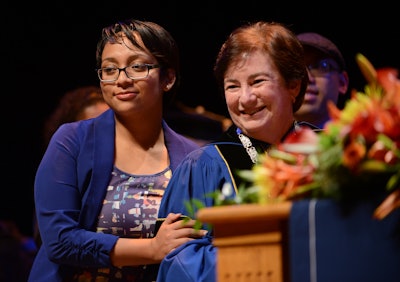 The first word that comes to Carroll's mind when asked how she's navigated the pandemic is "vigilantly" and with a lot of self-reflection, self-understanding and transparency. Planning had to be done through an equity lens.
"Once we understood that we needed to assure that our substantially first-generation student body had qualitatively the same access, technology and support, it really drove a lot of how we planned for the year," says Carroll.
The campus closed when the nation went into quarantine in March 2020 but reopened for the 2020–21 academic year.
"We have a student success and engagement division that I'm very proud of that operates on a case management model," she adds. "We were able to really keep in contact with our students in a very systematic way."
Dominican is a small institution, so Carroll says she's always sensitive to trends both because she's looking at what the student body wants to study and what their aspirations are as well as the institution's need to be relevant.
"The economics of doing what we do are challenging. We have to prioritize and be strategic," she says. "Most recently, we created a college of health sciences and introduced a nursing program and a physician assistant program. Those are large investments for a small institution, but we understood student interest, the market and the job prospects, and we made the investment."
After her retirement, Carroll is taking the summer off to relax and refresh. In the fall, she will begin her next chapter. She already has some small commitments, including as a senior consultant for the Interfaith Youth Core. She will also do some coaching of new presidents for AAC&U.
"I'm trying to settle in and then determine how I will structure what's next," Carroll says. "While I still have this arc of influence, I want to make some contributions. I'm going to do some writing, some coaching and probably some fundraising."
This article originally appeared in the June 24, 2021 edition of Diverse. Read it here.