Dr. Eboni M. Zamani-Gallaher is a renowned community college leadership scholar. She has eight books to her credit as an author or editor, which include Rethinking LGBTQIA Students and Collegiate Contexts: Identity, Policies, and Campus Climate and Working with Students in Community Colleges: Contemporary Strategies for Bridging Theory, Research, and Practice. She is the recipient of numerous awards, including the Council for the Study of Community Colleges Senior Scholar Award, and she was honored by the National Institute for the Study of Transfer Students with the Transfer Catalyst Award.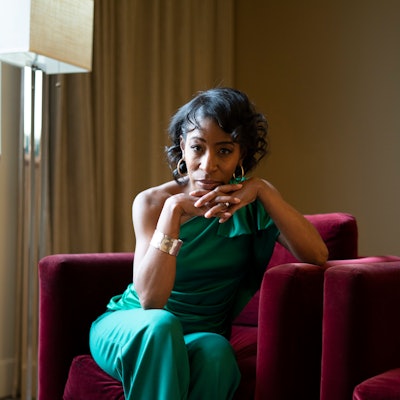 Zamani-Gallaher's steadfast focus on access and success for the most underprivileged students and her passionate advocacy for diversity, equity, and inclusion issues in the community college space have earned her one more accolade — Zamani-Gallaher is the 2022 recipient of the Diverse Champions Award.
Currently, Zamani-Gallaher serves as professor of higher education and community college leadership and director of the Office for Community College Research and Leadership at the University of Illinois at Urbana-Champaign. Zamani-Gallaher also currently serves as executive director of the Council for the Study of Community Colleges.
Despite her esteemed place in the academy, it is clear when speaking with her and with those who know her well that Zamani-Gallaher's heart is never far from her humble beginnings growing up on the South Side of Chicago. She says her parents went to college but did not complete a degree, not having "the resources or the support to be completers, and so, they fell within that … kind of neglected majority of some college and no degree, like so many. But I had a college-going culture in my home."
Zamani-Gallaher credits her mother, Mary Ella House, with getting her started on her educational journey in particular — Zamani-Gallaher says her mother was known in the neighborhood as "Miss English" because of the expansive English vocabulary she used. That in turn prompted Zamani-Gallaher to expand her own vocabulary in her childhood days.
Zamani-Gallaher says she was teased as a child due to her own expansive vocabulary. Others would tell her, "People don't talk like that." Her response was simply, "'it's how I talk.' But that's also because my first teacher was my mother, and my mother was a lover of words. And so, in many regards, I feel like she was a scholar in her own right, in terms of how she crystallized arguments, how she synthesized things …."
Zamani-Gallaher credits her mother with exposing her to the arts, including classical music, jazz, and plays. "While we didn't have a whole lot, she really tried to open up the world for me. So the model was … you're not just being made to be ready for this neighborhood, or the city or the state, it's you're being made to get ready for the world … ready to compete."
Zamani-Gallaher says her mother made sure she celebrated Martin Luther King Jr.'s birthday even before it became a national holiday. If Martin Luther King Jr.'s birthday fell on a weekday, Zamani-Gallaher says her mother did not go to work and kept her out of school.
"She and I [would] go to DuSable Museum of African History on the South Side of Chicago's Hyde Park. We would take in exhibits. We would just absorb ourselves," Zamani-Gallaher says. "We would go other days during the year, but it was especially important to her to take me on that day, because she said it was important for me to know about the hidden curriculum and what they don't teach you. And so, I think it's all of those things that have really kind of shaped my journey in terms of understanding that I'm standing on the shoulders of many people."
Beyond that, Zamani-Gallaher adds that given the support she has received from family and friends with regards to her own educational journey, she tries her "best to not pull up a ladder as I climb but to lift others as I do."
Open door vs. open access
Indeed, community colleges have historically been open access institutions and the promise of the community college is the promise of an open door to higher education for all. However, Zamani-Gallaher is clear in making a distinction between open door and open access.
"I consider myself to be both cheerleader and critic, but a critical friend of community colleges and thinking about how we can lean in to be evolving, leveling up and be much more impactful in creating the promise and delivering on it," Zamani-Gallaher says. She adds that the 30-plus years' worth of data she has seen has indicated that the vast majority of students, when asked about their educational aspirations, will not say the highest degree they hope to achieve is an associate degree, but most will say they aspire to earn a bachelor's degree and beyond.
And thus, Zamani-Gallaher says that her work over the past 20-plus years has been to look at transfer aspirants and how community colleges can best serve them, given the fact that the open access mission of community colleges means they must serve all students, no matter their aspirations, or level of preparation, for that matter.
Zamani-Gallaher adds that what drew her to studying community colleges was the scant research being done on community colleges, as opposed to their four-year counterparts, historically. "And so, here it is, marginalized institutions that are seeking to do the most with the least for those that have been most marginalized in society.
"I really wanted to kind of position myself in the pocket of thinking about those intersections and whether it's a debate about transfer" or vocational education "or whether it's about the extent to which community colleges should be offering baccalaureate degrees as credentials, or how we kind of think through the incremental credentialing pathways in ways that are much more attuned to the nuances of various student subpopulations, like the 25 plus … or the elder learner, thinking about racially-minoritized students, veteran students, LGBTQ students," Zamani-Gallaher adds.
Zamani-Gallaher notes that community college campuses are microcosms of what is happening in larger society, saying that the uptick of hate crimes on four-year campuses is also happening on community college campuses. "There's always been this kind of default centering that is very four-year centric, and I have been very much unapologetic about wanting to think about how we de-center that, just like how we de-center whiteness, where one-way dominance functions.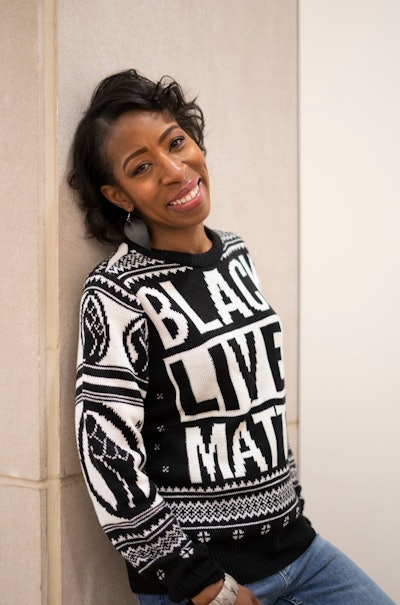 "So I want to push people to think about the ways in which there's been a veneer of invisibility cloaked over community colleges, which is, you know, very puzzling to me when you consider it as one of America's unique inventions and how it has been even adapted … outside of the U.S.," Zamani-Gallaher says.
Race matters
Though there is at times a reticence to talk about race when it comes to who has access to higher education, disparities in higher education and student attrition rates, Zamani-Gallaher says that one must look at the racial element of inequities.
It is concerning that when "we talk about being equity centered, there are many times when folks evoke that they have [an] equity focus, yet, and still, they're allergic to race, they can't name race. And I think that that's one of the things we also have to talk about," Zamani-Gallaher says. "And I think that that plays out amidst what has happened in the pandemic."
Zamani-Gallaher says that the disproportionate impact of the COVID-19 pandemic on underrepresented minorities when it comes to severe illness and death has affected minority student enrollment not just at the community college level, but at the grade-school level and other education levels.
Thus, she adds that it is necessary to consider the pandemic's impact across the higher education pipeline. "We do work that's community college centric. I always say it's community college centric, but it's not community college solely, because it's really about grand challenges that are not siloed from one educational sector to the next."
Zamani-Gallaher says the work she has done over the past few years has looked at how to provide guidance to students with different needs and access to resources. Her work has examined how "we think more effectively about establishing P-20 partnerships," looking at educational reform from the perspective of building something sustainable from the outset, rather than trying to retrofit a system as an afterthought.
For example, when it comes to guided pathways, a question Zamani-Gallaher asks is how needed reform can be properly implemented in a system that has already been built and is running.
"You could try to streamline it, you could try to make it more effective, but it is a model that has been implemented and executed, but not where it was built from its onset with racial equity in mind, let alone equity," Zamani-Gallaher says. "So equity is now embedded in it, and we're having conversations about how to also now use student input" to help students "meet their academic and career goals … within these different pathways."
According to Zamani-Gallaher, a reluctance to address race head-on and understand the unique challenges minoritized students face relative to majority students is a hindrance to implementing necessary change.
"That's part of being introspective and being reflective, … especially when we're thinking about how we meet the needs for racially minoritized students, how we want to move the needle on equitable student outcomes," Zamani-Gallaher says.
Advice for higher ed leaders
When asked about what advice she has for current and aspiring community college leaders, Zamani-Gallaher says that there will be no going back to how things were pre-pandemic, and community college leaders and prospective leaders should understand the "student landscape, the physical landscape … both of which, I think, [are] very much impacted by demographics," Zamani-Gallaher notes.
Leaders should "think through … what's happening with who [the] learners are, what disparities have remained, what new disparities [have] emerged," Zamani-Gallaher says. Leaders should understand "what has been this pandemic's impact that may have provided disproportionately larger adverse effects or impacts on Black and Indigenous and Latinx students, because … the magnitude of the pandemic, in terms of its weight, adversely has been more heavily skewed in the direction of those populations," she adds.
Zamani-Gallaher says that when she thinks of all of the directions community college leaders are being pulled in, she advises them to tap into the "student voice, to make sure to strategize on what would be multifaceted responses to what has been evolving threats to students having access, students staying the course" and ultimately getting to completion.
Zamani-Gallaher also notes that "we can't talk about access and not talk about affordability. We can't talk about attainment and students being successful and thinking about what their options are and the various onramps of those options without being clear on how do we get some of the folks back that we've lost from the pandemic."
Additionally, Zamani-Gallaher says that "racism was a pandemic before COVID-19 was." She urges leaders to consider how to take on major barriers to higher education such as participation access, completion and ensuring students ultimately achieve career mobility.
"There are these other things at play that undergird that, relative to the issues of climate and culture, and attendance or making sure that there's culturally sustaining practices in place to actually get to … being able to make good on the academic mission" of completion that "leaders, current and aspiring, need to … definitely spend some time reconciling."
Outside perspective
Dr. William A. Smith, chair of the Department of Education, Culture, & Society and a professor of ethnic studies at the University of Utah says that Zamani-Gallaher's "scholarship and practice have offered a unique perspective to some of the most overlooked, challenging and controversial issues within higher education, community college research methods and explanations, especially regarding underrepresented and socially marginalized student populations."
Smith notes that Zamani-Gallaher "confronts these often overly simplified discussions on race, racism, gender, sexuality, and racially marginalized student education, especially within community colleges. She is also an extraordinary academic. Her scholarship has helped to redefine class syllabi for two decades."
Dr. Estela Mara Bensimon, university professor emerita and founder of the Center for Urban Education with the Rossier School of Education at the University of Southern California notes that Zamani-Gallaher "is someone who never skirts around the truth. She is direct and never fears calling out what others may try to ignore. It is this quality that has made her a very successful advocate for racial equity in community colleges."
Bensimon adds that Zamani-Gallaher's scholarship "is inspired by an understanding of community colleges as institutions whose success is imperative for a racially just society."
This article originally appeared in the March 31, 2022 edition of Diverse.