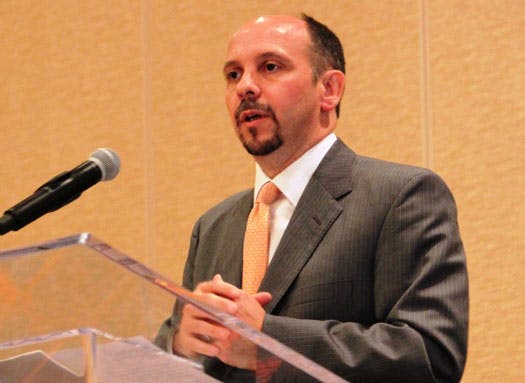 WASHINGTON – Despite skeptics who suggest otherwise, a college degree continues to be a worthwhile investment, but institutions of higher learning must adapt to new realities to remain viable in the coming years.
That was one of the major points made Thursday during a panel discussion titled "Building Tomorrow's Workforce Today: The Role of Higher Education in a Global Economy."
"We will see more change in higher education in the next ten years than we've seen in the last 50," said Jamie Merisotis, president and CEO of the Lumina Foundation for Education and one of several panelists.
To remain relevant, Merisotis said higher education leaders should align their course offerings to match labor market demands so that the credentials they grant have value in the economy. The current system of associate, bachelor's and master's degrees, Merisotis said, may have outlived its usefulness.
"In this knowledge economy, credentials of value are really the currency," Merisotis said. "That's what's going to matter most to people."
Merisotis said the current trend — where tuition prices have outpaced the rate of inflation for decades — is unsustainable. Affordability is particularly important given the fact that families and states — the two primary sources of revenue for institutions of higher learning — have seen their financial resources grow increasingly constrained, Merisotis said.
Dr. Charlene Dukes, president of Prince George's Community College, said colleges and universities must be proactive about ensuring college readiness among high school graduates.
"It's easy to blame people for what we see arriving at our doorstep in the fall of every year," Dukes said. "But the real issue is what are we doing in tandem in public and private partnerships to acknowledge that we have a problem, and how do we come together to fix it?"
Merisotis voiced similar concerns.
"We spend too much time trying to figure out whose problem it is rather than getting them credentials of value," Merisotis said.
Robert J. Bennett, chief learning officer and vice president of human resources at FedEx Express, said while employers generally value a college degree for new hires, it's a challenge to get non-college students to pursue post-secondary education.
"The problem in my mind is more so in terms of: it's hard to convince someone who is not in college, who doesn't have a degree, who is handing their personal problems — the economic conditions, family — to take time out to incur a debt and spend time on an education that has long-term promise without a short-term return," Bennett said. "And that tradeoff for some people is impossible to make."
Financial assistance will help, but other things must be put in place to help prospective students make good decisions about what kind of postsecondary education to pursue.
Dr. Anthony Carnevale, director of the Georgetown University Center on Education and the Workforce, raised the same issue.
Carnevale said that if he had his way, every college course catalog would include the projected earnings associated with each major. While projected earnings shouldn't be the sole factor in picking a major, Carnevale said, the information should at least be made available.
It's possible to produce such information by matching an employee's wage records — which are submitted quarterly to each state — with college transcripts, Carnevale said.
"There can be transparency and there probably ought to be," Carnevale said.
At the high school level, Carnevale said, he would require students to take courses that teach them how to select a major, how much money to borrow and other decisions related to enrolling in college.
"Being young, you're liable to make a bad investment or borrow too much," Carnevale said. "We've got to get more efficiency out of the system and help people make better choices."
Thursday's forum — hosted by Strayer University as part of its 120-year anniversary — comes at a time when questions are constantly being raised about whether college is worth the money.
The debate is being stirred by reports such as Chasing the American Dream: Recent College Graduates and the Great Recession, released earlier this year by Rutgers University.
Among other things, the report found that just 4 out of 10 graduates queried for the report indicated that their first job required a four-year degree. It also found that more than half of the graduates in the report indicated that their starting salary was less than what they had expected it to be.
In reference to discussions about the value of a college degree, panel moderator Robert Silberman, Chairman and CEO of Strayer Education, Inc., quipped that of all the people who've questioned the value of a college degree, "they all have college degrees themselves."