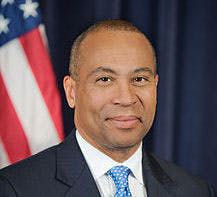 BOSTON – Gov. Deval Patrick has appointed six new members to the Roxbury Community College Board of Trustees.
The announcement comes as the college is under investigation for alleged lapses in crime reporting and financial mismanagement.
The U.S. Department of Education and the Massachusetts auditor's office have been investigating the school since May, and the college hired an independent investigator last month.
One of the new trustees, executive director of the Black Philanthropy Fund, Kathy Taylor, replaces current Chairwoman Anita Crawford.
Other new trustees include the CEO of Roxbury Technology Corp., Beth Williams; Michael Curry of the Massachusetts League of Community Health Centers; CEO of the nonprofit College Bound Dorchester, Mark Culliton; founder of City Fresh Foods, Glynn Lloyd; and Jeffrey Greenberg of the Brigham and Women's Physician Organization.