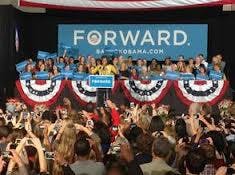 CINCINNATI — President Barack Obama and GOP vice presidential candidate Paul Ryan headed back to school Wednesday in the stepped-up competition for college voters in swing state Ohio.
Ryan, a graduate of Miami University in Ohio, had a rally at Baldwin Wallace University near Cleveland. Obama had an evening rally scheduled at Ohio University in southeastern Ohio.
Ohio University will be the fifth Ohio college the Democratic president has visited in less than a month.
Republican presidential nominee Mitt Romney and Ryan also have recently visited several Ohio campuses. Last weekend, Romney had a rally at Shawnee State, while Ryan tailgated with Bowling Green State football fans and then spoke at Youngstown State. Ryan, a Wisconsin congressman, made his alma mater in Oxford one of his first stops after being named as Romney's running mate, and he also visited with fans at the Miami-Ohio State football game in Columbus soon afterward.
Exit polling in 2008 indicated Obama won two-thirds of the vote among college-age adults as he carried Ohio, a state expected to be close this year and possibly crucial to winning the White House. Underscoring the importance of Ohio and its college vote, Obama officially kicked off his re-election campaign in May at Ohio State.
In a return visit to OSU last week, Obama urged students to take buses provided for them at the rally to go to early voting locations, saying: "Everything we fought for in 2008 is on the line in 2012."
But the Romney campaign thinks it will make inroads with young voters this year, and a campaign official said it is well organized on campuses across the state.
"We are making a huge push on the campuses," said Scott Jennings, Romney's state campaign director. "This is a different environment for Obama than it was in 2008. The economy is sputtering along, and these college kids know they are about to graduate into a world that may not have a job for them."
Obama campaign officials said they are well-positioned on campuses. They said the president has been getting enthusiastic crowds, with students waiting for hours to see and hear him.
University of Cincinnati student body president Lane Hart recalled that the campus excitement in 2008, when Obama spoke at a huge UC rally, "was really palpable." But Hart, who said he is impartial on the presidential campaign, disputed that students aren't as interested in this year's race.
Hart, a 22-year-old Lewisburg native who majors in information systems and finance, pointed to an enthusiastic, larger-than-expected turnout Tuesday night at a campus center to watch the second presidential debate. Organizers were kept busy adding hundreds of chairs for arriving students, with more than 500 on hand by the time it started.
"I would say more young people are engaged," he said. "I think everyone here understands the importance of Ohio; and Cincinnati, Hamilton County and the young vote. I sense a feeling of duty and responsibility."
First-year Ohio State student Emily Rees of Chagrin Falls said she has been pushing her fellow students to vote, even if they disagree with her support of Obama.
"I'm like, 'Listen, you need to vote. It's your duty to your country.' Obviously, I want the president to win. 'Like, I don't care who you vote for, but it's your voice. You just need to vote,'" she said.
Despite the ability to vote early, she's going to wait until Nov. 6 to cast her ballot for president for the first time.
"I just want to be caught up in the election craziness," said Rees, 18, dual-majoring in music education and Russian.
Associated Press writer Kantele Franko in Columbus contributed to this report.