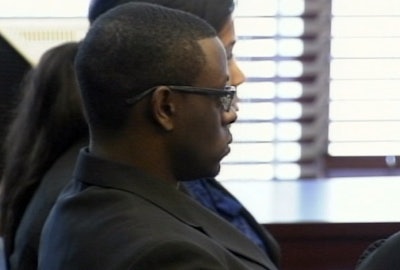 ORLANDO, Fla. (AP) — The first of a dozen defendants to be sentenced in last year's hazing death of a Florida A&M drum major avoided jail time when he received his punishment Monday, but he will spend more than two years under close supervision.
Brian Jones was given six months of community control, which strictly limits his freedom with measures including an ankle monitor and frequent check-ins with probation officials. Following that, the 23-year-old from Parrish, Fla., will serve another two years of probation. He's also required to perform 200 hours of community service.
Judge Marc Lubet said Jones's role in the hazing death of Robert Champion was relatively minimal and that Jones did not beat or hit Champion. Champion died last November after being beaten by fellow band members during a hazing ritual aboard a bus parked outside an Orlando hotel after a football game.
"This young man's part in this horrible act … as compared with many others from what I've seen is minimal," Lubet said. "It was an isolated incident in this man's life for which he's shown remorse."
Defense attorney Alisia Adamson noted that only two of the 90 witnesses even said he was on the bus.
Eleven other band members are awaiting trial on felony hazing charges, while another band member faces a misdemeanor hazing count.
Jones had entered a no-contest plea Oct. 9 to the third-degree felony hazing charge after initially pleading not guilty. The maximum penalty for the charge was five years in prison.
Champion's parents and friends say the drum major was a vocal opponent of hazing, but finally relented last November and got aboard "Bus C," which was known for hazing.
Pam and Robert Champion, Sr. both attended Monday's sentencing.
Speaking directly to Jones, Pam Champion challenged the idea that his role had been minor, saying: "You and I know that's not true. You played a critical role."
She carried a picture of Champion with her to the podium before she spoke.
"You won't be able to put it out if your mind…It will haunt you," she told Jones.
Robert Champion, Sr. also addressed the court.
"Fifteen people got on the bus with the intention to haze," the father said. "You don't have say sorry if you didn't get on the bus."
Jones said in a recorded audio statement with investigators that he was on the bus when another hazing victim— Lissette Sanchez — went through the ritual. But Jones told police that he only retrieved his lighter and left to smoke, getting off the bus before Champion got on.
The defendant's mother, Jacqueline Jones, told the court that her son was an honest person and that "he shared with me he had nothing to do with it."
Brian Jones tearfully apologized to the Champion family in court.
"No family should have to go through what you've gone through," he said.
Champion was seeking the top position in the famed marching band, leading dozens who had already endured the hazing ritual. The Marching 100 has performed at Super Bowls and presidential inauguration parades, and some felt the leadership position had to be earned.
What awaited him was a punishing scrum in which about 15 people pushed, struck, kicked and grabbed at participants as they tried to wade down the aisle from the bus's driver seat to touch the back wall, according to interviews with investigators. One witness said bigger band members waited at the back to make the final few steps the most difficult during the "crossing over" portion of the hazing process.
Several others who went through it said the ordeal leaves participants dizzy and breathless at a minimum. After finishing the ordeal, Champion vomited and complained of trouble breathing. He soon fell unconscious and couldn't be revived.